Katherine Fischer Drew '44 '45, the esteemed Rice history chair, former acting dean of humanities and social sciences and the first woman ever hired as a tenure-track faculty member by the university, died March 19 at the age of 99.
Drew's very presence among Rice's faculty at the time of her appointment in 1950 made her a trailblazer. But her brilliant wit, her remarkable skill with students, her meticulous research and her steadfast devotion to excellence in all her endeavors are what truly set her apart from her peers, all playing pivotal roles in shaping the Department of History and the School of Humanities into the dynamic, thriving organs of the university they are today.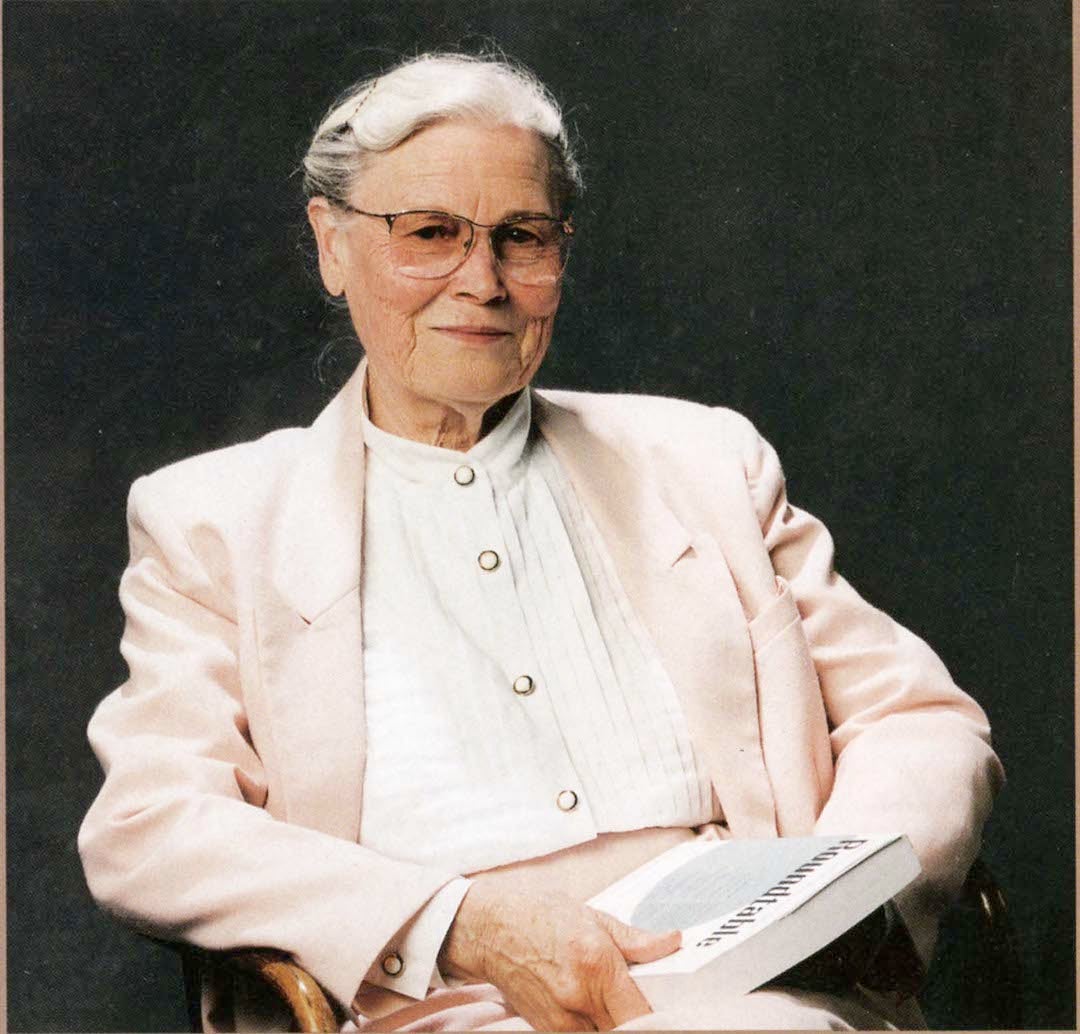 "Katherine was a dedicated Rice alumna and a pioneering, award-winning member of the faculty," said Provost Amy Dittmar. "I am grateful that she chose to return to Rice as the first female tenure-track faculty member and spend so much of her life and career here. She paved the way for those of us who followed. I value her extensive leadership and commitment to excellence in the humanities at Rice. We are better for it."
"Katherine Drew was a visionary scholar, teacher and an intellectual force in the humanities at Rice. I never had the pleasure of meeting Professor Drew, but her legacy is alive among so many Rice alumni, who have eloquently described the inspiration she provided during their years at Rice," said Kathleen Canning, dean of humanities and the Andrew W. Mellon Professor of History. "That she also understood the importance of stepping into leadership when needed makes me wish that I could hear her perspectives on the changing place of the humanities in higher education today. We are thrilled that her legacy lives on through the Katherine Drew Endowment in the history department and that it will continue to foster our students' engagement with historical thinking and research for many years to come."
Drew, born Sept. 24, 1923, in Houston, enrolled in the Rice Institute at 16, earning her bachelor's degree in 1944 and her master's in 1945. A Phi Beta Kappa graduate, she worked as a history instructor at the institute for two years before leaving for Cornell University, where she earned her doctorate in 1950. Drew then returned to Rice as the school's first-ever female tenure-track faculty member and the fourth member of the then-combined departments of History and Political Science; she ultimately became the first woman to ever earn tenure at Rice.
"For a long time, she was it, and she bore that with incredible grace," said former Rice Centennial Historian Melissa Kean, who grew to know Drew while a graduate student at the university. "I hold her in absolutely the highest regard."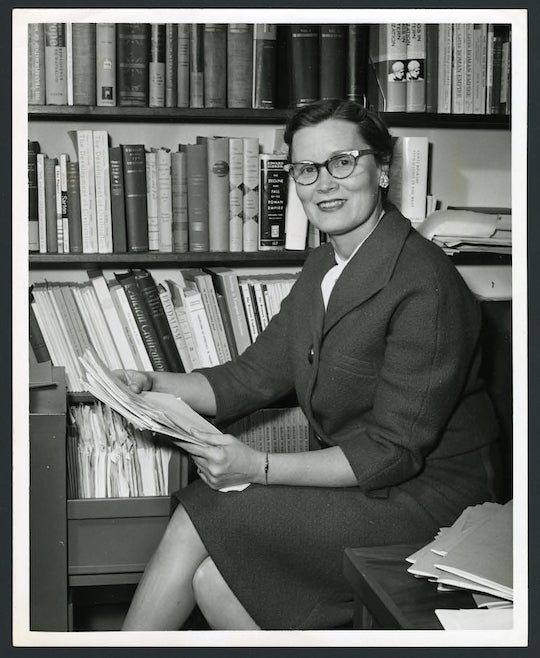 Chief among Drew's plethora of accomplishments was her decadelong stewardship of the history department as its chair from 1970-1980. She served as acting dean of the combined schools of Humanities and Social Science in 1973. From 1967-1981, Drew was the editor of Rice University Studies, a quarterly publication that showcased the research and writing of fellow Rice faculty and helped burnish the university's reputation as an academic powerhouse. Drew was later named the Lynette S. Autrey Professor of History in 1985, a post she held until 1996. Though she officially retired that year, she served as acting chair of the then-named Department of Art and Art History from 1996-98, and maintained an office on campus until 2015.
Caleb McDaniel, current history department chair and the Mary Gibbs Jones Professor of Humanities, first met Drew upon his arrival to campus in 2008 and quickly found her an invaluable resource.
"She was still coming into the office and continuing her work. She was witty, gracious and just a font of deep knowledge about the institution," McDaniel said. "She was also a scholar in the truest sense of the word — she was committed to new knowledge and the mission of the university."
Drew's many accolades include a 1959 Guggenheim Fellowship, winning Rice's coveted Brown Teaching Award in 1971, her appointment as a senior fellow by the National Endowment for the Humanities in 1975, her selection as an elected fellow of the Medieval Academy of America in 1979 and her Meritorious University Service Award from the Association of Rice Alumni. She wrote several books on medieval history and law, including "The Burgundian Code" (1944), "The Lombard Laws" (1973) and "Magna Carta" (2004).
"Her work on the medieval world and the history of the law is greatly relevant to the evolution of legal systems today. The world we live in was shaped by this world, but she really was trying to understand it on its own terms and do the hard work to advance our knowledge and appreciation of this era's significance," McDaniel said. "And she did that while also being an award-winning teacher and university leader, setting a lasting example for all of us on the faculty."
Upon Drew's retirement, a group of her former students, colleagues and friends established the Katherine Fischer Drew Endowment to the Department of History. Decades later due to continued support from the Rice community (and from Drew herself), the fund continues to be a crucial resource for the department and its students, from providing the means to invite guest speakers to campus to purchasing classroom materials, paying for teacher training and the development of new courses.
McDaniel explained how the fund has also been instrumental in establishing The Rice Historical Review, the undergraduate history research journal that's readying its fifth volume.

"Thanks to Professor Drew, there's also an endowed prize given to the best paper published in the review each year, yet another way in which her generosity is continuing to impact students today," he said, recounting how delighted Drew was to receive her copy of the journal each year.
When researching the Rice of the 1950s and '60s, Kean was struck by the number of committees on which Drew served during that era and found ample evidence of how Drew's "ramrod-straight," no-nonsense approach meant she was often "the voice of reason, the person who could maintain decorum" in any given room during such a tumultuous era.
"It was a time — especially in the '60s — of a lot of contention, a lot of division, a lot of heightened emotions, and she was always calm, reasonable and dignified.

"That is the way I will remember her," Kean continued. "And I think that that dignity is the way she would like to be remembered — both for the meticulous work that she did, for her devotion to teaching and for that sense of calm dignity that provided a role model for so many people at Rice."