Former Rice University history professor, author and award-winning scholar of American legal history Harold Hyman passed away Aug. 6 at age 99.
Hyman taught Civil War and Reconstruction history at Rice from 1968 to 1997 and was the emeritus William P. Hobby Professor of History Chair. He began his teaching career at Earlham College in Indiana before moving on to UCLA, the University of Illinois at Urbana-Champaign and finally Rice University, with numerous visiting stints around the country, including at Harvard, Johns Hopkins and Arizona State. Hyman also served as the chief reference librarian at Rice's Fondren Library.
"He was a very valued colleague whose door was always open," said Paula Sanders, the Joseph and Joanna Nazro Mullen Professor in Humanities. "He was always happy to look up from his Kaypro computer – for those old enough to remember them – and to engage in a lively and informed conversation about history and American politics."

Sanders said Hyman was most often seen in his office writing and meeting with students, offering meticulous attention to their research and writing.

"He was also a strong advocate for social justice and just plain common decency," Sanders said. "He maintained his keen interest in politics and history long after retirement."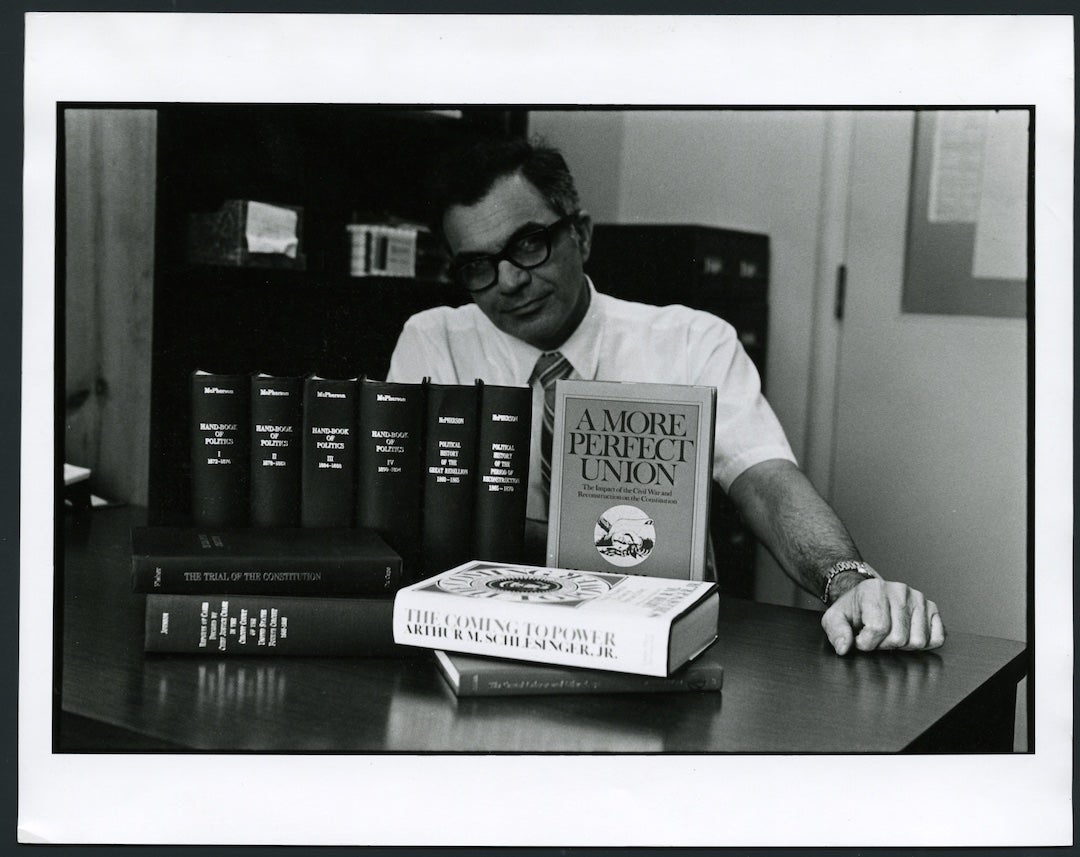 Hyman was author, co-author or editor of more than 60 books, including "A More Perfect Union: The Impact of the Civil War and Reconstruction on the Constitution."
His academic work on the Civil War and Reconstruction eras also led to his involvement in the Civil Rights Movement – he and other American historians joined the march from Selma to Montgomery led by Dr. Martin Luther King Jr. in 1965.
"Harold was without question one of the figures who put our department on the map in terms of national prestige," said Nathan Citino, professor of History and current chair of the history department. "He was a prolific author and inspiring teacher who trained dozens of Ph.D.s. He set high standards for excellence that serve as his legacy to the Rice History Department and the historical profession."   
Hyman was also a Ford Foundation Fellow; a Senior Fulbright Lecturer; an Organization of American Historians Lecturer; judge for the Pulitzer, Littleton-Griswold (AHA) and other prizes; National Endowment for the Humanities reviewer; and past president of the American Society for Legal History. He worked closely with the Texas Bar Association's Law-Related Education Project and served on several professional societies' committees.
His late wife, Ferne Hyman, also worked for many years at Rice and retired as assistant university librarian. Their daughter, federal judge Lee Rosenthal, is a former Rice trustee. 
A memorial service at the Brookwood Community is planned for Oct. 14 at 10:30 a.m. Donations in his memory may be made to the Brookwood Community.