Rice President Reginald DesRoches and Texas Medical Center President and CEO Bill McKeon joined other university leaders Sept. 12 at a ceremony that simultaneously marked the start of the Rice Biotech Launch Pad and the 61st anniversary of President John F. Kennedy's 1962 speech at Rice Stadium announcing the Apollo moonshot program.
"It is an amazing day for us to launch our moonshot programs from Rice University," Vice President for Innovation Paul Cherukuri said to a standing-room-only crowd of university faculty, students, staff and TMC collaborators in the 10th floor boardroom of Rice's Bioscience Research Collaborative. "This is one of several moonshot programs that we're going to be releasing later this year. This is something that we're very proud of. We are really tackling major problems."
The Biotech Launch Pad is a medical innovation and commercialization initiative focused on slashing the time it takes to turn Rice-discovered technologies into medical treatments that cure diseases and improve lives. Officials said the accelerator will be supported by federal grants and philanthropic gifts, and it will include about 15,000 square feet of space for Rice health and medical technology startup companies.
"The Rice Biotech Launch Pad will ensure that our faculty and students have the skills, the partnerships, the tools and support to create technologies that can transform our city and the world," DesRoches said. "More importantly, the accelerator will provide a pathway for these creations and discoveries to be turned into medical cures that significantly impact people's lives."
Rice Biotech Launch Pad Director Omid Veiseh, an associate professor of bioengineering at Rice, has co-founded two successful startups and is working on another. Avenge Bio, a company Veiseh co-founded with biotech entrepreneur and executive Paul Wotton, began a clinical trial for recurrent ovarian cancer in 2022 using a treatment developed from technology discovered in Veiseh's lab just four years earlier.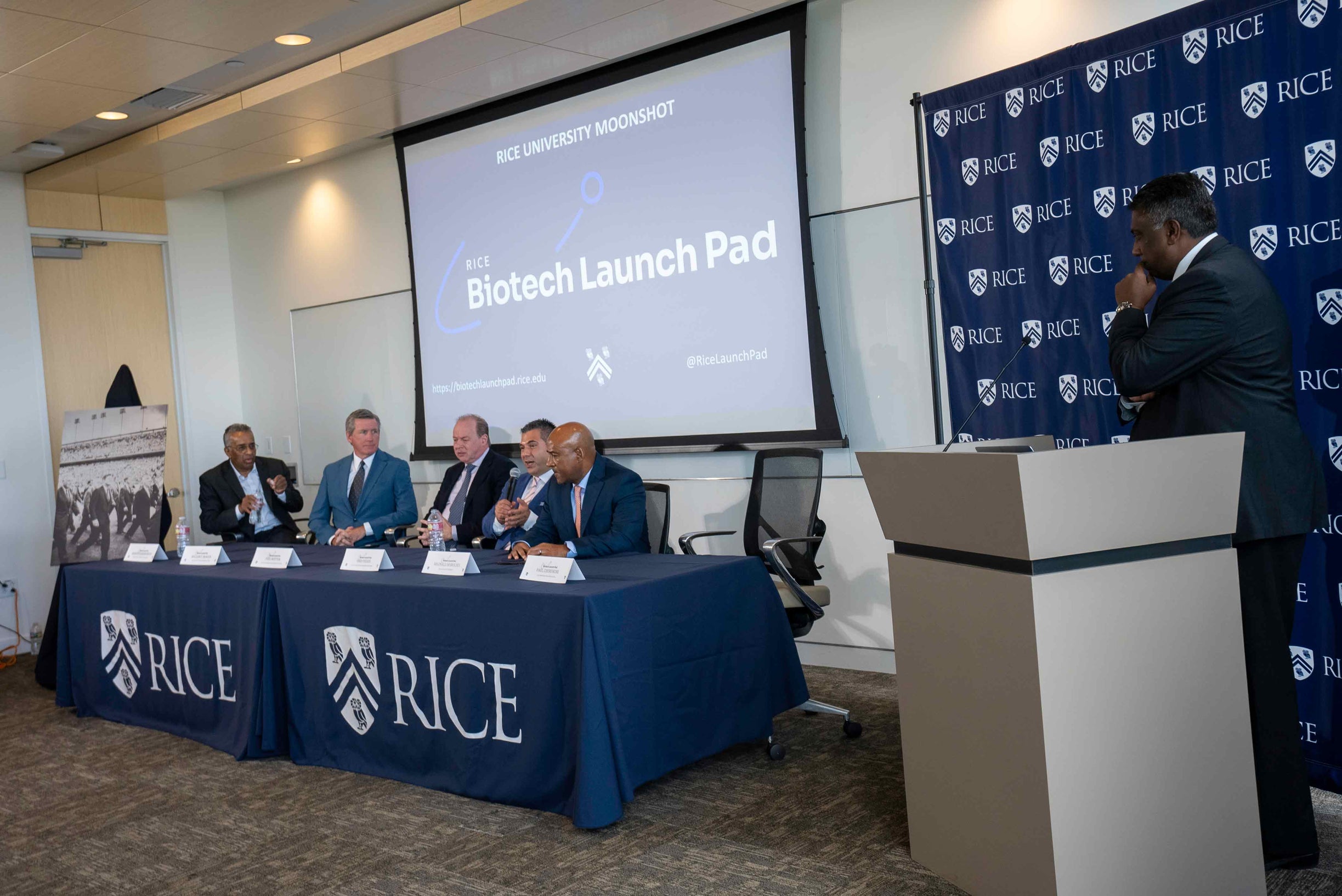 "We're going to measure this accelerator's success not based on the number of spinouts that we have but in terms of the impact that we can make on patients' lives," Veiseh said. "We're going to measure it based on clinical trials launched through discoveries made here at Rice."
Veiseh introduced Wotton, the Biotech Launch Pad's executive director, as "a serial entrepreneur" who "knows how to do this. He brings a unique skill set that people can benefit from tremendously at Rice as it comes to taking their ideas, building businesses around them and translating the technologies into the clinic."
Wotton said Rice and the TMC have the key components for medical innovation. While bringing them together is difficult work, he said that he and Veiseh have a template for success.
"My eyes were really opened when I started working with Omid," Wotton said. "Avenge Bio went from concept into the clinic within four years. And another company I was running, which is an engineered cell therapy company, did exactly the same thing. … The point is, we can do this again and again and again. We just have to build the platform and the process to be able to do it and get the right people in place."
McKeon lauded DesRoches and Rice's Board of Trustees for investing in life sciences innovation, and he said the TMC is slated to open its Helix Park innovation complex in October.
"Things are moving very fast here in Houston," McKeon said. "It's such a huge opportunity. And it does take a village. It does take a lot of these people in this room to really drive this forward."
Ramamoorthy Ramesh, Rice's executive vice president for research, said the university is actively pursuing innovation opportunities and partnerships.
"We will be aggressive," Ramesh said. "We will be good partners. We do not want to do this by ourselves. We want to be very active and collaborative partners, and the TMC is a very important part of our ecosystem."