HOUSTON – (Sept. 18, 2023) – Rice ranked 17th among the nation's top universities in the latest edition of U.S. News & World Report's "Best Colleges" guidebook.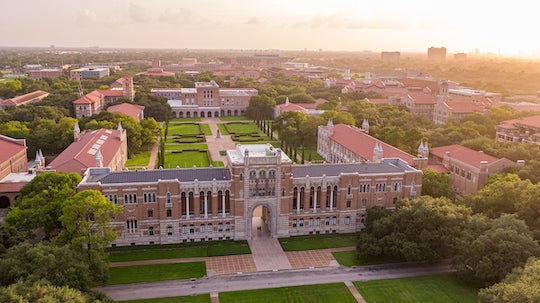 The annual survey takes into account more than 400 colleges and universities, ranking them based on quality of undergraduate programs and value. Rice has routinely rated among the nation's top 20 universities since first appearing on the list in 1988.
Rice also ranked No. 5 on the list of the nation's best values in higher education, up one spot from last year.
"I am pleased to see that we continue to be among the most highly regarded universities in the country," Rice President Reginald DesRoches said. "This is a reflection of the hard work and dedication of our faculty, staff, students and our unique culture of care."
Rice remains the highest rated university in Texas and the 15th highest rated private university in the country.
Rice landed among the nation's top 10 universities in two other categories with its undergraduate teaching program tied for No. 6 and its biomedical engineering program ranked No. 9.
The university also placed among the top 20 institutions on the U.S. News lists for best chemical engineering programs (tied for 19th, up six spots from last year), best computer programs (tied for 19th, up eight spots) and best learning communities (14th, up four spots).
"The rankings reflect Rice's unique commitment to undergraduate education and excellence across disciplines," said Amy Dittmar, Howard Hughes Provost and executive vice president for academic affairs. "Our low student-to-faculty ratio and residential college system allows students the personalized attention they need to succeed and thrive inside and outside of the classroom as they take advantage of the opportunities available to them at Rice."
The U.S. News rankings began in 1983 and are one of the most closely watched rankings of academic excellence among the nation's institutions of higher education. Students and parents routinely consult the rankings as they decide which universities they plan to attend. U.S. News says its overall rankings are based on 17 measures of academic quality at 1,500 institutions granting bachelor's degrees across the nation.
Rice also recently landed at No. 9 on the national 2024 rankings issued by Niche, another closely followed barometer of excellence among U.S. universities.
More information on the U.S News rankings can be found at https://www.usnews.com/best-colleges/rankings/national-universities.