HOUSTON – (Sept. 18, 2022) – Rice University's Center for Engaged Research and Collaborative Learning (CERCL) is partnering with DiverseCiti Houston to celebrate the influence and impact that 50 years of hip-hop has made on the world of business and entrepreneurship.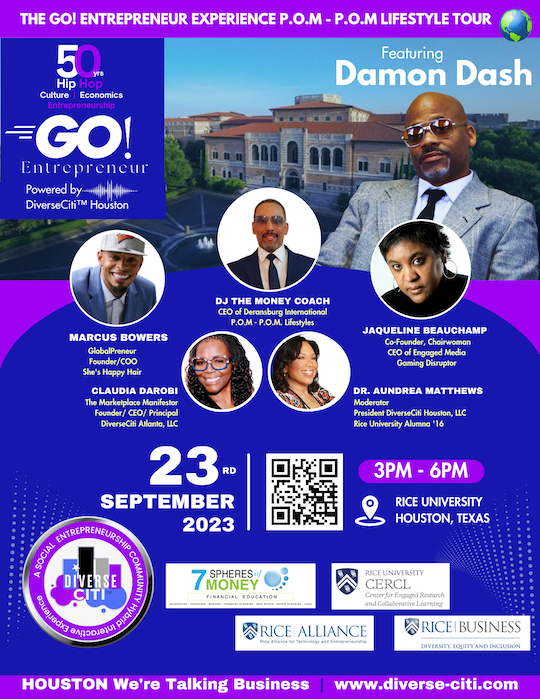 The Go! ENTREPRENEUR Experience P.O.M - P.O.M Lifestyle Tour featuring New York hip-hop entrepreneur and record executive Damon Dash kicks off Sept. 23 at Rice.
The lecture series is part of a tour DiverseCiti has arranged that will visit multiple cities. In Houston, CERCL is the host sponsor along with the Rice Alliance for Technology and Entrepreneurship and the Jones Graduate School of Business' Office for Diversity, Equity and Inclusion. During Dash's visit, an oral history interview will be conducted for CERCL's hip-hop archive that is housed in the Fondren Library's Woodson Research Center.
The primary aim of the event is to provide aspiring entrepreneurs, college students, hip-hop enthusiasts and artists with a learning experience from one of the industry's most accomplished visionaries, while also offering an opportunity for meaningful engagement with diverse business leaders and startups in Houston, according to event organizers.
Dash, hailed as a "disruptive entrepreneur" by Forbes Magazine, has left his mark on the world of business and entertainment. He is CEO of Dash Films, a co-founder of Roc-A-Fella Records and Rocawear and CEO of the production company Dame Dash Studios.
The event will have three panels that include hip-hop pioneers and local entrepreneursMarcus Bowers, co-founder and owner of She's Happy Hair; Steve Rogers, owner of BAR 5015 and Almeda Hospitality Group; Jacqueline Beauchamp, co-founder and CEO of Engaged Media; Benaisha Poole Watson, the first Afro-Latina to own a FDIC bank; and DJ the Money Coach, CEO of Deransburg International P.O.M – P.O.M. Lifestyle Movement.
For more information, visit https://events.rice.edu/event/352021-the-go-entrepreneur-tour-experience-with-damon.