Not even inclement weather could stop faculty, staff and students from meeting at Rice Memorial Chapel Nov. 10 to honor members of the university community who have served in the military. The gathering marked Rice's 20th anniversary for the annual Veterans Day Ceremony, and it featured performances, guest speakers and recognition for service.
Mini MOB kicked off the commemoration with the fanfare "Tribute to the Armed Forces," arranged by former MOB director Ken Dye to feature the armed forces' official theme songs. Veterans Day planning committee member Lauren Casady, safety specialist for environmental health safety and lab operations and an Army veteran, led the ceremony by underscoring the respect Rice holds for veteran Owls.
"I'd like to acknowledge and thank Rice University for hiring veterans like myself and many of you in the audience today," Casady said. "The positions held by veterans include the skilled trades, managers, lectures, facilities and postdocs, among others. Rice currently employs more than 135 veterans, and we continue recruiting to bring more veterans to our university."
Casady also pointed out the POW-MIA Missing Man Table in the room, which is an empty table set for one and reserved to honor the missing service members, before introducing Stephanie Chee, a graduate student in the Shepherd School of Music, to perform the national anthem.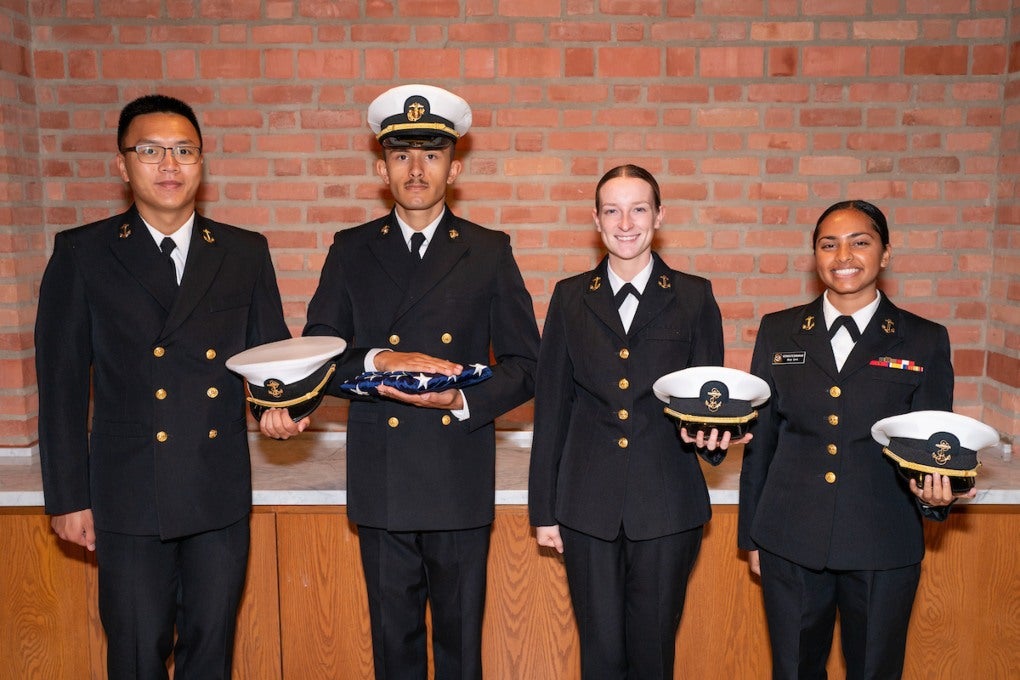 David Van Kleeck, professor in the practice from the Rice Center for Engineering Leadership and an Army veteran, led off the group of feature speakers.
"As a military child, serving soldier and service parent, I've seen the sacrifices through multiple lenses," Van Kleeck said. "The veterans honored today come from all walks, but they share common fundamental qualities. They possess pride in their country, determination, selflessness, dedication of duty and integrity … all the qualities needed to serve a cause larger than oneself."
Eduardo de la Torre, an MBA student at the Jones Graduate School of Business and an Army veteran, described how the events of 9/11 inspired him to join the military and how his experiences — some harrowing and upsetting — deepened his thankfulness to others who have served.
"On Veterans Day, we want to appreciate what veterans have done for us," de la Torre said. "But we often don't hear the stories of what their pain is, what it is that is holding them and what things they are carrying with them the rest of their lives. I share this so that I hope you can think about what veterans are carrying with them, and it adds meaning [when you say,] 'Thank you for your service.'"
Naval ROTC midshipman Thara Venkateswaran '25 shared her experience as a first generation Indian-American and her gratitude for military members.
"As I grew up, [my parents] instilled in me the gratefulness to be born and brought up in the United States," Venkateswaran said. "This country gave them opportunities to achieve amazing things, to earn, to build and to grow. So being born here is something that I am extremely grateful for. I learned that I owe my gratitude to veterans because they made this country what it is by relentlessly defending the Constitution. Veterans are the backbone of this country, whether serving in the military or in the private sector."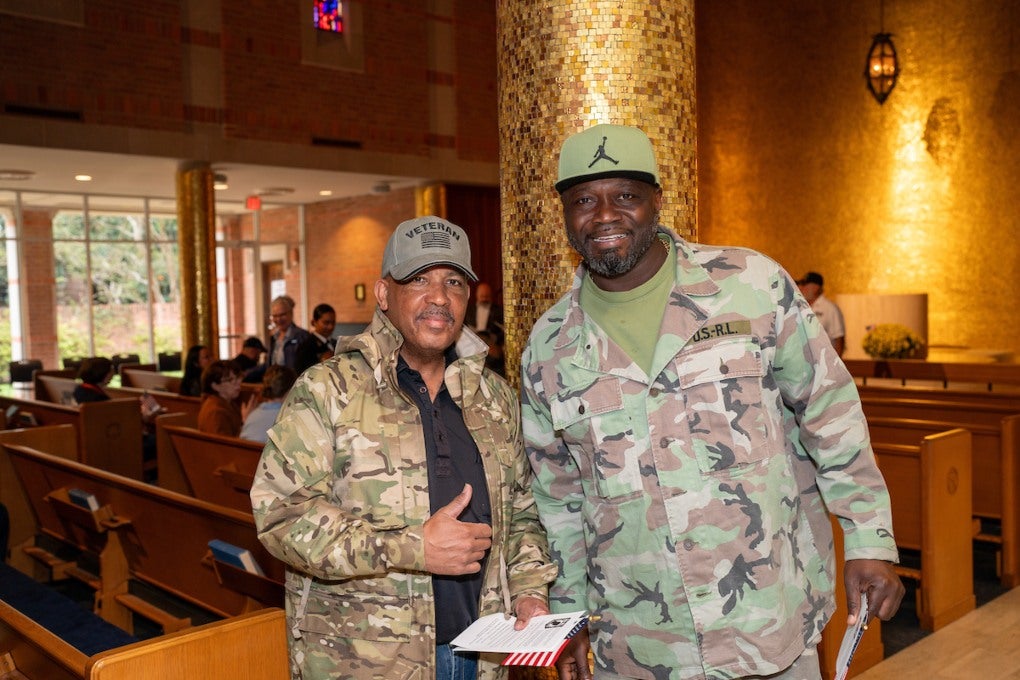 To wrap up, ROTC members presented this year's honoree, Roger Rodriguez Jr., with a commemorative flag. The Air Force veteran is a retiree from Facilities and Capital Planning, and he is one of the people responsible for starting the campuswide Veterans Day Ceremony two decades ago.
Rodriguez offered a short recount of his memories of service, adding in a joke. "I like to tease the vets and tell them I jumped off an aircraft without a parachute," he said. "They look at me like I'm crazy. Of course, I don't tell them the plane was parked at the time. I tell them they really don't need a parachute to jump out at 15,000 feet if they want to do it only once."
The ceremony concluded with Chee's performance of "America the Beautiful," followed by a reception.
To learn more about the services offered to service members and veterans at Rice, visit military.rice.edu.