Amid the celebration at Rice University's 110th commencement ceremony on May 6, there was one unforgettable moment that stood out to everyone in attendance: when President Reginald DesRoches offered Rice's first-ever posthumous degree to the family of Kamryn Sanamo.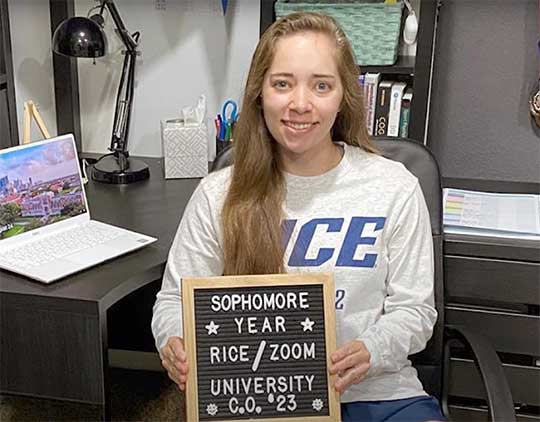 Sanamo, a sports medicine and exercise physiology major and member of Martel College, died earlier this year following a battle with brain cancer.
After graduating third in her class from Katy High School in 2019, Sanamo matriculated to Rice on a full scholarship and earned a spot in the prestigious Joint Admission Medical Program, which guaranteed her acceptance into any Texas medical school upon graduation.
She planned to attend medical school because of her own experience with health care providers. She underwent surgery to repair a 9 millimeter hole in the fascia of her right shin when she was in seventh grade, and she also underwent two lumpectomies to remove fibroadenomas and had an appendectomy before the age of 18.
"Kamryn passed away with just one semester remaining at Rice. She had been tremendously excited to complete her degree, and I am very pleased that the faculty approved the creation of a posthumous degree policy and that we are able to confer this degree today," DesRoches said.
Sanamo's mother, Dusty, as well as friends and family members watched from the audience and on livestream.
"Kamryn loved being a Rice Owl," she said about her daughter, referencing one of Kamryn's final requests: to receive an honorary degree.
Upon contacting the university, Dusty was told that the commencement planners would leave an empty chair to honor Kamryn. Then, additional plans took root.
"About two months later, imagine my shock when I found out Rice would issue Kamryn its first posthumous degree. I wept, and many friends and family members wept with me. From the bottom of my heart, thank you, Rice University. My family and I will be forever grateful," she said.
As a new tradition, the university will recognize posthumous undergraduate degrees for students who have completed approximately 75% of the requirements for the degree and were reasonably expected to complete the requirements of the degree program within two additional semesters of enrollment.
A graduate-level policy is expected to be developed in the fall.