Rice President Reginald DesRoches, Provost Amy Dittmar and School of Humanities Dean Kathleen Canning invite all members of the Rice community to a special reception at Cohen House April 10 to formally honor English professor Kiese Laymon, recipient of a 2022 MacArthur Fellowship. Registration is required for the 3:30 p.m. event, where drinks and light refreshments will be provided.
The Libbie Shearn Moody Professor of Creative Writing and English, Laymon joined Rice's faculty in January 2022. The prestigious MacArthur Fellowship — popularly known as the "genius grant" — is awarded to roughly 20 individuals each year who have shown exceptional originality in and dedication to their creative pursuits, and comes with an unconditionally bestowed $800,000 stipend.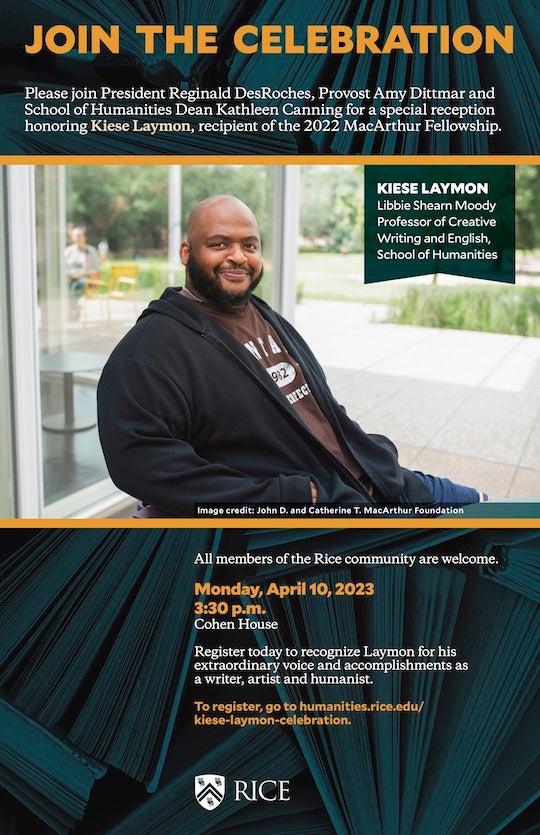 An award-winning author hailing from Jackson, Mississippi, Laymon's writing across the forms of essay, memoir and fiction is rooted in his perspective as a Black Southern man. He's received widespread acclaim for his work, including 2018's bestselling "Heavy: An American Memoir," the novel "Long Division" and the essay collection "How to Slowly Kill Yourself and Others in America." Recently, Laymon wrote the narration for "Legend," Netflix's two-part documentary on NBA icon and civil rights leader Bill Russell.
In addition to remarks from DesRoches, Dittmar and Canning, English Department Chair Kirsten Ostherr along with other colleagues of Laymon's from the department will speak at the reception.
The special celebration of Kiese Laymon, MacArthur Fellow and Libbie Shearn Moody Professor of Creative Writing and English, will take place at the Rice Faculty Club's Cohen House April 10 from 3:30-5 p.m. Refreshments will be provided and all Rice students, staff and faculty are invited to attend. Registration is required; please visit humanities.rice.edu/kiese-laymon-celebration to RSVP.