The mysterious man handing out gummy worms on the sideline of Rice football games has been uncloaked.
After going viral over the weekend for passing gummy worms out to Rice football players during the team's convincing 42-10 victory over the University of Tulsa on Oct. 19, Rice Athletics intern Daniel Domian had no idea the fame that awaited him before the team touched back down in Houston.
"(Assistant strength and conditioning Morgen Cote) texted me a video and said 'Hey, you're famous, kid.'" Domian said. "I was like, 'what?'"
"I just see me looking on the sideline like a mysterious character handing out some gummies."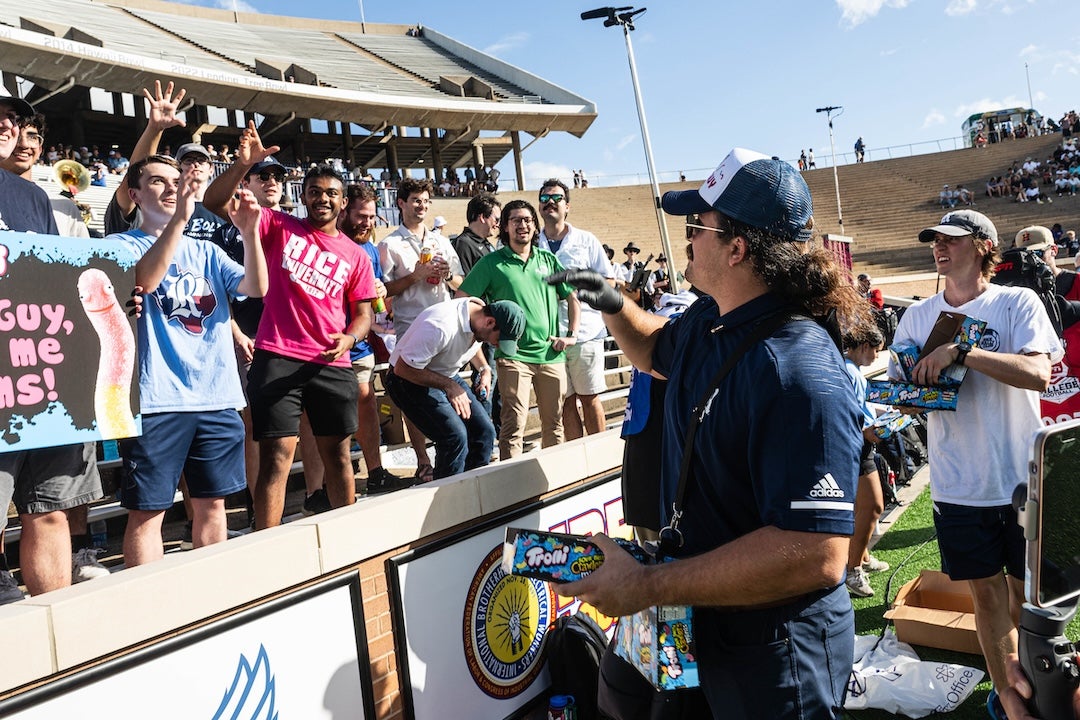 When Domian was first shown the tweeted-out video, it had around 2,000 views. By the time he landed in Houston, that number had shot up to over 30,000.
"I was like alright, this is insane."
Rice coaches have tried many different methods throughout the years to counter cramps and carbohydrate deficiencies during games, but the staff struck gold when they started feeding players gummy-based snacks, head strength and conditioning coach Hans Straub said.
"We talk about cramping and hydration, but we also understand that it's multi-layered. So we were using applesauce, plain jane fruit snacks, and after a couple years I think it kind of got stale," he said.
"We recently hired Morgen Cote, and I told her we needed to find something better. And one day, I look over at the sideline and she's handing out Sour Patch Kids. All the guys were really excited about it. And it kind of built from there - finding as many gummy-based things that guys would want to eat."