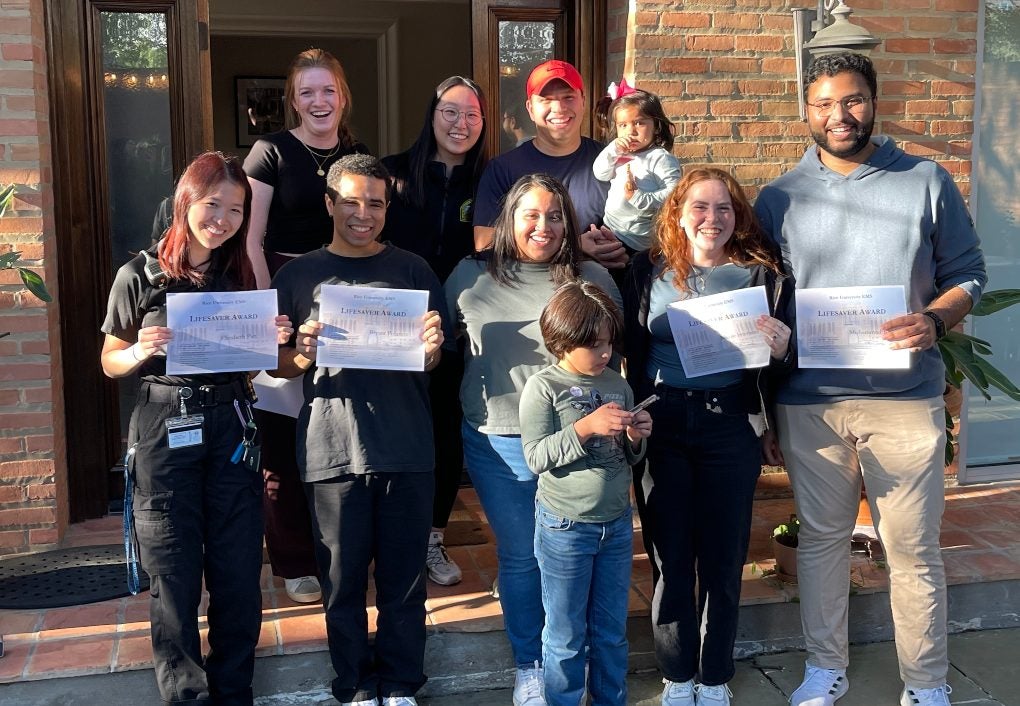 Rice University Emergency Medical Services (REMS) gathered for its annual Fall Study Break Nov. 3 where student volunteers enjoyed games, food and swag items as a way to relax between midterms and finals.
While the event is meant to thank students for their commitment to the service, this year's gathering took on a special meaning. During the festivities, the organization recognized the recent life-saving efforts of several of its members.
Earlier this semester, the infant of Sid Richardson College Resident Associates Bianca and Carlos Escobedo started to choke while a nanny was attending her in a restroom. When nearby off-duty REMS members heard the calls of distress about the child, they instinctively sprang into action.
"We sprinted towards the bathroom, and the nanny told us the baby was choking," said Bryant Polanco, a junior studying health sciences. "I remembered the training that I received through REMS, and I started doing back blows to clear her airway."
The remaining crew rushed to the scene and further assisted in the crucial care to safeguard the toddler.
Fortunately, the REMS responders had a direct impact on clearing the young patient's airway and breathing, which helped save her life that day. She was then transported to a hospital for full evaluation and treatment.
During the Fall Study Break, the Escobedo family joined to share their thankfulness to the swift actions and fine training of REMS that helped save their 6-month-old child.
"I'm grateful for the REMS students, and I'm grateful that Rice has this program because without it our daughter may not be here and be alive," Carlos said. "We're forever grateful for these students who are our heroes. I know that they respond to a lot of calls, and I think it's an amazing program."
REMS members complete more than 200 hours of training and participate in patient assessment and treatment in both an emergency department and ambulance setting to qualify for EMS certification.
Once joining REMS, all members participate in monthly training sessions, attend a monthly presentation on clinical and operations topics and review online updates.
"Staying current with best practices and keeping skills sharp is key as an organization and also a responsibility for each EMS provider," said Lisa Basgall, director of REMS.
In addition to being full-time students, the undergraduate volunteers from REMS commit a significant amount of time to remaining ready to respond to emergencies of any type, ranging from minor to life-threatening. In the 2022-23 academic year, REMS responded to more than 900 calls for emergencies.
"Having a team of responders trained in life-saving skills who are ready to step up for emergencies at any time . . . sitting in class next to you, heading around the Rice loop on a golf cart, studying in the library or working out at the Rec Center . . . is a benefit to the Rice community, and REMS is privileged to be a part of this cause," Basgall said.
The program is producing long-term results for students interested in health and well-being.
Senior Kirim Kim, a neuroscience major, mentioned that belonging to REMS has increased her leadership and communication skills along with giving her the opportunity to make a contribution to the campus.
"There's definitely those calls we get that really have a lasting impact on us," Kim said, referencing when she attended to the Escobedo toddler. "It's really nice to know that a lot of people appreciate us and what we're doing on campus."
For any Owls who want to learn more about REMS, including a variety of training opportunities in CPR and first aid, EMT courses and research courses, visit rems.rice.edu.