The Houston-based Apollo Chamber Players performed Rice Shepherd School composition professor Pierre Jalbert's "L'esprit du Nord" and additional works written by Rice alums in "A Universal Celebration of Storytelling, Outer Space, and Folk Music" March 9 at Carnegie Hall's Weill Recital Hall.
Celebrating his French Canadian heritage, Jalbert's new work is a three-movement piece fusing three folk songs with his unique, contemporary musical language.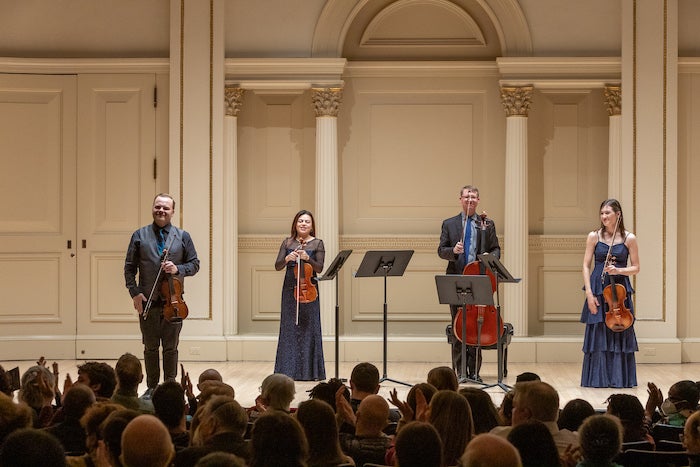 "'Chanson de Lisette' is a playful theme and variations, while the second movement, 'Cantique (Canticle),' contains two religious folk tunes: a passion and a tune entitled 'Les Pèlerins,'" Jalbert said. "The third and final movement, 'Fiddle Dance,' was inspired by French-Canadian fiddling traditions.
"It's always a thrill and an honor to have a piece performed at such a celebrated venue," he continued. "It was a great pleasure to work with the Apollo Chamber Players in bringing this work to fruition."
The performance, which featured the group's new program of multicultural music and art inspired by American Indian moon legends, Appalachian folk music, Turkish melodies and poetry, was part of the string quartet's 15th season. In addition to the piece from Jalbert, Apollo performed Rice alum John Cornelius' "Pax," alum Erberk Eryılmaz's "Thracian Airs of Besime Sultan," Jerod Impichchaachaaha' Tate's "MoonStrike" and Jennifer Higdon's "In the Shadow of the Mountain" — all for the first time in New York.
Founded in 2008 by Rice alum Matthew Detrick, the group includes Detrick, fellow alumni Matthew Dudzik and Tonya Burton, and Anabel Ramirez. More info about the group is available at www.apollochamberplayers.org.