Rice University is celebrating National Hispanic Heritage Month, Sept. 15 through Oct. 15, by spotlighting the history, contributions and achievements of Latino communities, especially as they relate to the campus community.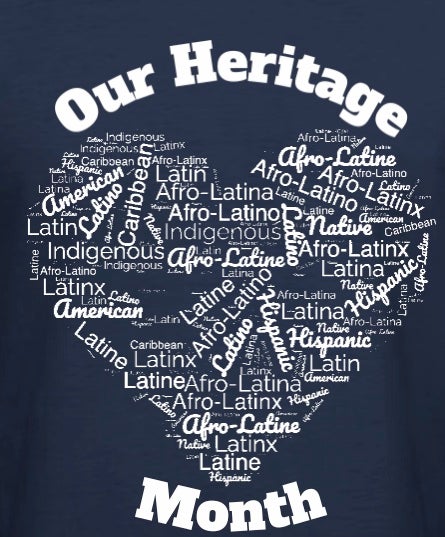 Rice's Hispanic Heritage Month planning committee has titled the event "Our Heritage Month" in an effort to delve deeper into the ways that Hispanic identity is represented in the United States.
"With Rice's core values of belonging, inclusivity and visibility in mind, Our Heritage Month is the university's response to the vast and varied experiences within our community," said Luziris Pineda Turi, associate vice provost for Diversity, Equity and Inclusion, and Faith Neyra, co-chairs of the planning committee.


"We recognize that labels such as Hispanic and Latino/a/x/e come with their complexities, representing diverse experiences, histories and identities. Our Heritage Month is not just about a change in name but an embracement of all these nuances."
To meet this challenge, the planning committee recruited 15 students and 17 staff and faculty members to design the monthlong programming, bringing together Owls who identify as Latino as well as a consortium from different backgrounds interested in supporting Hispanic communities.
The Office for Diversity, Equity and Inclusion; Multicultural Center; and Multicultural Community Relations are coordinating several of the public events. For a full list, see below or visit rice.edu/our-heritage-month.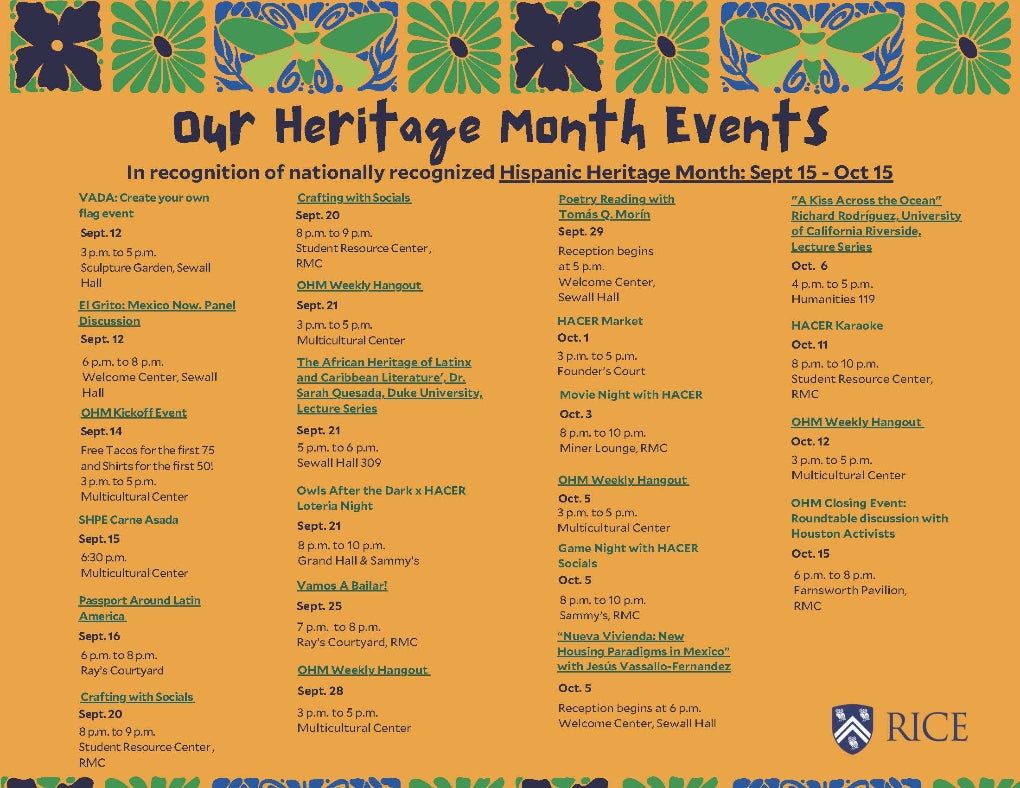 Among the highlights:
Sept. 12: El Grito: Mexico Now (6 p.m.)
Join a panel discussion with experts on the most significant social and cultural issues affecting Mexico. This event is sponsored by Multicultural Community Relations in the Office of Public Affairs and the Baker Institute Center for the U.S. and Mexico.
Sept. 14: Our Heritage Month Kick-off (3 p.m.)

This gathering serves as a platform for community members to connect, share stories and celebrate the start of Hispanic Heritage Month.
Sept. 21: OHM Weekly Hangouts (3 p.m., weekly)
Every Thursday, the Multicultural Center will host weekly hangouts to celebrate Our Heritage Month. Enjoy food, music and camaraderie.
Sept. 29: Poetry reading with Tomás Q. Morín (5 p.m.)
Tomás Q. Morín, associate professor of creative writing, will read from his latest poetry collection "Machete," followed by a conversation with José Aranda, professor of English and modern and classical literatures and cultures and co-coordinator of the Mellon Mays Undergraduate Fellowship at Rice.
Oct. 5: "Nueva Vivienda: New housing Paradigms in Mexico" (6 p.m.)
Jesús Vassallo-Fernandez, associate professor of architecture, will deliver a lecture on "Nueva Vivienda: New Housing Paradigms in Mexico."
Oct. 15: "Nuestra Herencia" (1:30 p.m.)
Enjoy music and dance by student groups Mariachi Luna Llena, Los Búhos del Norte and Rice Salseros.
Oct. 15: Our Heritage Month Closing Event: Houston Activist Roundtable (6 p.m.)
Four Houston activists will share their work while two Rice students moderate at Farnsworth Pavilion in the Ley Student Center.