HOUSTON – (Feb. 14, 2023) – Rice's Jones Graduate School of Business ranks 17th among top U.S. business schools and 29th globally — up from 28th and 47th a year ago, respectively — and is No. 1 in Texas, according to 2023 rankings from the Financial Times.
"This year's ranking is the result of Rice Business working toward meaningful, practical improvements for our students," said Dean Peter Rodriguez. "Our students are able to personalize their education, learn from top-rated faculty and prepare for the complex, changing world —– with a tangible return for their investment in a Rice MBA."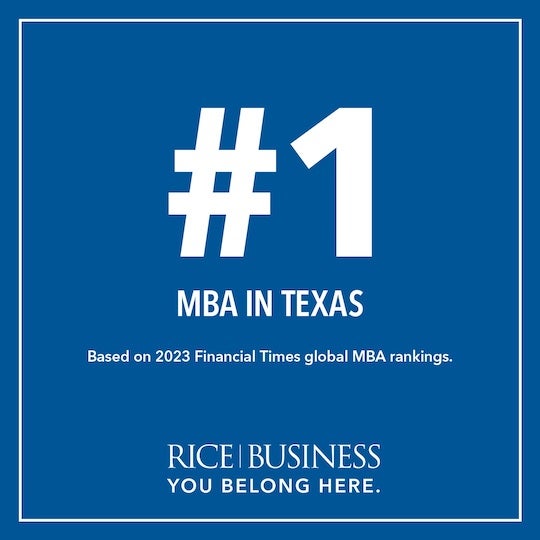 Metrics for the 2023 rankings included average salary three years after graduation and salary percentage increase as well as the core curriculum's focus on environmental, social and governance and climate solution-related courses.
Rice Business also ranked 12th in campus carbon footprint among U.S. schools, ninth for the number of faculty with doctorates, fourth for international mobility and third for sector diversity, which is a measure of the range of professional sectors that applying students worked in at the time they were admitted.

For the complete rankings, click here.