Nearly 20 years later, the effects of Rice's first national championship are still being felt by players, coaches, fans and the university as a whole.
"Playing for Rice was my dream, much like most of my teammates. When you achieve your dream with a group of people, it sticks with you," said Austin Davis, an outfielder and team captain for the 2003 Rice baseball team that won the College World Series. "We're still really close. They're family. That's how we played together, and that's how we have remained after baseball was over."
Rice Athletics will hold a reunion event dubbed "A Championship Celebration" March 24 in honor of the 20-year anniversary of the team's national title, which was clinched with a 2-1 series victory over Stanford University. Coaches and players from the team will be present for the special evening at the Moody Center for the Arts, which will include a brief program, refreshments and food.
"We are proud to welcome home our 2003 NCAA national championship baseball team and recognize their contributions to Rice University," Rice Athletic Director Joe Karlgaard said. "We hope they enjoy sharing the memories of their accomplishments and catching up with one another. This is a special weekend for our baseball program and everyone associated with Rice Athletics."
Many members of the unforgettable team have used the confidence gained from their achievement to further their success in life.
This includes Chris Kolkhorst, who was a team captain and led the Owls in on-base percentage during the '03 season.
"It changed all of our lives and showed us what's possible — that an underdog can win a national championship," Kolkhorst said. "Any situation we go on to now, we feel like we can win — whether it's business, sports, personal, there's always a pathway to victory."
Making the title even more meaningful was the fact that Rice was widely known for its academics but not so much for athletics, Davis said.
"We had a team 3.3 GPA, which was basically unheard of," Davis said. "So it was important to us to be fantastic on the field, as well as the classroom and represent Rice. But it was extremely special, and it paved the way for other schools in similar situations to be able to do the same."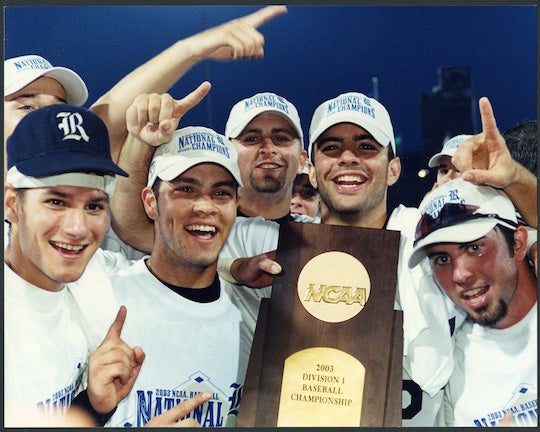 "It's as good as it gets," Kolkhorst said. "It's the American dream to take something and create something from nothing — and go have success and prove that you can compete against anybody with the smallest enrollment, but the highest graduation rates."
When asked what words best describe that Rice team, which boasted the best record in the country and won 30 straight games at one juncture in the season, Kolkhorst cited the squad's "grit, resilience, ability to play hurt, reliability, curiosity and desire to get a little bit better each day."
"We believed it. Going to Omaha in '02, getting a taste of it and not having any success, but coming back and having an extra year under our belt, we really believed it," he said. "I would say probably after that 30-game win streak, we knew that we had a legitimate chance to get back to Omaha and have some success."
As it turns out, accomplishing something that has never been done before is like a fine wine, Davis said — it just gets better with age.
"The more time passes, the more special it gets," he said. "It is something that we did together and something that we will never forget together. I appreciate everything my brothers have done for me, and I appreciate everything that Rice has done for me.
"I owe just about everything to what I've learned on the ball field, and a lot of that came from Rice," Davis continued. "The lessons that you learn when you're an athlete are lessons that you take with you that you pass down to your children. Being an athlete in the Rice baseball program, it's stuff that people still talk about today."
The celebration at the Moody takes place at 7 p.m., following a baseball game between Rice and the University of Texas at San Antonio at 3 p.m. at nearby Reckling Park. Prior to the first pitch of the second game of the weekend series with UTSA on Saturday, the members of the 2003 team will be introduced and join the current members of the team on the field for the national anthem.
The cost to attend the celebration is $50. To register, click here. For more information, contact Conor Glenn at Conor.Glenn@rice.edu or call 713-348-3966. To purchase tickets to any of the weekend games, click here.