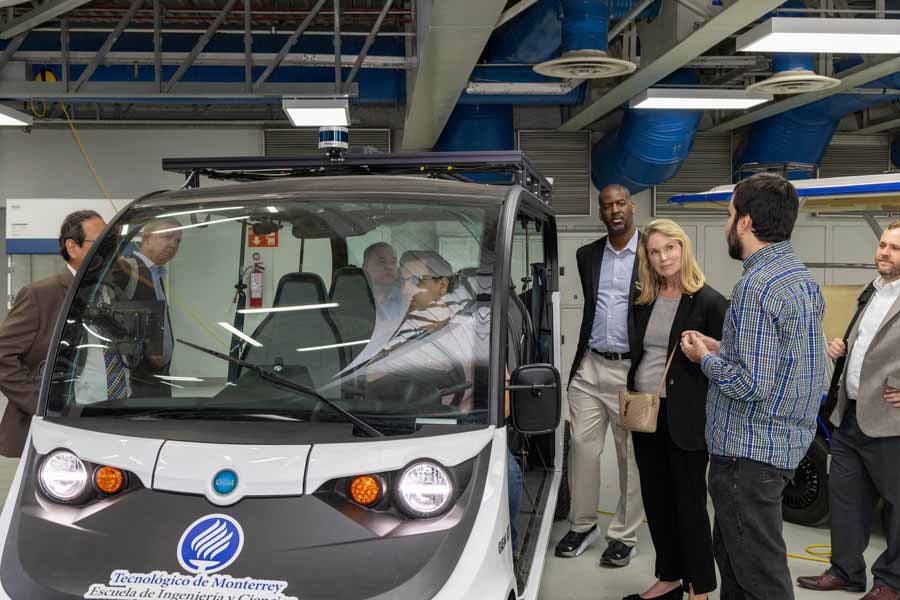 Rice University has announced an agreement with Tecnológico de Monterrey, which will include concurrent doctoral degrees, dual master's programs and a partnership to expand access to continuing and professional education.
"Growing and enhancing Rice University's graduate programs at both the doctoral and master's levels is a key strategy for building Rice's future," said Amy Dittmar, the Howard R. Hughes Provost and executive vice president for academic affairs. "This new partnership with Tecnológico de Monterrey, a technologically advanced and forward-thinking university, will create new and better opportunities for students from both universities to accelerate their research aptitude."
"Both institutions are very similar in thinking, in vision and approach; in their commitment to developing the best experience for students; and in global impact and aspirations in terms of research, innovation and entrepreneurship," said Feniosky Peña-Mora, dean of the School of Engineering and Sciences at Tecnológico de Monterrey.
The doctoral agreement is for Ph.D.s in any area of engineering and natural sciences, and the dual master's is for Rice's master of engineering management and leadership degree available on Rice's Houston campus and online.
"This historic agreement will allow students to simultaneously earn two doctorates in any areas of engineering or natural sciences — one at Tecnológico de Monterrey and one at Rice," said Seiichi Matsuda, dean of Graduate and Postdoctoral Studies. "Doctoral scholars will have unique opportunities to advance the frontiers of knowledge, drawing on the expertise and resources of two great universities."
Last month, Tecnológico de Monterrey hosted a delegation from Rice, including Dittmar, Matsuda, President Reginald DesRoches; Caroline Levander, vice president for global strategy; C. Fred Higgs III, vice provost for academic affairs and director of the MEML degree program; Robert Bruce, dean of the Susanne M. Glasscock School of Continuing Studies; Enrique Barrera, professor of materials science and nanoengineering; Thomas Senftle, assistant professor in chemical and biomolecular engineering; and Raúl Hernández Sánchez, an assistant professor of chemistry at Rice and undergraduate alumnus of Tecnológico de Monterrey.
"The MEML degree gives engineering professionals the valuable skills they need to become recognized technical leaders and engineering managers of the current digital age known as the fourth industrial revolution," Higgs said. "Our goal is to train those engineers who want to lead engineering without leaving engineering by integrating their technical skills, advanced technology and leadership skills in a way that benefits them and their employers. Ultimately, engineers who pursue this dual masters degree program should think "2-2-2", i.e., two world-class engineering management master degrees, in two countries, in no more than two years. "
For Levander, the agreement "is an important step toward broader and deeper understanding and collaboration between both institutions, as well as an opportunity to pilot an important partnership model with Latin American universities."
Founded in 1943 in Monterrey, México, Tecnológico de Monterrey is one of the premier institutions in Latin America to study. It is a private university system offering Ph.D., master's, undergraduate and high-school programs in engineering, management, social sciences and medicine. It has 31 campuses in 25 cities in Mexico and 22 liaison offices in 15 countries.
Its academic programs are accredited by some of the same accreditation agencies as Rice's, including the Southern Association of Colleges and Schools Commission on Colleges and the Accreditation Board for Engineering and Technology, among others.
Hernández Sánchez said his professors at Tecnológico de Monterrey complemented what he was learning with a global perspective and cemented his interest in doing research. During his undergraduate career, he participated in a research program at the California Institute of Technology and the Southern University of Denmark.
"I wanted to have the cultural experience and do research in a different environment," said Hernández Sánchez.
The partnership opens up similar experiences for Rice students and furthers Tecnológico de Monterrey's goal of establishing research collaborations with top institutions from around the world, Hernández Sánchez said. Houston and Monterrey are similar cities just about an hour apart by plane.
"Rice is the perfect partner for them," he said. "The synergy that we can have is pretty substantial."
Rice is a partner and a model for hiring principal investigators, securing funding and attracting talent, he said. In May 2024, Rice will host a cohort of up to five undergraduates from Tecnológico de Monterrey for a summer research program. Rice hopes to host a principal investigator from Tecnológico de Monterrey on a sabbatical, said Hernández Sánchez, who connected with a collaborator with electrochemistry expertise on the trip.
The two universities will also come together to better serve their communities through continuing education and professional studies.
"We continually seek to expand our reach and service to Houstonians with new programs and approaches," said Bruce, dean of the Glasscock School of Continuing Studies. "A partnership with a renowned institution like Tecnológico de Monterrey gives us the opportunity to further fulfill that commitment through innovative and market-driven, dual-institution workforce programming in English and Spanish. This is the beginning of a great partnership designed to advance the Houston community and the state of Texas."