A generous donation of vintage comics from Rice University alumnus Dr. Gordon Green '62 was recently made to the Comic Art Teaching and Study (CATS) Workshop in the Woodson Research Center at Fondren Library.
Green's donation was unveiled March 31 as part of a celebration of the establishment of the CATS Workshop Collection, as well as three Fondren Fellows — undergraduates Irene Wang, Jenn Nguyen and Sophia DeLeon-Wilson — who are working with the treasure trove of original comic art and books housed in Rice's Department of Visual and Dramatic Arts.
Comics have long been a passion of Green's dating back to and before his time at Rice. An avid collector, he was motivated to contribute to the CATS collection when he heard about it.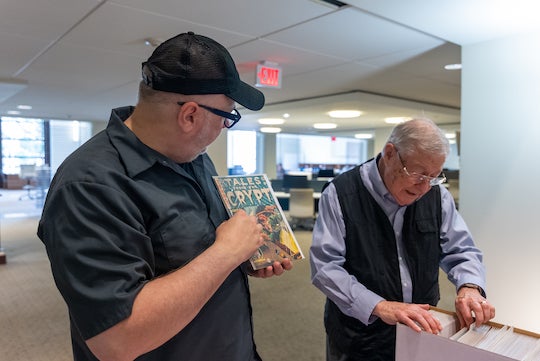 "I came to Rice and wound up going to medical school, so my interest in comic art remained at a very amateur consumer level. And after I got quite a few comic books, I realized that I needed to do something with this collection, because I wasn't going to be around forever," Green said.
"I was looking for a little more substantial home, and Rice University seemed like a good bet to me. And when I stumbled on the new CATS program here, that seemed like a perfect fit."
Green said his collection consists mostly of comics from the early 1940s through the 1960s. "I'm not particularly interested in most of the stuff that's come out since then," he said.
"They're wonderful, vintage horror comics, which are actually terrifically anti-racist and anti-fascist. So they're really wonderful things, especially in these times, to have," said Christopher Sperandio, an associate professor of visual and dramatic arts in the School of Humanities.
"Teaching is planting seeds for trees that you're never going to see grow. Dr. Green is a great example of that. Class of '62, and now 60 years later, we've got this wonderful new crop of objects that are going to be great for study and research."
All in all, Green's donation is worth around $50,000.
"This is special," Green said. "This is special to me because I've loved these comics for the last 80-some-odd years. And it's a special day for me to turn my comic books to a good home."