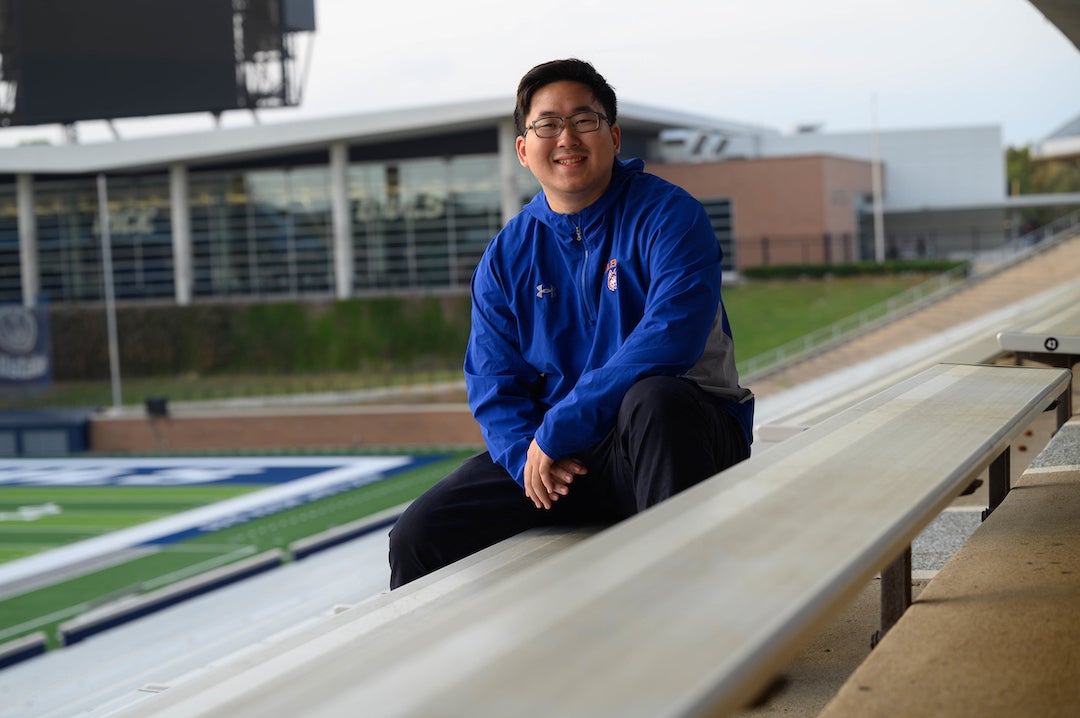 Most 21-year-olds who are preparing to walk for graduation are likely in the process of updating their LinkedIn profiles, browsing the web for potential job opportunities or living it up for a few more weeks before hitting the market.
For Rice alumnus Peter Chung, who will walk out through the Sallyport during this May's commencement ceremonies, he's not only working a full-time job already, he's making history every time he clocks in.
Chung, a recent graduate with a bachelor's degree in sport management, was hired in February as the director of player personnel at Houston Christian University. In this role, Chung directs the recruiting operations of HCU's football team. At 21, he is the youngest person to hold that position within the top levels of college football.
While this distinction may seem like a lot to live up to, Chung said he tries not to think about it too much.
"Honestly, it doesn't really faze me too much," Chung said. "My friends always joke with me about it, but it's something that I've always wanted to ignore. Because at the end of the day, being the youngest DPP is cool, but if I get fired in a month for doing a bad job, it doesn't really matter.
"I'm not going to try to live up to expectations of, 'Oh, he's the youngest DPP. He needs to be this game-changer.' I plan on doing things and breaking records at HCU and just getting the job done. But it's not something that I think about 24/7."
Chung's experience in football personnel began as a recruiting analyst at Rice, where he assisted in selling the Rice football brand to recruits. He played a role in three of the top five recruiting classes in the program's history, but the story of how he got to that point didn't exactly have a smooth beginning.
"I bombed the interview. It was bad, bad," he said. "Then I was given a second chance, and I came back and crushed that. From there, it was just learning. I came in not knowing anything. And while I was there, I just spent a lot of time with the staff and the players trying to build relationships."
Chung said he had to rely heavily on his people skills early on, as he didn't have a traditional background when it came to football.
"I always knew I wanted to work in sports, but with football specifically, all the experience I had was playing Madden (the NFL video game)," he said. "I commentated on some football games as a play-by-play commentator when I was in high school. But that was about all the experience I had. I thought I understood football, and then working at Rice — that's when I figured out, 'Oh, I actually don't know anything at all.'"
Chung said his upbringing was far from centered around football. His parents, who migrated from South Korea, highly valued his education and nudged him to pursue occupations outside of sports growing up.
But the heart wants what the heart wants, he said.
"My mom and dad are still trying to figure out exactly what I do," Chung said with a chuckle. "But they've been great and so supportive. I think they were a lot harder on me going into high school because they wanted me to go into things like pre-med, law school, computers and stuff like that. But now that I'm in college, they want me to do what I enjoy doing and what I love."
Despite his unconventional path to the football world, it was apparent that there was something special about Chung from the jump, said Tom Stallings, professor in practice in Rice's Department of Sport Management.
"If you get to spend any time with Peter, you find that, No. 1, he's authentic. What you see is what you get," said Stallings, who was a mentor of Chung's in his time at Rice. "He's very smart and thoughtful. He's not some brash guy who talks a big game and everything. He's a guy who's loyal and who's going to be a good team player — just a really good, competent person."
The positive reputation Chung built for himself at Rice came in handy when Houston Christian began looking for someone to fill its DPP position.
"As a student, he received more and more responsibilities — to the point that when (Chung's former boss Marco Regalado, Rice football's executive director of player personnel and recruiting innovation) got called by one of the football operations people at Houston Christian, Marco referred Peter Chung to him," Stallings said. "He said he was looking for someone with a little more experience. And Marco told him, 'You know, Peter's got more experience than I do.' Marco had three years of college recruiting experience and Peter had four."
It was a hand-in-glove fit for Chung and HCU head football coach Braxton Harris, who hired him.
"We are excited to have Peter Chung join our staff," Harris said. "He brings experience and enthusiasm for recruiting to our staff and is a rising star in this profession."
Chung's unique background and resume have allowed him to have an outside-the-box view of how to best recruit a player to a program, and for that, he largely credits his experiences at Rice.
"If I never came to Rice, I wouldn't have this job right now. It's as simple as that," he said. "The people there are unbelievable. The friends I made at Rice are going to be lifelong friends, and the teachers I've met have played a big part in shaping how I've learned and how I understand where I want to go with my career."