A visit from internationally renowned guest conductor and Rice University Shepherd School alum Cristian Măcelaru coupled with a blend of traditional and new classical works are among the highlights planned for the school's chamber and symphony orchestra performances March 3 and 4, respectively.

Both concerts are free to the public and will take place at 7:30 p.m. in Alice Pratt Brown Hall's Stude Concert Hall on the Rice campus.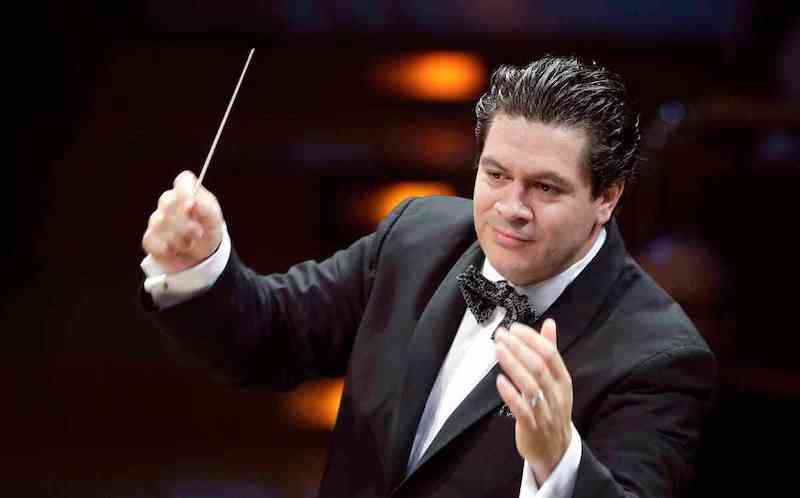 The Shepherd School Chamber Orchestra, under the direction of Donald Schleicher, will perform Rossini's "Overture to The Barber of Seville," Beethoven's "Piano Concerto No. 4 in G Major, Op. 58" (featuring piano performance graduate student Seolyeong Jeong as soloist), Valerie Coleman's "Seven O'Clock Shout" and Stravinsky's "Danse Concertantes."

Jeong, a student of Jon Kimura Parker, made her solo recital debut at Kumho Art Hall in Seoul, South Korea, at the age of 13. She has performed in several prestigious venues including Weill Recital Hall at Carnegie Hall, Morse Recital Hall at Yale University and Seoul Arts Center.
She has won top prizes at international and national competitions, including first prize at the 2023 American Virtuoso International Music Competition, first prize and the Audience Choice Prize at the 2022 Young Texas Artists Music Competition and first prize at the 2016 Connecticut Young Artist Competition.
Jeong said amongs all the piano literature, Beethoven's works hold a special place in her mind.

"His music lives with me as I listen to them day and night while I am not playing them at the piano," she said. "The Fourth Piano Concerto is my favorite of Beethoven's piano concertos, and I am very much looking forward to playing it with the phenomenal Shepherd School Chamber Orchestra."

For free tickets to the chamber orchestra concert, register here .
Măcelaru, music director of the Orchestre National de France who has been heralded for his " animated energy " on the podium, will conduct the Shepherd School Symphony Orchestra's performance of Gabriela Lena Frank's "Concertino Cusqueño," Debussy's "Jeux" and Rachmaninoff's "Symphonic Dances, Op. 45."
Măcelaru, who received degrees from Rice in 2006 and 2008, said the Shepherd School of Music continues to foster the development of the brightest musical talents.

"Globally renowned for the exquisite artistic excellence of its orchestras — a program conceived and then nurtured by the late Larry Rachleff — it is a real highlight for me to return to campus and conduct this concert," he said. "In my formative years, I benefited from everything Rice continues to offer, and I hold dear in my heart countless memories and lessons from those days."

Măcelaru said the program he selected for the students reflects a varied approach of compositional styles.

"I heard Gabriela's 'Concertino Cusqueño' while I was assistant conductor in Philadelphia and immediately fell in love with it," he said. "Rachmaninoff and Debussy are both composers I conduct often."

Măcelaru said his association with the Philadelphia Orchestra, the orchestra Rachmaninoff felt interpreted his music best, as well as his current role of music director of the Orchestre National de France, the leading ensemble for French repertoire, factored in his decision to lead the students in works by these two composers.
"I felt I could bring insights into the music that can help (them) get closer to these masterworks," he said. "Music needs to be understood in the correct historical and cultural context, thus facilitating a deeper connection through time and space with the composer. My professional experiences so far have allowed me to now bring back to the Shepherd School community a very close association with these unique musical styles that represent the three composers heard at this concert."
For free tickets to the symphony orchestra concert, register here .
Parking is available for $5 in West Lot 2. A map of campus is online at