HOUSTON – (March 20, 2023) – The Rice Alliance for Technology and Entrepreneurship is accepting applications for Class 3 of its Clean Energy Accelerator, the premier energy transition accelerator in Houston, through April 14.
Through an active mentor network, extensive investor network and targeted training from experts in the field, the accelerator serves to support the energy transition by helping early-stage ventures achieve technical and commercial milestones that accelerate development and establish market adoption.
Class 3 companies will receive curated, hybrid programming from July 25 to Sept. 22. There will be three opportunities for participating startups to visit Houston, including Demo Day in September. These in-person visits are a key aspect of the accelerator, providing introductions to the city's energy ecosystem — ensuring these global ventures have an open door to key pilot, investment and partnership opportunities needed to succeed.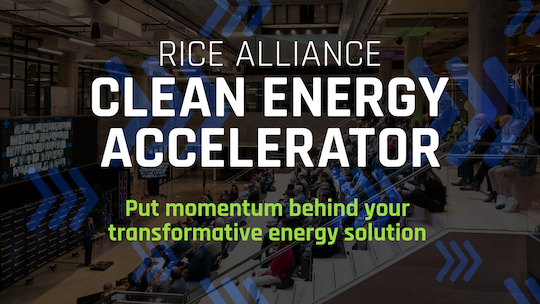 "Accelerating the transition to a net-zero future is a key goal at Rice University. Through accelerating the commercial potential of our own research as well as supporting the further adoption of global technologies right here in Houston, the Rice Alliance Clean Energy Accelerator is proof of that commitment," said Paul Cherukuri, vice president of innovation at Rice. "The Rice Alliance has all the critical components early-stage energy ventures need for success: a corporate innovation network, energy investor network, access to mentors and a well-developed curriculum. This accelerator program is a unique opportunity for energy startups to successfully launch and build their ventures and get access to the Houston energy ecosystem."
Several alumni companies from Class 1 and 2 have since garnered grants, partnerships and investments. In total, 29 ventures have successfully completed the accelerator and raised more than $75 million in funding.
Companies can apply here, learn more about the accelerator here or attend the virtual information session April 3 by registering here.
The Rice Alliance for Technology and Entrepreneurship is a leading center for technology commercialization and entrepreneurship. It provides access to mentors, investors, talent, potential customers, industry leaders, potential pilots, field trials and demonstration projects as well as technical and commercial expertise. Over the past two decades, the Rice Alliance has supported more than 1,000 energy tech ventures have benefitted from its programs and raised more than $7.8 billion in funding.