It was a thrilling holiday weekend for the Rice men's basketball team.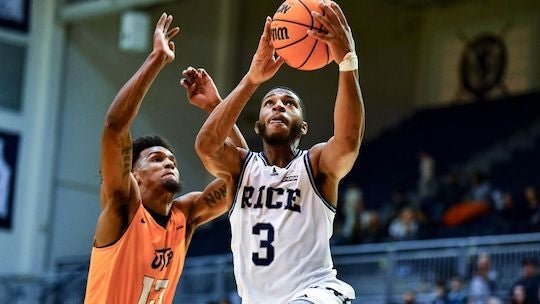 On Saturday at Tudor Fieldhouse, Travis Evee drove the length of the floor for a basket as time expired to lift the Owls to an 83-82 victory over the University of Texas at El Paso. The Miners had erased a five-point deficit in half a minute before Evee's game-winner, which pushed him over 1,500 points for his career.
On Monday at the University of Texas at San Antonio, the Owls rallied from an 18-point hole to stun the host Roadrunners in overtime, 88-81. Max Fiedler had 24 points, 13 rebounds and 11 assists for just the second triple-double in program history, and Quincy Olivari scored 30 points.
Rice (13-5, 4-3 Conference USA) next faces the University of North Texas on the road Jan. 19 before returning home to take on the University of North Carolina at Charlotte Jan. 26. For more, visit RiceOwls.com.