The Bayou Bucket trophy is headed back to South Main for the first time since 2010.
In a game that featured many ups and downs, the Rice Owls triumphed over the University of Houston Cougars in a thrilling 43-41 double-overtime victory at Rice Stadium Sept. 9.
The win marked the first Bayou Bucket Classic victory for Rice in its last eight meetings with Houston, and the first win over a Power Five conference opponent since 2013.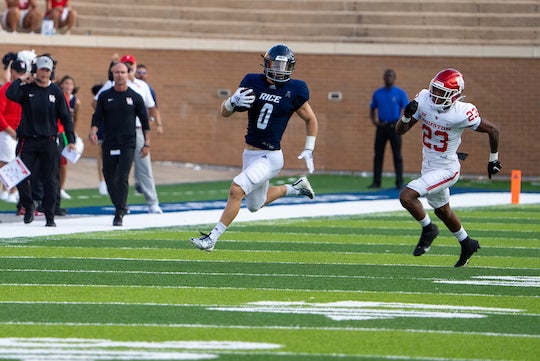 "To win the Bucket for the first time in 12 years and get it back to Main Street was one of our goals this season," Rice head coach Michael Bloomgren said in the postgame press conference. "That's a big deal for our program, and to beat a Big 12 team is a big deal for our program."
The Owls started the game on fire, scoring touchdowns on their first four possessions to go up 28-0 with 8:31 remaining in the second quarter. Rice didn't score again until the first overtime period, as the Cougars came roaring back to tie the game at 28.
In double overtime, the Owls held a two-point lead and were in need of one stop on a two-point conversion attempt to put the game away. Houston elected to throw the ball into the corner of the end zone, where defensive back Jonathan Jean, who was making his first career start, knocked it away to end the game.
"Our analytics coach Dan Gritti told me in the third quarter that (Houston) had a 1.1% chance to win the game. And I just said 'tell me when it's zero.' After that two-point play, it was zero," Bloomgren said. "So thank God we finally made it there."
The 43 points are the most Rice has scored against a Big 12 opponent and the most against a Power Five opponent since the term was adopted.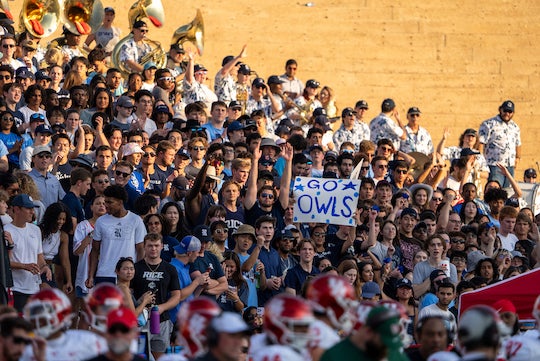 Owls quarterback JT Daniels threw for 401 passing yards, the sixth-highest mark in Rice history, while wide receiver Luke McCaffrey caught seven passes for 99 yards and two touchdowns and running back Daelen Alexander scored the first three touchdowns of his career.
Defensively, junior defensive back Tre'shon Devones recorded an interception that he says was especially meaningful to him. Last year, Devones was injured for the majority of the season and had to sit out of the 41st Bayou Bucket Classic.
"Last year, I was on the sideline and saw how they felt after we lost that game when people said we should have won it," Devones said. "So walking off the field and just seeing people's faces that I've been at school with for four years — that was probably some of the biggest smiles I've seen on my teammates' faces. I really found joy in seeing my teammates happy.
"It was just an environment that you'll never forget."
To read more about the Owls, visit riceowls.com.