HOUSTON – (May 11, 2023) – OpenStax, the world's leading publisher of open educational resources (OER) and an initiative of Rice University, is now accepting applications for colleges and universities to join its Institutional Partner Program for the 2023-2024 academic year. The deadline is June 30.
The OpenStax Institutional Partner Program provides selected institutions with free coaching and
open educational resources, access to a nationwide, collaborative community of partner institutions, programming to increase student success and decrease attainment barriers, and the option to host an OpenStax-sponsored event on their campus.
Since the program began in 2015, OpenStax has helped nearly 80 participating colleges and universities increase the number of students using OER in the first year after program adoption by an average of 150%, collectively saving students $19.6 million and putting more high-quality, peer-reviewed, customizable course materials in the hands of instructors.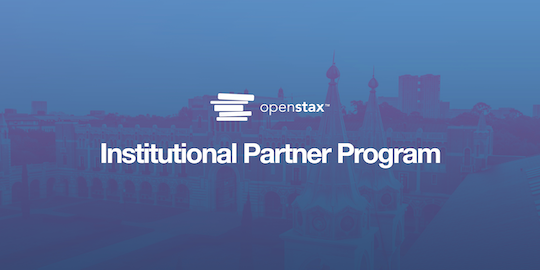 "OER initiatives are more successful with support. That's why OpenStax continues to provide coaching, facilitation materials and strategic planning to a collaborative and enthusiastic community of colleagues from diverse and varied institutions," said Tanya Spilovoy, program lead at OpenStax. "Any U.S. college or university interested in supporting students and instructors with open education resources is encouraged to apply."
The program provides guidance and support to a cohort of new schools each year as they work to expand use of OER. Led by experts in strategic initiatives, change management and open education, the program supports participants in facilitating dialogue and implementing strategy on campus.
OER use has many benefits, including student access to free materials aligned to course scope and sequence. Access to resources is of particular importance to students who find the traditionally high cost of materials a barrier to educational success. 
Interested candidates can find more information about the program and access the application form here.