Imagine being able to replicate the sound of the finest organs from cathedrals and concert halls around the world without ever having to travel.

While every organ is unique and requires a different artistic approach from musicians, they aren't the type of instrument you can pack up and transport to a practice room. That's why the Houghton-Hauptwerk organ, a one-of-a-kind instrument gifted to Rice University's Shepherd School of Music, is a real game-changer for students, said Ken Cowan, professor of organ and head of organ studies at the school.

The instrument was made possible by a gift from Rice alum David Hayes and his wife Andrea. It combines components from several different instruments and is driven by sound sampling software that creates a realistic simulation of the world's finest organs.

"When I first tried it at Richard Houghton's home in 2011, I thought it was the most satisfying practice organ I've ever played on," Cowan said.

The organ was originally created by Houghton, one of the world's leading experts on designing wiring and electrical systems for pipe organs, including those in Disney Hall in Los Angeles and Rice's own Edythe Bates Old Recital Hall. Because Houghton knew suppliers across the U.S., he acquired premium components, from keyboards by Aeolian-Skinner to a windchest by the Wicks Organ Company. He acquired additional custom materials to enhance the instrument, including pipes voiced in Houghton's own shop.

"Ordinarily, if you were building a home practice organ, you buy the cheapest stuff possible. This was not the case for this organ," Cowan said.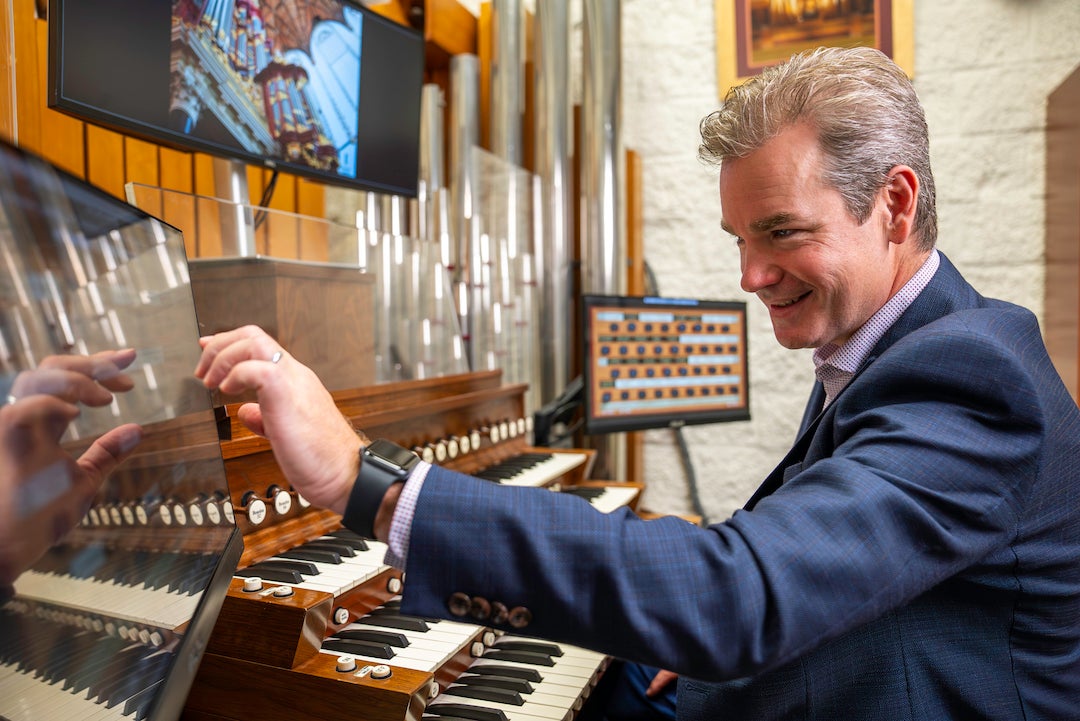 Houghton didn't stop with acquiring the best acoustic parts for this practice organ. He also put his technical expertise to use and rewired the entire console so that it synced up with a multi-channel processor, amplifier, speakers and a high-powered computer containing sound samples from the finest organs around the world.

"This organ has dual functionality," Cowan said. "You can play on the pipework, or with or without the pipework you can play on a sample organ through the computer system, which includes recordings from more than 30 instruments all over Europe and North America. The performer simply selects an organ on the touch screen and can realistically reproduce its sound and acoustical environment through this system."

The end product is a practice organ that allows students to replicate the sound of some of the world's most remarkable instruments, including the organs in the St. Etienne Abbey in Caen, France, Hereford Cathedral in England and St. Bavokerk in Haarlem, Holland. Unique features of these historic organs become apparent as one navigates the varied sample sets available.

Both Cowan and Shepherd School Dean Matthew Loden said the school is enormously grateful to the Hayeses for their generous donation.

"We so appreciate having this fantastic organ available for our music students and to have such steadfast support from David and Andrea for this program," Loden said. "It's a perfect example of how pursuing musical studies often crosses academic disciplines and truly enriches the Rice experience."

While David Hayes was not an organ major (he graduated with an engineering degree), he studied it privately as an undergraduate student and spent time performing on campus organs whenever possible.

"I entered Rice in 1974, the year the Shepherd School of Music was founded," Hayes said. "There was only one organ on campus, in the Rice Memorial Chapel, and we had to sign up to practice on it, limited to one hour per day."

Hayes said there were many times he wished he could just go practice and experiment with new pieces he was learning when he felt inspired, even in the middle of the night on the way back from the computer lab.

"With the very broad capabilities of the new organ, students will have that opportunity," he said. "This gift is especially intended for them."

Rice's organ students and alumni have performed in top venues around the world, including Disney Hall, Los Angeles (Monica Czausz), Verizon Hall, Philadelphia, and the Kennedy Center, Washington, D.C. (Daryl Robinson). They also have won first prizes in major competitions as recently as 2022-23 in the Longwood Gardens International Organ Competition (Bryan Anderson), Royal Canadian College of Organists National Competition (Martin Jones), Feith International Organ Competition (Grant Smith) and the American Guild of Organists Southwest Regional Competition (Marshall Joos).

For more information on Rice's Organ Department, visit https://music.rice.edu/departments-and-ensembles/organ-department.