Senior Rice volleyball player Nia McCardell has become a staple on the court and an overall leader for the Owls in her four years on campus.
She was named the Conference USA Libero of the Year last season while earning first-team all-conference and VolleyballMag.com All-America honorable mention honors, and she is already making her presence known this year in the American Athletic Conference with a Defensive Player of the Week nod last month. By every measure, McCardell has seemed right at home at Tudor Fieldhouse the last few years.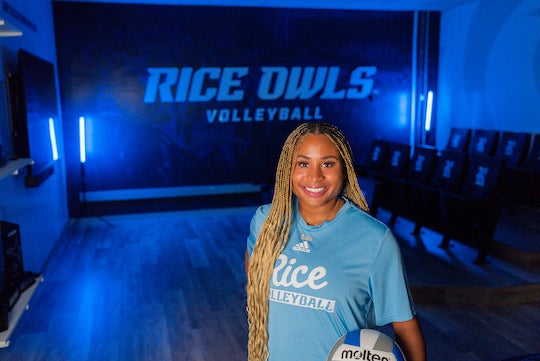 But the path that led her to Rice was an unlikely one, she says.
"During recruitment, I wanted to be as far away from home as possible," said McCardell, who graduated from Ridge Point High School in nearby Missouri City. "I would always tell my parents, 'I'm getting out of Texas. I'm going the furthest away from home.' But coming here and visiting Rice, meeting the team and seeing the team culture — I really just fell in love with the campus, with the girls, and that's why I'm at Rice."
McCardell comes from a family of high-level athletes, helping explain her prowess on the court.
Her father Keenan McCardell is a former NFL wide receiver and two-time Super Bowl champion and the current receivers coach for the Minnesota Vikings. Her big sister Keandra McCardell played volleyball at the University of Houston, and her twin sister Nakeeya McCardell plays on the women's lacrosse team at the University of Clemson.
While Nia McCardell and her family members have always been more than comfortable performing athletically on the big stage, she says she has grown to love the smaller, community-oriented atmosphere at Rice more every year.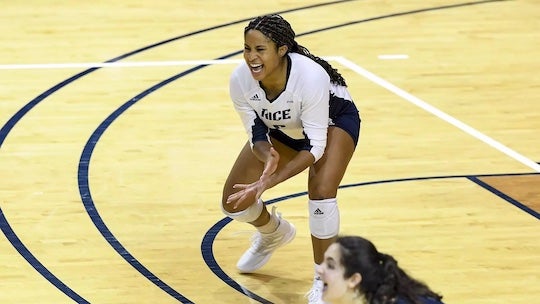 "It's so cool being a student athlete at Rice," McCardell said. "It's just an experience like no other. There's rigorous academics, and then you're playing high-level volleyball. It's a really close-knit relationship with the fans, I would say. You can just feel the love and the connection, and they really do support us and want us to win."
A sport management major, McCardell is also looking toward her future after Rice. And while she hasn't ruled out going pro, she said she hopes to be a social media manager for a professional sports team in the future.
She stays active on social media platforms and recently started her own YouTube channel, "niaaanicole," where she filmed a vlog of a family trip to Disney World. She has also leveraged the NCAA's new name, image and likeness (NIL) rules into marketing opportunities to showcase her and her teammates' talents.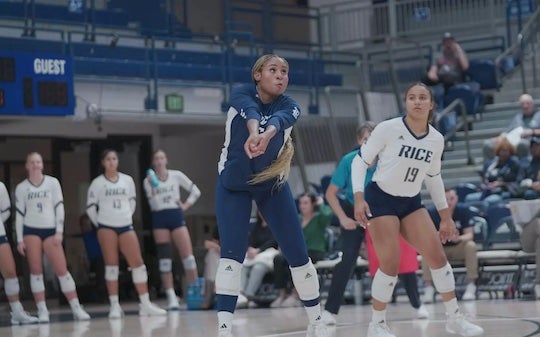 "It's just been really cool to be able to dive into the world of sports on a business level with my internships with social media and marketing, but also learning about how I can market brands," she said. "And within that, I'm over here marketing myself with NIL. So it's been amazing to put my name out there and really bring more awareness to myself and to my team."
In the thick of her fourth season in a successful program that has won conference championships and reached NCAA Tournaments, McCardell says she hopes to maximize her athletic career during the rest of her time at Rice and help her team take the next step to the Sweet 16.
"My favorite experience about being a Rice student athlete is breaking down barriers with my volleyball team, winning championships, fighting through adversity with every game and just meeting so many great people," McCardell said. "Here at Rice, you make so many connections and you build a lot of relationships, and I will cherish these memories and these relationships for my whole life."