The Glasscock School of Continuing Studies at Rice will host a course exploring the possibilities and potential perils of generative artificial intelligence (AI) starting Sept. 20.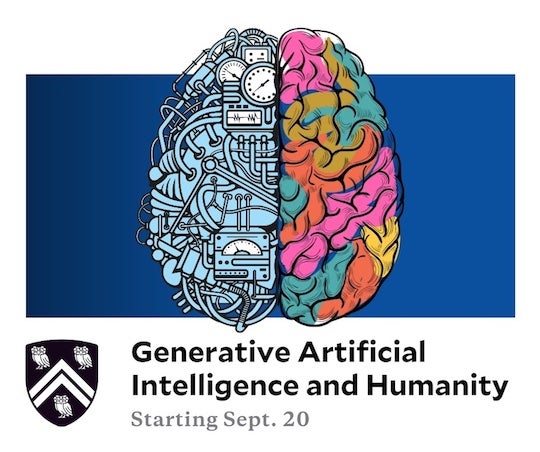 The course titled "Generative Artificial Intelligence and Humanity" is open to the public and will examine machine learning and related tools like ChatGPT for various aspects of human life, including education, work, health, creativity, equity, justice, democracy and what it means to be human.
Taught by Rice faculty, the course aims to provide a comprehensive overview of the latest developments in AI and its potential impacts on society.
"A primary part of the Glasscock School's mission is to provide community access to Rice faculty and the incredible and transformative research that is taking place on our campus," said Robert Bruce, dean of the Glasscock School.
"Additionally, we exist to inform and equip our city with the latest knowledge and skills needed to navigate work and life. This course is a prime example of both of those principles. As the proliferation of AI applications has exponentially accelerated just this year, we are excited to give Houstonians access to some of the leading scholars on the subject to help them understand and navigate this brave new world."
Through a series of lectures, discussions and hands-on exercises, students will explore case studies from various domains to gain a deeper understanding of the potential benefits and drawbacks of these technologies. They will also learn about strategies for ensuring that AI is used in ways that promote equity and justice.
Topics and speakers will include:
AI and Democracy, Moshe Vardi

Understanding Generative AI and Machine Learning: How Machines Learn and Decide, Vicente Ordóñez-Román

A History of the Limitations and Possibilities of Artificial Intelligence, Elizabeth Petrick

How Generative AI May Reshape the Workforce, Fred Oswald

Responsible AI for Health, Kirsten Ostherr

What It Means to Be Human in an Age of AI: Philosophical and Ethical Issues, Rodrigo Ferreira

How Human Is AI Creativity? Anthony Brandt

Generative AI and Education, Richard Baraniuk
"It's remarkable how many Rice faculty across disciplines are researching and teaching about the societal impact of generative AI," said Cathy Maris, the Glasscock School's assistant dean for Community Learning and Engagement. "No one field has the solutions to these complex challenges. This course gives the public access to speakers from the fields of computer science, history, psychology, English, medical humanities and music. We hope this confluence of perspectives will offer powerful insights for and with our community."
The course will be held on campus from 7-8:30 p.m. every Wednesday night Sept. 20 - Nov. 8.
To learn more, click here.