HOUSTON – (March 10, 2023) – A new podcast from Rice University's Baker Institute for Public Policy tackles timely discussions about the state, the country and the world's most pressing issues.
Hosted by Baker Institute director and former U.S. Ambassador David Satterfield, "Baker Briefing" features experts from the institute discussing critical foreign and domestic policy issues in front of a live audience.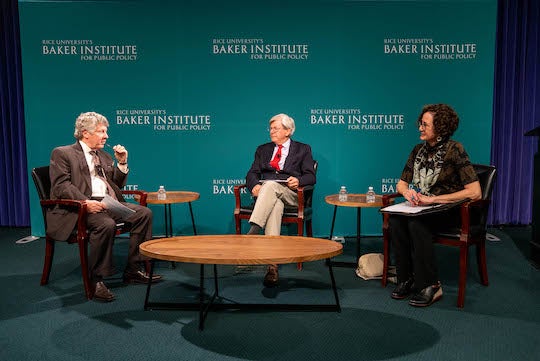 Each episode features experts from the Baker Institute along with invited guests. The most recent episode – Curbing the Opioid Epidemic in Texas – featured local elected officials such as Harris County Sheriff Ed Gonzalez and District Attorney Kim Ogg, as well as career diplomats such as former U.S. Ambassador to Russia John Tefft. In addition to Satterfield, Baker Institute Fellows Joe Barnes and Ed Emmett serve as moderators.
"Through conversations with subject matter experts, we seek to provide meaningful analysis and independent perspective," Satterfield said in the first episode.
The next episode, which will be recorded March 29, focuses on how policy interventions can address mental health in children. Other past episodes include a diplomat's perspective on Russia, conversations about consumer trends in a post-pandemic economy, maternal mortality rates in Texas, global energy markets, a public health approach to gun violence, U.S. data security and the earthquake in Turkey and Syria.
"Baker Briefing" is available anywhere podcasts are found.