As is often the case at Rice's Moody Center for the Arts, the genesis of its new exhibition started with a thought-provoking question.

"Why is it that artists would be working in a very modern moment with a very historic material?" asked Alison Weaver, the Suzanne Deal Booth Executive Director of the Moody, in reference to the recently opened exhibition "Narrative Threads: Fiber Art Today," which showcases 40 fiber-based artworks from 22 artists based across the globe.
On view through May 13, the exhibition evokes a thrilling sense of texture and tactility across its many works, from "The Admirer" by Austin-based artist Orly Genger, a larger-than-life web of woven recycled fishing rope that drapes across the Moody's front lawn, to the two massive creations from Argentine artist Ana María Hernando that greet visitors soon after they enter the building.
One of Hernando's works — "Cloud," displayed here indoors for the first time — uses dazzling pink, orange and white silken tulle ("... the colors that birds love," she explained) to reference clouds during a dazzling sunset, reminding viewers of the interconnectedness of all life above and below. "Clouds bring the sky to Earth, and they bring the Earth to the sky," Hernando said.
Mere yards away, Hernando's "We Cannot Weep Without Vibrating the Waters" also uses tulle, this time in vibrant hues of blue, cascading from a rectangular cluster of mustard-colored felt. It evokes a powerful femininity, its dresslike structure highlighting "the invisible work" of women's hands through the ages to support their communities.
In the adjoining Brown Foundation Gallery, guests are invited to rest on bold-colored woven ottomans located throughout the room and contemplate the works on display after they pass through hundreds of individual colored threads, suspended from the ceiling. Physically weaving in and out of these fabric walls, visitors will see the work of Texas natives Diedrick Brackens and Sarah Zapata, as well powerful tapestries from Josh Faught, Qualeasha Wood and Billie Zangewa. The intricacies of Igshaan Adams' beaded work and the multilevel hanging pieces by Patrick Quarm also speak to the personal and political power of this medium.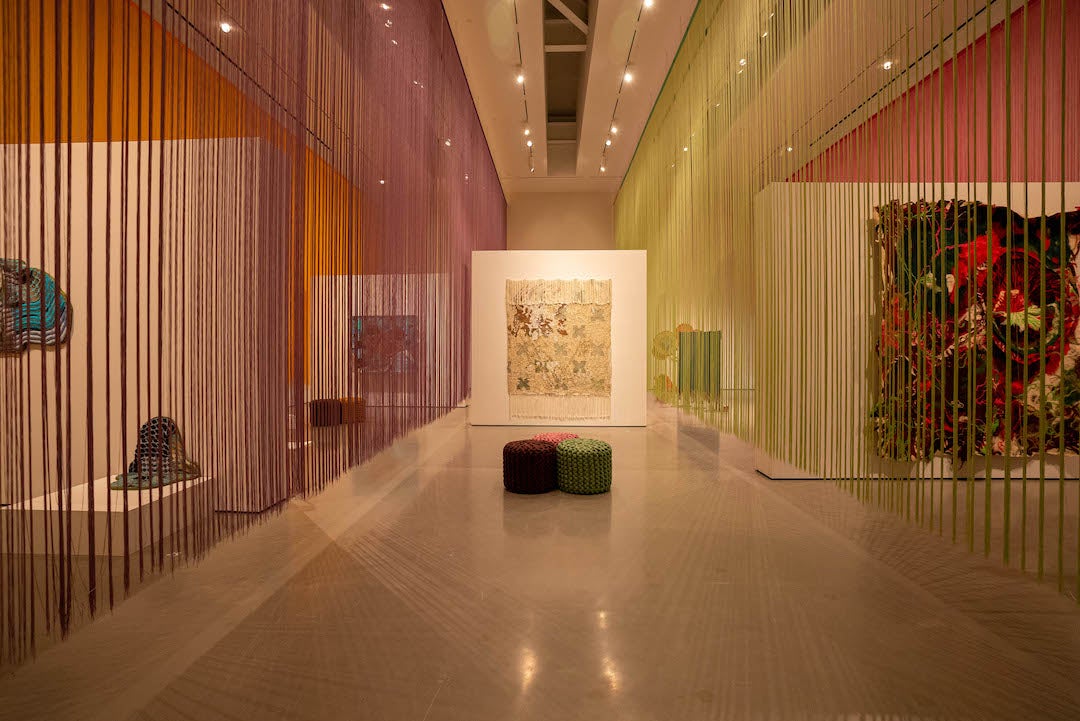 Yet another element of this exhibition is an entire room dedicated to thread drawings by artists Felipe Baeza, Chiharu Shiota, Do Ho Suh and Ardeshir Tabrizi. If the preceding galleries beckoned the viewer with large-scale, vivid works, this smaller room makes an impact on a more intimate level. Each of these artists has maneuvered thread the way one might draw with a pencil — the result is an overarching feeling of delicacy, inviting guests to peer closely in order to fully appreciate what's in front of them.
Collectively, the exhibition offers an array of perspectives; "Narrative Threads" prominently features artists who identify as women, LGBTQ+ and persons of color for whom textiles are seen as vessels to communicate themes of love and oppression, jumping between autobiographical inspiration and broader societal critiques of how traditional, patriarchal societies often ignore and overlook fiber artworks as merely domestic, decorative items.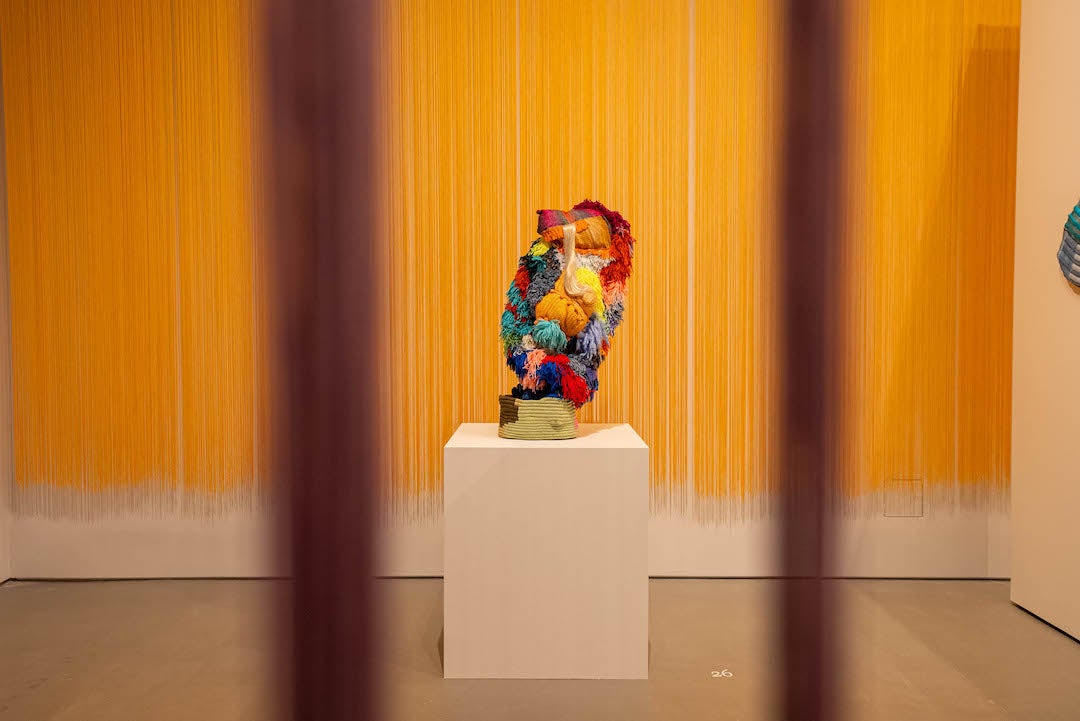 "The thread is the line; the foundational basis of these artists' practice," Weaver said. "There are many artists working in fiber, and we chose these artists because they are engaged with issues of identity, politics, power, gender and social justice, issues that are central to our time and our moment."
"The use of fiber makes these issues accessible," Weaver continued. "We all have personal relationships with cloth, through clothing and fabric. We hope the medium makes these works inviting for visitors to engage with the art and ideas on view."
Keeping with tradition, the Moody has a full slate of programming scheduled across the spring semester, each event designed to engage with the themes of "Narrative Threads."
The Moody hosted Houston-born artist Suzanne Bocanegra, award-winning film and television actor Lili Taylor and vocalists from Rice's Shepherd School of Music on Jan. 27 for a packed-house performance of "Honor," an innovative performance that uses the format of the traditional "artist talk" as a starting point for a unique examination of the artist's personal narrative in response to a 16th-century tapestry in the collection of the Metropolitan Museum of Art.
In the months ahead, the Moody will also host the latest iteration of its popular "New Music / New Art" series that invites Shepherd School student musicians and composers to create and perform new compositions surrounded by the artworks that inspired them. Artist Christina Forrer, who has two works on display in the exhibition, will participate in the Moody's "Artists-in-Dialogue" series on March 22, and on April 21, the signature "Dimensions Variable" series continues with an original performative response to the exhibition orchestrated by theater director Doug Fitch and his partner Tommy Nguyen "based on characters they've created, wearing costumes comprised of recycled stuffed animals," according to Weaver.
For Frauke Josenhans, the Moody's curator, collaborating on "Narrative Threads" was an exciting opportunity to showcase all the creative ways fiber and thread can be used to tell deeply personal, powerful stories in ways that even the most seasoned art aficionado might not have previously considered possible, and to invite patrons to interrogate the many roles fiber plays in our lives.
"I think you will be surprised. … Our hope is that as you leave the exhibition, you will see fiber works everywhere and be inspired to think about the personal and political narratives they inspire," Josenhans said.
On view through May 13, "Narrative Threads" is curated by Alison Weaver, executive director, Frauke Josenhans, curator, and Molly Everett, assistant curator, of the Moody Center for the Arts. The exhibition is designed by Xiaoxi Chen, Frank Mondragón and Alejandro Stein of design firm world, and is made possible by the Moody Center for the Arts Founders Circle and the Elizabeth Lee Moody Excellence Fund for the Arts.