Phi Beta Kappa Visiting Scholar P. Gabrielle Foreman will present a lecture focused on the history of 19th-century Black activism March 7 at Fondren Library.
The Rice University and University of Houston Phi Beta Kappa chapters are partnering to present the lecture as a part of the organization's Visiting Scholars program. The lecture is titled "Why Didn't We Know?!: The Forgotten History of the Colored Conventions and 19th-Century Black Political Organizing."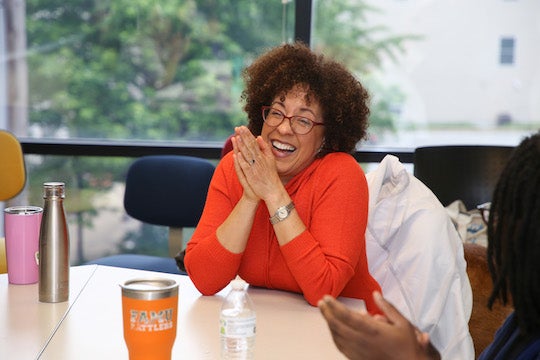 Foreman is Paterno Family Chair of Liberal Arts and a professor of English, African American studies and history at Penn State University. She's also a 2022 MacArthur Fellow , recognized for her work in expanding the study of historic 19th-century collective Black organizing efforts through initiatives such as the Colored Conventions Project.
"Our chapter officers identified Dr. Foreman, who was on the list of visiting scholars, as our top choice," said Lisa Spiro, assistant university librarian at Fondren and senator in Rice's Phi Beta Kappa chapter. "We were particularly impressed with her work in African American studies and digital humanities, recovering and making available the history of Black activism in the U.S in the 19th century.
"We're really fortunate to host someone who won a MacArthur Fellowship, which is one of the most prestigious awards in recognition of creativity and scholarly achievement," she added.
Foreman has been recognized not only for her work in African-American studies, but as a digital humanist as well. In particular, she is committed to making historical records and exhibits available online, in addition to engaging people in helping to create these online resources.
"I think this work is important because it gives voice to the many African American people in the U.S. in the 19th century who were advocating for protection against violence and segregation and for access to education and fair treatment more generally," Spiro said. "So you see just how engaged Black citizens were in trying to build community and address these deep social problems tied to racism."
Spiro said this event is relevant for both Rice and the broader Houston community.
"Our hope was to bring together the Rice and Houston community for intellectual exchange and to reflect the core principles of a Liberal Arts education – the importance of exploring history and culture," she said.
Foreman will be speaking at the Kyle Morrow Room in Fondren on Tuesday, March 7 at 6 p.m. Click here to RSVP.