HOUSTON – (March 22, 2023) – The 2023 Rice Business Plan Competition (RBPC), hosted by the Rice Alliance for Technology and Entrepreneurship and the Jones Graduate School of Business, will be held on Rice University campus May 11-13. The competition brings together the most promising student ventures from top universities across the world to compete for prizes in front of active investors, entrepreneurs and the Houston business community.
This year's startups represent 37 universities from six countries and were chosen from a competitive applicant pool. With a goal of not only competing for cash but also understanding what it takes to secure investment, raise awareness and launch a successful venture, these graduate students will pitch their companies through four rounds and three days of competition in hopes of taking home the grand prize.
The largest number of Rice student startups to-date participated in the RBPC qualifier in hopes of securing the coveted spot to represent the university on the global stage. Rice Alliance awarded a total of $5,000 in cash prizes to the top three teams from the internal qualifier: Sygne Solutions, Neurnano Therapeutics and Tierra Climate, who will represent Rice at the competition.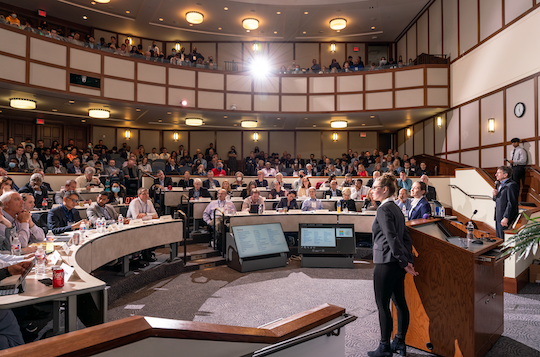 The RBPC seeks startups that are building solutions with high investment potential. This year's entries will compete in five categories: energy, cleantech and sustainability; life science and health care solutions; consumer products and services; hard tech; and digital enterprise.
The 2023 startups join a successful group of RBPC alumni. Over the 22 years of the competition, 784 competitors have raised more than $4.6 billion in capital, with more than 50 successful exits and five public companies.
2023 Rice Business Plan Competition invitees:
Active Surfaces, Massachusetts Institute of Technology
Adrigo Insights, Saint Mary's University (Canada)
AirSeal, Washington University in St. Louis
Algbio, Yeditepe University (Turkey)
Arch Pet Food, University of Chicago
Astria Biosciences, University of Pittsburgh
Atma Leather, Yale University
Atop, UCLA
Biome Future, University of Florida
BioSens8, Boston University
BlueVerse, Texas Tech University
Boardible, Northwestern University
Boston Quantum, Massachusetts Institute of Technology
ceres plant protein cereal, Tulane University
Citrimer, University of Michigan
Dart Bioscience, University of Oxford (United Kingdom)
DetoXyFi, Harvard University
E-Sentience, Duke University
Edulis Therapeutics, Carnegie Mellon University
FluxWorks, Texas A&M University
Integrated Molecular Innovations, Michigan Technological University
Inzipio, RWTH Aachen University (Germany)
LoopX AI, University of Waterloo (Canada)
Magnify Biosciences, Carnegie Mellon University
MiraHeart, Johns Hopkins University
MyLÚA, Cornell University
Outmore Living, University of Texas
Pathways, Harvard University
Pediatrica Therapeutics, University of Arkansas
Perseus Materials, Stanford University
Pike Robotics, University of Texas
Quantanx, Arizona State University
Sheza, San Diego State University
Skali, Northwestern University
Sundial Solar Components, University of Utah
Thryft Ship, University of Georgia
Tierra Climate, Rice University
TrashTrap Sustainability Solutions, Visvesvaraya Technological University (India)
Unchained, North Carolina A&T State University
Unsmudgeable, Babson College
Vivicaly, University of Pennsylvania
Zaymo, Brigham Young University
For more information about the 2023 Rice Business Plan Competition, visit rbpc.rice.edu.