Goldie took home the top prize with its fit-finding software for women's jeans at the April 19 H. Albert Napier Rice Launch Challenge (NRLC) championship.
The NRLC is Rice's new venture competition, where its undergraduate, graduate and MBA students can pitch their businesses to win a share of $100,000 in equity-free funding. A record number of teams entered the competition this year, with judges narrowing the field to five finalists who presented their pitches in front of a live audience.
"It's culminated in these few teams tonight, but it started with a record of 114 teams competing across Rice, from all disciplines, all backgrounds, Ph.D.s, master's students, undergraduates, coming together with brilliant ideas to make a really big difference in the world," said Peter Rodriguez, dean of Rice Business, on championship night. "We want to be the school where we can take all that creativity, all that intelligence and put it together and really give birth to great new firms that make a difference for everyone."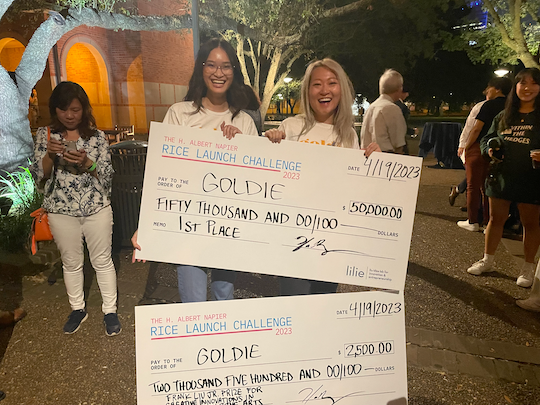 At the championship round, each of the five teams presented a five-minute pitch, followed by 10 minutes of Q&A by judges Barbara Burger, former president of Chevron Technology Ventures; Jordan Miller, senior vice president and chief scientist for regenerative medicine at 3D Systems; and Rice MBA alum Omair Tariq, co-founder and CEO of Cart.com.
First-place Goldie took home $50,000, second-place Tierra Climate earned $25,000 and third-place Separion received $15,000. Sygne Solutions won the Audience Choice award of $1,500 that was voted on by the live audience. Learn more about the top five here.
Kyle Judah, executive director of the Liu Idea Lab for Innovation and Entrepreneurship (Lilie), welcomed the audience to the event with excitement for the competitors and gratitude for the Lilie staff and stakeholders who had put their "blood, sweat, tears, social capital, financial capital" into their programs and competitions.
He also mentioned how many of the competing teams this year were audience members at last year's event who were inspired to work with Lilie to start their venture.
Yael Hochberg, head of the Rice Entrepreneurship Initiative, said: "We are extremely grateful to have Lilie, with everything that it includes. It is here for you: our students, alumni, faculty. We are here to support all of you in your entrepreneurial ventures."
At the post-pitching reception, while the competitors and audience waited for the results over refreshments, remarks were given by Paul Cherukuri, Rice's vice president for innovation. He spoke of how his office exists to enable the "magic" that Rice students are creating and help bring innovation out of the lab and into the world.
"I think it's an amazing thing that we're seeing inside of Rice," he said. "Those of us who've been here at Rice for a long time — I've been in and out of Rice for about 20 years or so, I got my Ph.D. here many years ago — one of the things that we've always wanted to do in the research labs was to actually have people use our stuff, make the world a different place, a better place, hopefully from what we do. What you guys are doing is incredibly inspirational."
The NRLC also awarded "sidecar" prizes, chosen from the initial 114 ventures. The
$1,000 RISE@Rice: The Sen Social Pioneer Prize, sponsored by MBA alumna Runsi Sen '04, went to The Parent Teacher Collective. The $2,500 Frank Liu Jr. Prize for Creative Innovations in Music, Fashion and the Arts, sponsored by the Liu family, was awarded to Goldie in the graduate student category and RiseWorks in the undergraduate category. The $5,000 Outstanding Undergraduate Award, sponsored by Lilie, was given to Tidepay.
Lilie helps the participating ventures refine their business plans and prepare award-winning pitches. Every team is paired with a coach and is able to utilize the lab to collaborate directly with its expert staff. Additionally, Lilie provides mentorship sessions with seasoned entrepreneurs from the community.