Roomful of Teeth, the Grammy Award-winning vocal band dedicated to reimagining the expressive potential of the human voice, will perform a free concert at Rice University's Morrison Theater inside Brockman Hall for Opera Feb. 24 at 7:30 p.m. The event is free and open to the public, but registration is recommended .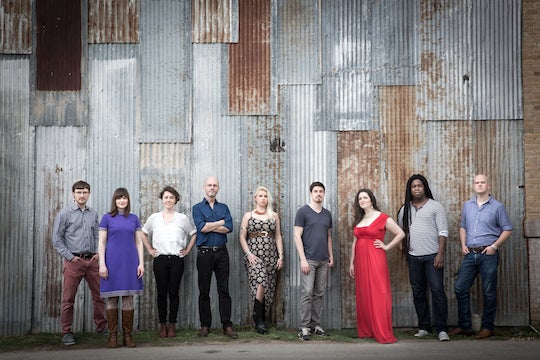 The ensemble will perform Anne Leilehua Lanzilotti's "On Stochastic Wave Behavior," and group member Caroline Shaw's "The Isle" and selections from her Pulitzer Prize-winning composition "Partita for 8 Voices." Shaw, who will not be with the group for its visit, graduated from Rice's Shepherd School of Music in 2004 with a degree in violin performance.
Other selections will be announced from the stage.
While in Houston, Roomful of Teeth will also participate in a seminar with Shepherd School composition students Feb. 24. The ensemble will focus on a broad range of topics, including important considerations when writing for voice, favorite works, preparing new scores and more. In two private sessions at Morrison Theater Feb. 25, Roomful of Teeth will perform and record Shepherd School of Music composition student works.
"Roomful of Teeth is going to give a multimedia presentation on extended vocal techniques and then read and record six student compositions created especially for their residency," said Tony Brandt, a Shepherd School professor of composition and theory. "Our students are thrilled to have the opportunity to collaborate with these world-class musicians who have invigorated new music performance with their vocal virtuosity and adventurous programming."
Members of the group, which was founded in 2009 by Brad Wells and incubated at the Massachusetts Museum of Contemporary Art, have studied with some of the world's top performers, teachers and commissioned composers known for breaking molds. The ensemble engages collaboratively with artists, thinkers and community leaders from around the world as it seeks to uplift and amplify voices old and new while creating and performing meaningful music.

More information on the ensemble is available at https://www.roomfulofteeth.org/ .

For more information on the event or to register, visit https://music.rice.edu/events/guest-artist-recital-registration-required .

Parking will be available for $5 in West Lot 2. A map of campus is online at https://map.concept3d.com/?id=473#!ct/13398?s .