The School of Humanities, in collaboration with the departments of Transnational Asian Studies and Religion, is set to host Rice's first-ever Bhagwaan Mahavir Lecture in Jain Studies Feb. 3.

Made possible with support from members of the Jain community, the lecture will be given by Anil Mundra, the Alka Siddhartha Dalal Postdoctoral Fellow in the study of Jainism at Rutgers University, at 5 p.m. in Humanities Building 117 and will be streamed live via Zoom.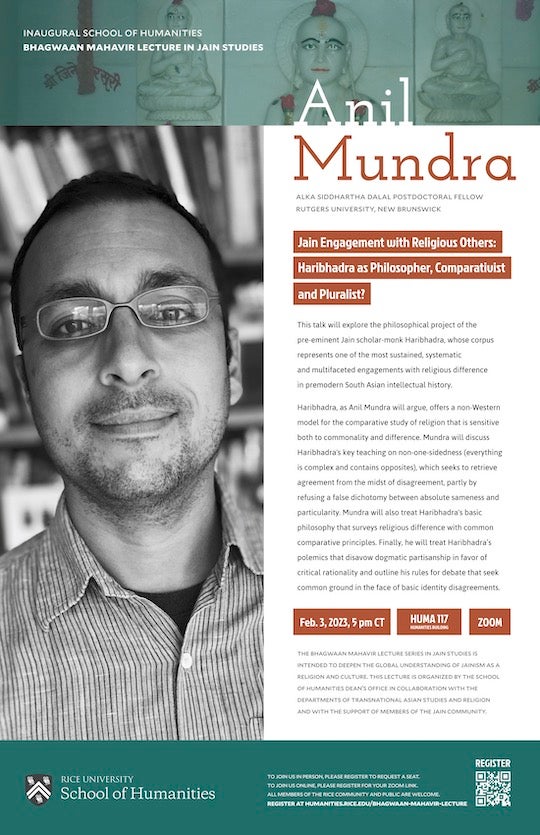 The series, named after the pivotal Jain spiritual leader from sixth century B.C., was created to bring prominent scholars of Jainism such as Mundra to campus in order to foster thought-provoking discussions centered around the influential Indian religion, which has an estimated 4-5 million followers globally.
In his lecture — "Jain Engagement with Religious Others: Haribhadra as Philosopher, Comparativist and Pluralist?" — Mundra will explore the philosophical teachings of preeminent Jain scholar-monk Haribhadra, whose collected works according to experts represent one of the most in-depth inquiries into religious diversity in premodern South Asian intellectual history.
Mundra's lecture will focus in large part on how Haribhadra's key teaching on "non-one-sidedness" — the belief that everything in the world is inherently complex and contains opposites — offers a fascinating, non-Western model for the comparative study of religion that maintains a sensitivity to both the similarities and differences among varied religious traditions.
Eric Huntington, the T.T. & W.F. Chao Assistant Professor of Transnational Asian Studies who helped make Mundra's visit and the new lecture series possible, said that Mundra's research and writings show "how radically relevant" even ancient philosophical discussions can be to present-day debates and expressed his excitement for the lively discussion among a diverse audience he hopes Mundra's lecture will inspire.
"Focusing on comparisons and debates between different religions, Dr. Mundra illustrates new ways to think about how we define our identities and relationships with each other, which are especially important in our modern, globalized society," Huntington said. "This makes his work a great inauguration for our lecture series, in which we plan to highlight a variety of traditions and perspectives that have relevance to diverse audiences."
The inaugural Bhagwaan Mahavir Lecture in Jain Studies by Anil Mundra will take place Feb. 3 at 5 p.m. in Humanities Building 117 and will be streamed live online. For more information and to register to attend in person or via Zoom, please visit humanities.rice.edu/bhagwaan-mahavir-lecture.