The Doerr Institute for New Leaders is furthering its mission to elevate the leadership capacity of Rice University students and improve the practice of leader development in higher education at large with its new Doerr Leader Impact Award program.
Doerr will recognize five finalists and award one student based on video and essay submissions that highlight their local, national or global initiative displaying their leadership, courage and community impact. Students will also have the opportunity to participate in the Doerr Leader Impact Award social media contest, where the participant receiving the most Instagram likes for their initiative will automatically place in the top 5 submissions for consideration for the award.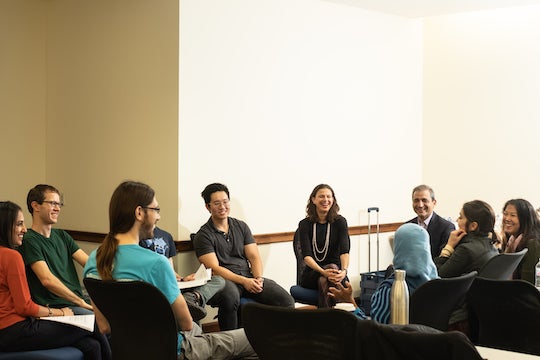 The winner will receive $1,000 and one year of executive leadership coaching (12 one-hour sessions), be spotlighted on the Doerr Institute's social media and have their proposal seen and reviewed by Doerr's external board members .
All full-time Rice students are invited to apply until April 7. To be eligible, students must submit their initiative as an individual or as a team of up to three students. Initiatives can address local, state, national or international issues, and must show measurable results.
"At the Doerr Institute we are developing leaders across Rice University. With this award, we are celebrating those who are making an impact through their leadership," said Stefanie Johnson, director of the Doerr Institute. "Our Rice Owls inspire us every day and we want to share and amplify their stories with the broader community to celebrate their successes."
Stephanie Taylor, assistant director for leader development at Doerr, said the award is an opportunity to not only highlight Rice students' leadership, but give them the resources and tools they need to increase their impact.
"That really was the drive behind it — just elevating the incredible initiatives and innovations that college-age students are leading in those spaces," she said. "We know that our students are doing really incredible things, and their leadership is producing really impactful results in communities across the country. This award amplifies their efforts and gives them the tools and resources to accelerate their leadership impact.
"At the Doerr Institute, we're on a mission to live in a world with an abundance of leaders who are courageously confronting the world's most complex challenges. We hope this award gives visibility to students who are tackling those challenges and having an impact on the world around them."
To learn more or to apply, visit https://doerr.rice.edu/leader-impact-award.