For Despina Colette Nicolaou, successful teaching comes down to one thing — connection.
"Teaching is an incredibly personal process for me and it is always rooted in genuine connection," said Nicolaou, who is the 2023 winner of Rice University's top teaching accolade, the George R. Brown Prize for Excellence in Teaching. "I want to build a connection between me and the students first, then between the students and the material. Finally, if I've done my job properly, the students start to feel connected to each other and this is when the real magic happens in the classroom."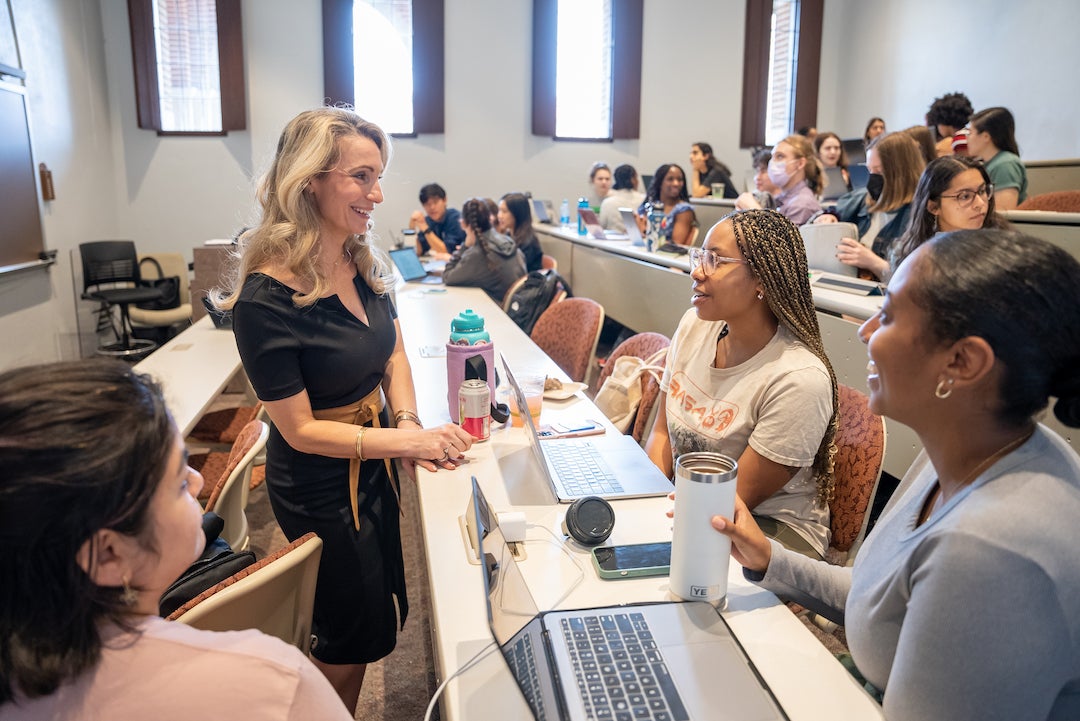 Nicolaou, a senior lecturer in the Department of Psychological Sciences, has been at Rice since 2011. She said a critical element of fostering connections with her students is being open herself.
"I highlight research concepts by sharing stories from my clinical experiences as a psychologist and by using silly examples from my own life," she said. "I let myself nerd out with enthusiasm over the material and soon students follow. They begin to ask vulnerable questions, to share personal experiences and to relate to their peers on a deeper level. When students feel the warmth of connection and the relevance of coursework in their own lives, it changes them forever."

Nicolaou's teaching is guided every day by a quote from the late American educator and philosopher Nel Noddings.

"She said, 'The student is infinitely more important than the subject matter,'" Nicolaou noted. "My role as an educator goes beyond the knowledge students must gain in each of my courses. I want them to feel supported and cared for so they can do their best work. I want students to know they can do hard things and to be driven by the joy of accomplishment. I believe all students are capable of being innovative thinkers and impactful leaders — they may just need someone to stop and listen to them first."

When asked about other teaching influences, Nicolaou can't say enough about her first teachers — her parents.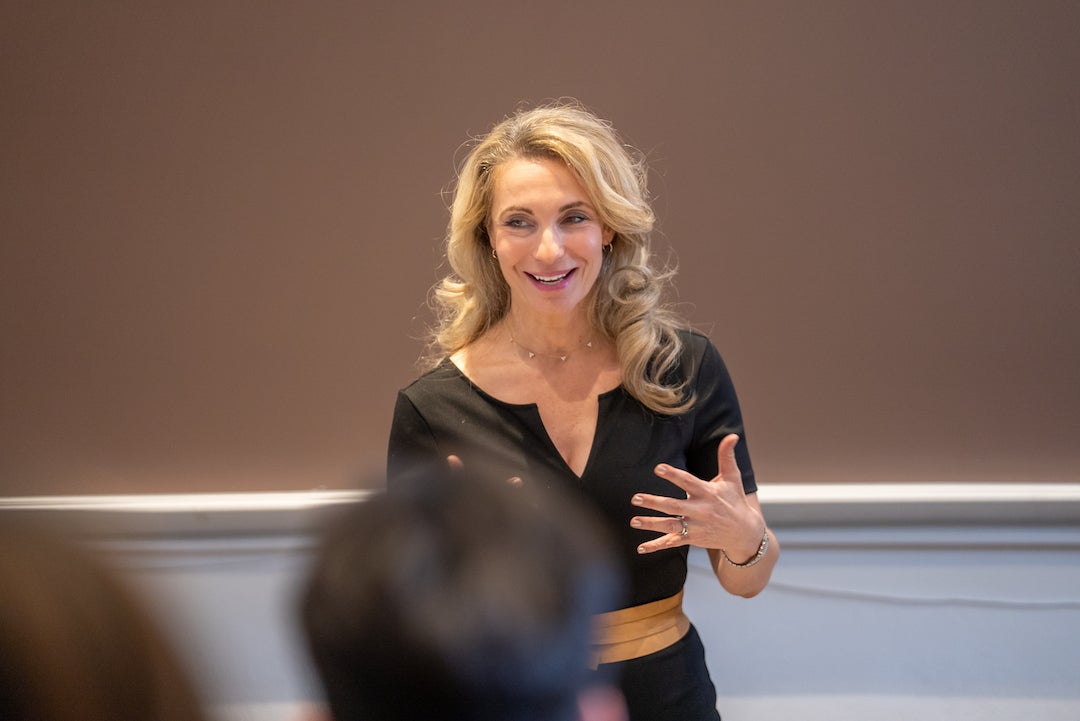 "My father left his family in a small village on the island of Cyprus at the age of 12 to go to school," she said. "And my mom and her family were refugees when she was 10. They eventually came to the U.S. to pursue education. My dad is a brilliant organic chemistry professor , and our lives have always been filled with his graduate students. My mom would welcome everyone into our home, feed them and teach them how to Greek dance. My parents are the perfect combination of knowledge and nurturing.

"I try to bring this same spirit to my teaching," she said. "They had high expectations, and most importantly, they taught me how to meet them. I often show students the same study skills my parents instilled in me. I catch myself reciting the words I heard throughout childhood: 'Find something you love, discover joy in the toils of hard work and practice kindness.' My three amazing brothers and I owe all our accomplishments to them."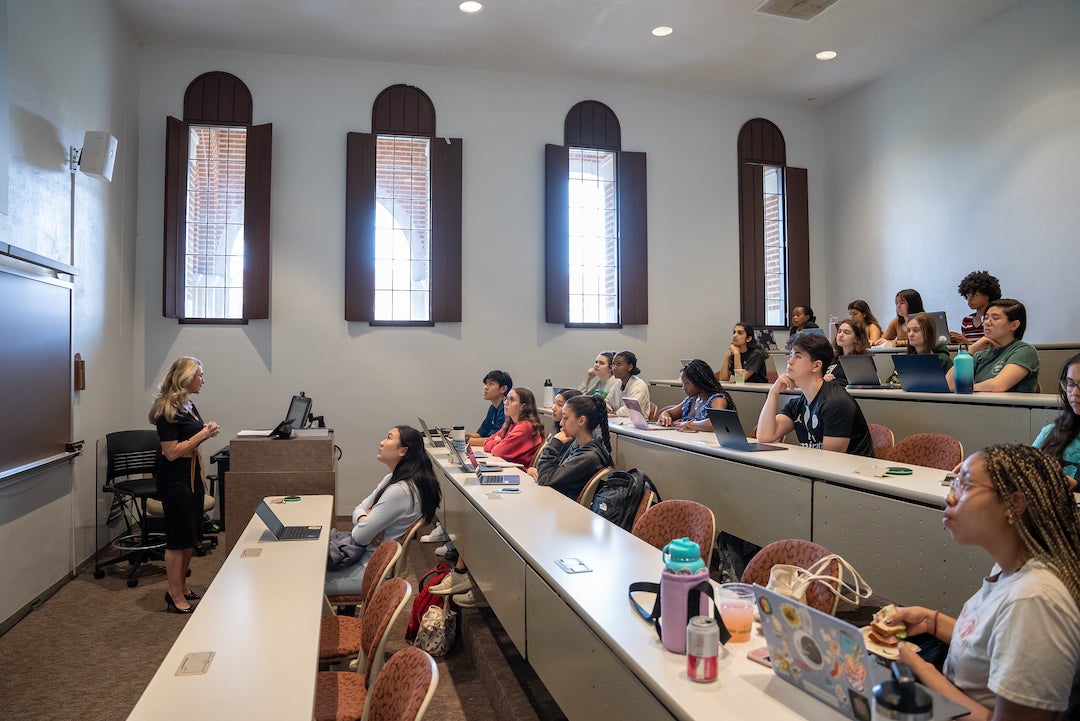 Nicolaou also remembers her graduate school mentor, Lamia Barakat, as a model of grace and excellence in her roles as a professor, researcher, clinical psychologist, leader, wife and mother.

"Her mentorship brought me clarity when life was out of focus," she said. "I aspire to be half the teacher she has been to me."

When it comes to new teachers just starting their careers, Nicolaou has the following advice:

"In the same way your first steps do not predict your ability to run a marathon, your first years as a teacher are not a reflection of your future as an educator. We are always learning and growing. When you let your enthusiasm for the subject matter guide you, you share a piece of yourself. Bring your energy to it. If you give it electricity, the material becomes magnetic and draws the students in."

A practical tip she has learned along the way is to have fun with slide decks.

"Once the concepts are outlined, infuse your personality and sense of humor through relevant songs, memes and videos," she said. "Every great lecture needs a little comic relief!"

She also noted that her three "wild and wonderful children" have transformed her into a sideline cheerleader, master cupcake baker and chauffeur. She's also a homeroom mom, a Girl Scout troop leader and a Greek Language School PTO board member.

"Life is full, and fun, and sometimes really challenging, and my husband keeps me laughing even on the trickiest days," she said.

Nicolaou said she is truly grateful to her students for the award. It's her first time winning Rice's top teaching honor; she received the George R. Brown Award for Superior Teaching in 2018, 2020 and 2022, and the Sarah A. Burnett Teaching Prize in the Social Sciences in 2019.

"There is no better feeling than being remembered by Rice students long past their time in my classroom," she said, referencing the alumni surveys that determine the teaching awards. "It is a beautiful honor to have alumni, who have gone on to do the most remarkable things, shine some of their light on me from afar. It is a blessing to have been part of their journey."