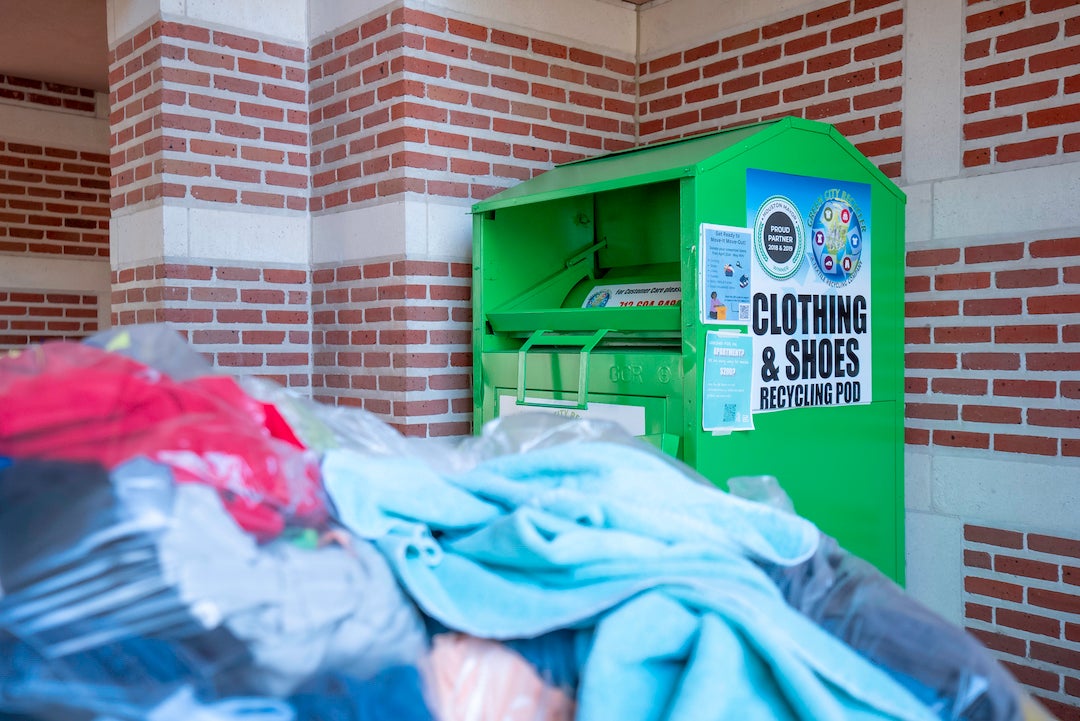 Historically, move-out season at Rice has made for a crowded Inner Loop full of cars being packed with the contents of dorm rooms, and even fuller residential college garbage cans loaded with items students have decided to part ways with.

This year, those trash bins weren't nearly as full.
Thanks to an initiative two semesters in the making that saw environmentally conscious students partner with campus sustainability leaders and community partners, undergraduates at all of Rice's 11 residential colleges were able to place unwanted clothing, shoes, linens and other textile-based items in large bins provided to each college by Green City Recycler, a Houston-based recycling company that works to reduce the staggering amount of textile waste that finds its way into landfills each year.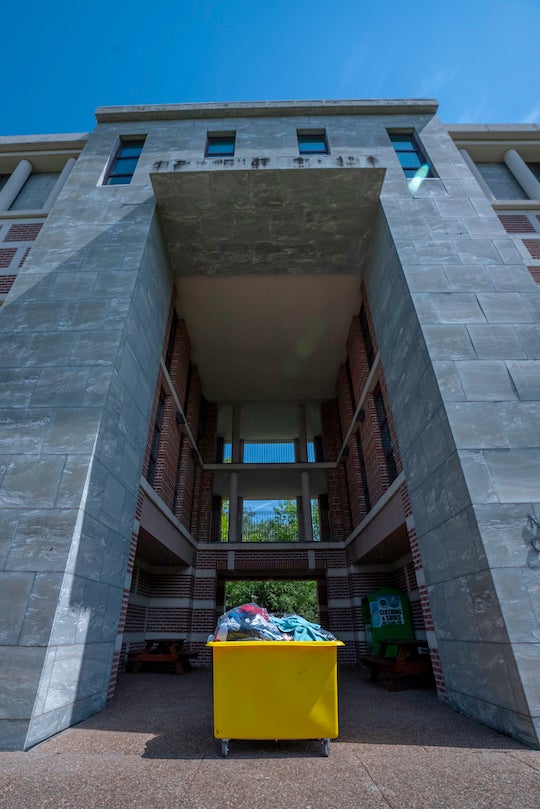 The seeds were planted in last fall's Environmental Issues: Rice Into the Future course taught by Richard Johnson, the university's executive director for sustainability and professor in the practice of environmental studies in sociology. A group of undergraduates in Johnson's course — Adrienne Bradley, Viviana Contreras, Yea Won Lee, Ellie Schweiker and Destinie Sharp — came up with the idea to make recycling during move-out hassle-free for students as part of a semesterlong group project.
The students worked with Director of Grounds Darrell Bunch from Facilities Engineering and Planning as well as Interim Associate Vice President of Housing and Dining David McDonald throughout the fall. They also enlisted the help of Kristianna Bowles, then an employee of Texas A&M University who'd worked on similar projects at its College Station campus.
Bowles ultimately joined Rice in December 2022 as the sustainability program coordinator in Rice's Administrative Center for Sustainability and Energy Management (ACSEM). This past semester, Sharp and Bradley joined Bowles' team as paid student interns; together, the three along with the campus sustainability team established the partnership with Green City Recycler to make the initiative a reality.

"What you see is a result of staff and students working closely together, with the curriculum serving as a launching point and catalyst of making our campus more sustainable," said Johnson. "I could not be more proud of what our students and staff have accomplished together!"
Ultimately, Rice students have donated a whopping 4,943 pounds of recyclable goods during this year's move-out, according to data provided by Green City Recycler. But that impressive statistic only tells part of the story — for one, it doesn't include any last-minute, left-behind dorm room items Green City Recycler will be picking up on its final sweep of campus this week. Nor does it include items donated through a partnership McDonald's team has established with Rice's Office of Student Success Initiatives (SSI) to make available left-behind mini fridges in proper working order to first-year, low-income students, or donations of unopened, unexpired and nonperishable food items to SSI's student food pantry.
"ACSEM is excited to provide this program that not only helps students move out easily, but also advances Rice's sustainability efforts," said Bowles. "I have been blown away by the response to this new initiative, especially as I reflect on my time at A&M managing our 'Donate, Don't Dump' campaign. Seeing how receptive campus has been has me excited for what the future holds."