In the fall of 2022, Arlei Silva, assistant professor of computer science, was thrilled to have been named a recipient of one of the prestigious "100,000 Strong In The Americas" research grants , awarded to projects that involve collaboration between universities in the United States and those in Central and South America.
Rice's second "100,000 Strong In The Americas"-funded project since an engineering exchange program with Brazilian partners launched in 2017 , Silva's proposal will see Rice collaborate with Serviço Nacional de Aprendizagem Industrial and Instituto Federal de Educação, Ciência e Tecnologia do Ceará in Brazil on academic and research programs to use artificial intelligence to address challenges such as flooding caused by natural disasters.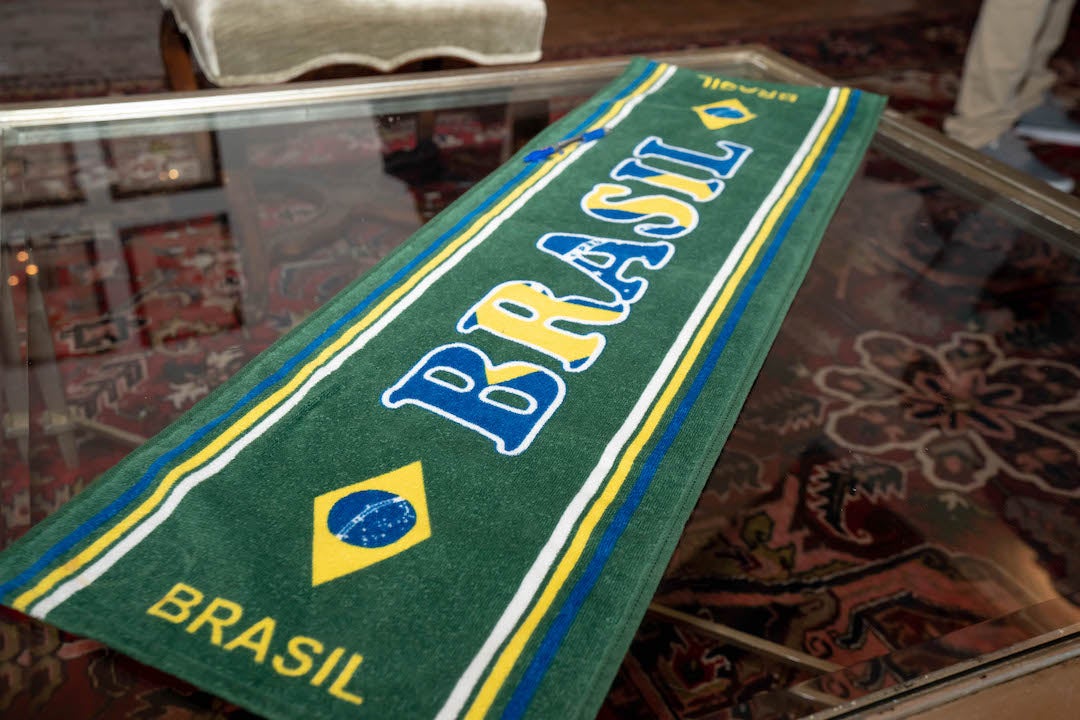 It was an exciting development for the Brazilian-born computer scientist, one he said wouldn't have been possible were it not for his co-collaborator James Doss-Gollin , assistant professor of civil and environmental engineering, and for the professional guidance and resources made available to him through the Brasil@Rice program.
"I'm just an assistant professor trying to pull together this collaboration, so it helps so much that Rice already had this program put together," Silva said. "I found that the community here was very close compared to other schools where I have been, where there were Brazilian students and faculty, but there weren't really many initiatives where we could meet and work on programs like this."
In 2022 — the same year Brazil itself celebrated its 200th birthday — Rice's thriving Brasil@Rice program celebrated 10 years of fostering connections between the university and Brazilian students, scholars and educational institutions, as well as advancing partnerships among government and private sector entities in each country.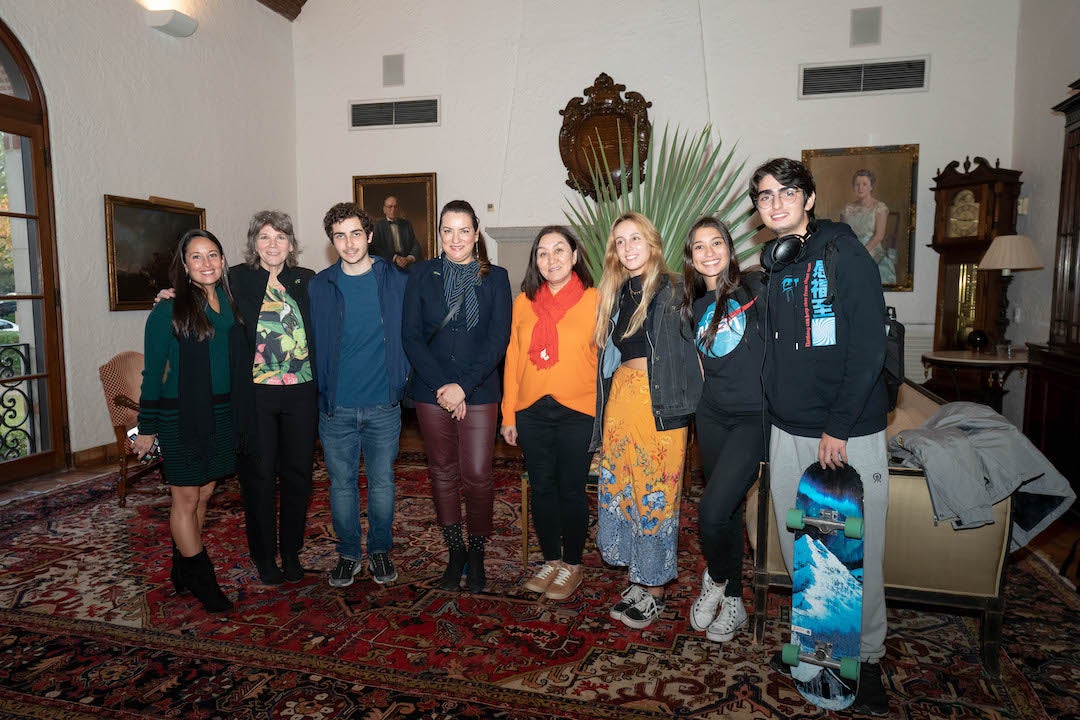 Brasil@Rice — whose name uses the traditional Portuguese spelling — was spearheaded by the Office of International Students & Scholars (OISS) and over the years has grown into a thriving point of pride for Rice. The program officially launched in 2012 with the support of former Provost George McClendon and then-recently hired José Onuchic, a pioneering Brazilian biophysicist, chemist and the Harry C. and Olga K. Wiess Chair of Physics whose wife Mayra Onuchic was Brasil@Rice's first program administrator and ran the program for much of its existence.
"It's a great program, and it's been a great incubator of these collaborations," José Onuchic said. "We have had collaborations with many universities from all over Brazil and things just keep increasing."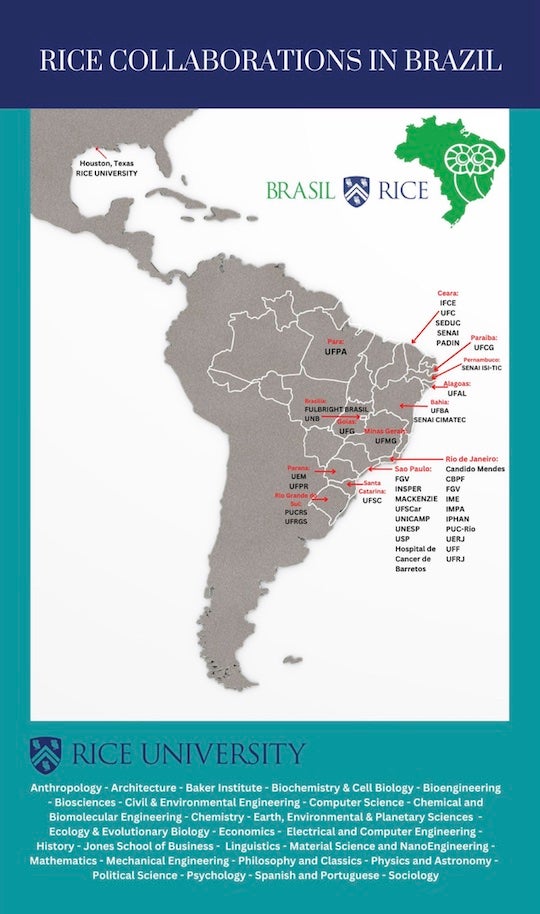 Many major collaborations happened during that period. Onuchic and McLendon established a partnership with the University of São Paulo that culminated with the joint Blue Gene supercomputer project between the universities. This multimillion-dollar collaboration changed the computational landscape for both universities and established a permanent, long-term collaboration between the institutions. Rice also became a direct partner with the Brazilian funding agency CNPq , which helped bring many Brazilian students and researchers to Rice in years to follow.
Thanks to these efforts during the program's early days, Brasil@Rice blossomed from a passion project into a large interdisciplinary endeavor touching virtually every academic school and corner of campus.
"Watching the Rice community respond when they have the opportunity to embrace the excellence of Brazilian students, researchers and universities firsthand has been so rewarding," said Adria Baker, OISS executive director and associate vice provost for international education. "They discover Brazil's vibrant culture and experience just how dedicated, hard-working, warm and fun the Brazilian people are, and watching the Brazilian population thrive at Rice has been a delight as well."
It's undeniable that Brasil@Rice has had a significant impact on the university, opening up a plethora of educational opportunities for students and faculty from both Rice and Brazilian institutions as well as creating a warm, welcoming campus environment that helps facilitate all sorts of cross-cultural exchanges.
Across the program's 10-year history, Rice each year has welcomed an average of 30 Brazilian students and 35 Brazilian professors, postdoctoral researchers or other professional scholars inside the hedges. In fall 2022 alone, Rice hosted 48 Brazilian scholars, 23 graduate students and 11 undergraduate students. The program has fostered connections with 25 Brazilian universities and 100 Brazilian academics that have led to collaborations with over 25 academic departments across Rice and approximately $250,000 in grant funding for research and other educational endeavors.
Thanks in part to the support of Brasil@Rice, the Brazilian Student Association (BRASA) in 2019 won Rice's prize for graduate organization of the year. And in 2020, the Institute of International Education awarded Brasil@Rice one of its heralded Andrew Heiskell Awards for innovation in international education.
Brasil@Rice hasn't just limited itself to building collaborations within classrooms and laboratories; the program has provided resources for a whole array of events, networking opportunities, connections and cultural-exchange lunches and dinners that have played a pivotal role in making Rice a welcoming environment for Brazilian students and scholars. Brasil@Rice has also made it possible for Rice faculty to visit partner institutions in Brazil and has hosted numerous delegations of prominent Brazilian officials on campus, including Brazil's Minister of Science, Technology and Innovation Marcos Pontes and senator Rogério Carvalho.
Fabiana Santos, current Brasil@Rice program administrator and a magister of Wiess College, considers the talent and enthusiasm of Rice's Brazilian student population coupled with Rice's commitment to fostering a sense of international diversity and community among the key reasons why the program has thrived for all these years.
"Students come from the very best Brazilian universities, and bring knowledge but also the desire to succeed, along with a nice dose of a sense of community and cheerfulness," Santos said. "The fact that these great students succeed at Rice, I believe, is because of the effort that Rice University has made to build and nurture close and warm relationships with the students, and to maintain great connections with Brazilian universities.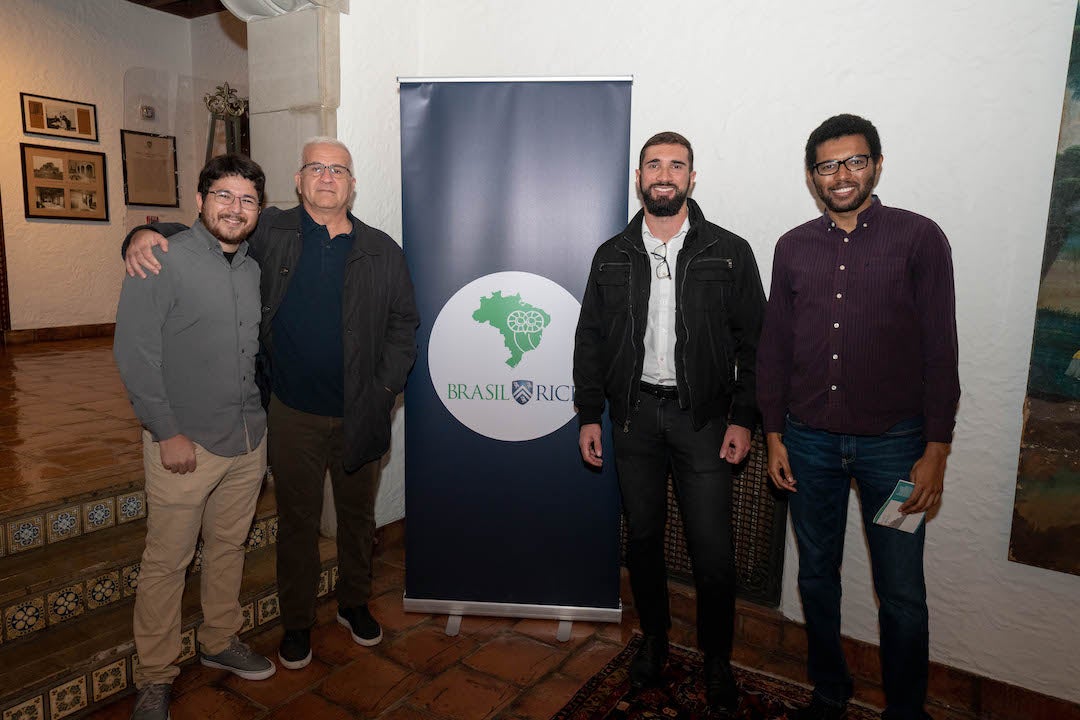 "It doesn't matter how long a Brazilian has lived abroad — the offer of pao de queijo (Brazilian cheese bread), coffee and 'bate papo' (Portuguese lingo for friendly conversation) will always make them drop everything, congregate around a table to share these simple pleasures, make friends and talk," Santos said, explaining her team's understanding of how important intentional community-building is to keeping Brasil@Rice a vibrant force on campus in the years ahead. "Our goal and our desire for the office is to attract more brilliant minds, continue long-term relationships with key university partners for research and exchange, and, at the same time, keep a personal touch."
Santos, Baker and their Brasil@Rice partners across campus have plenty to be excited about in the weeks and months ahead — in addition to Silva's 100,000 Strong disaster-preparedness project beginning to ramp up and take shape, Rice, with President Reginald DesRoches as lead, will play host March 9 to a delegation of Brazilian university presidents, provosts and other higher education leaders who are affiliated with the Association of Brazilian University Presidents, the U.S. Embassy in Brazil and Fulbright Brazil.
When asked about the many ways Brasil@Rice has contributed to Rice since its inception, Silva immediately thinks of how thanks to the program, the experience of a Brazilian graduate student he recently recruited to his lab will be vastly different from his own experience as a graduate student, leaving his family and home country to pursue his dreams in the United States.
"I immediately told him to reach out to the Brazilian students here at Rice, who made his transition much easier than my transition when I came to the U.S. to do my Ph.D.," Silva said. "He's already getting involved with Brasil@Rice and going to their events and cultural programs.
"It's a whole ecosystem of people trying to help each other," he said.