Rice's annual open enrollment period for benefit plans is March 31-April 16 this year.
All benefits offerings for 2023-24 are unchanged from the current fiscal year. Details can be found in the online plan booklet.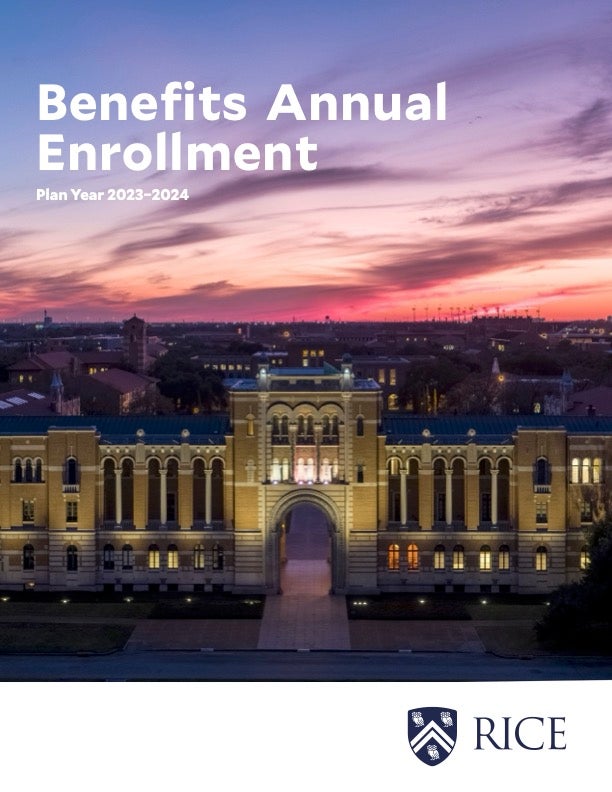 This past year, Rice's overall medical plan costs increased over 10%, caused by numerous factors, including inflation. The university will absorb the majority of the increase; rates for faculty and staff are rising by 3%. Details on rates are available here.
The Rice benefits team recommends ways individuals can help minimize the cost of university-sponsored health plans. Among them:
Get recommended wellness screenings when offered and annual exams from your primary care doctor and follow up as needed.
Schedule an office visit with your primary care doctor rather than visiting urgent care or an emergency room, if possible.
Consider lower-cost generic or preferred brand name medications and talk with your doctor about what medicines are correct for you under the pharmacy benefits.
Open enrollment will take place in the iO system. There will be an open enrollment "Journey" to help guide users through the process and their options, which will include making changes to beneficiary designations in addition to selecting benefit plans.
To access the Journey, which will be available throughout the enrollment period:
Log into iO and click the Me tab.
Click Journeys.
Select the Journey and complete the assigned tasks.
Employees are encouraged to review all benefit information to determine the best choices for their individual situations.
Employees who do not make changes to their benefits will be automatically reenrolled in their current plans. However, renewing contributions to a flexible spending or a health savings account is not automatic. Employees must reenroll each year to set their medical, dependent-care and health savings account contributions.
The benefits team will offer in-person, one-on-one consultations and Zoom meetings to provide enrollment assistance.
The schedule of in-person consultations is as follows; all will be held on the first floor of the Cambridge Office Building:
Monday, April 3, 8-10 a.m. and 2-4 p.m., Room 110
Thursday, April 6, 8-10 a.m. and 2-4 p.m., Room 112
Tuesday, April 11, 8-10 a.m. and 2-4 p.m., Room 110
Wednesday, April 12, 8-10 a.m. and 2-4 p.m., Room 112
Friday, April 14, 8-10 a.m. and 2-4 p.m., Room 114
The Zoom meeting schedule is as follows:
In addition, the annual RiceFest benefits fair is set for 11 a.m.-2 p.m. April 4 in the Grand Hall of the Rice Memorial Center. All benefits-eligible faculty and staff are welcome to attend and speak with representatives from the university's benefits providers. Registration is required to be eligible for door prizes.
The benefits team is also available to answer questions at 713-348-BENE (2363), or employees can create a service request in iO by following these instructions:
Log into iO and click the Me tab.
From your home page, click the HR/Finance Help Desk tab.
Click HR/Finance Service Requests.
Click Create Service Request.
Under Category, select Annual Enrollment.
Under Summary, describe the issue.
Complete all other required selections, then describe the issue in detail in the Service Request Details box.
Click Save and Close; the service request will be routed to the benefits team.
For more information, visit Rice Human Resources' KnOWLedge Café at https://knowledgecafe.rice.edu/benefits/annual-enrollment-2023-2024.
Medical
Medical plan options for the 2023-24 fiscal year are as follows:
Accountable Care Organization (ACO)
This is a plan with a specific network of doctors and hospitals affiliated with Memorial Hermann, with a primary care physician, or PCP, guiding each patient's care with assistance from a specified team of professionals dedicated to that patient's overall care.
The Memorial Hermann ACO monthly rates (for 12-month employees) are:
Employee only $96
Employee plus spouse/partner $368
Employee plus child(ren) $321
Employee plus family $625
Health Maintenance Organization (HMO)
In this plan, an employee selects a PCP who serves as a "gatekeeper" for all medical services. Under this plan, patients must consult with their PCP before receiving services from most specialist physicians and other service providers, who are all within the HMO network.
The Aetna HMO monthly rates (for 12-month employees) are:
Employee only $114
Employee plus spouse/partner $432
Employee plus child(ren) $376
Employee plus family $732
Point-of-Service (POS II)
With this plan, patients pay a set amount for in-network care. However, this plan does not require a patient to get a referral from a PCP before seeing a specialist and has an out-of-network option.
The Aetna Choice POS II monthly rates (for 12-month employees) are:
Employee only $201
Employee plus spouse/partner $709
Employee plus child(ren) $622
Employee plus family $1,195
Consumer-Directed Health Plan (CDHP)
This plan has a higher deductible and coinsurance rather than copayments for medical services. Participants pay the full cost for services and prescriptions up to the deductible and then the plan kicks in, paying coinsurance (except for pharmacy expenses, which have copays) for medical services until the out-of-pocket maximum is met. This plan allows for the benefits of a health savings account because it is a qualifying high-deductible health plan. Employees can get the triple tax benefit of pre-tax deductions, tax-free growth and tax-free use of the savings for qualified medical, dental and vision expenses.
The Consumer-Directed Health Plan monthly rates (for 12-month employees) are:
Employee only $149
Employee plus spouse/partner $482
Employee plus child(ren) $443
Employee plus family $798
New medical plan feature: Teladoc
Aetna is adding a new service beginning July 1, Teladoc telehealth (in addition to Teladoc Medical Experts, formerly Best Doctors, which is already available), for those enrolled in a Rice Aetna medical plan. Teladoc is available via the web, the Teladoc app or telephone.
Teladoc offers a 24/7 alternative to your regular doctor (including pediatric care) for urgent issues or when your doctor is not available, including:
Non-emergency care such as the flu, sinus infections, sore throats and more.
Short-term medicine refills.
Availability anywhere in the U.S. (can be used when traveling).
(Teladoc is not for emergency issues such as a broken bone, chest pain or other care that may require X-rays or lab tests.)
For those enrolled in the POS and CDHP plans, Teladoc also offers Primary360, a virtual primary care service that includes an ongoing relationship with a primary care doctor that will provide for longitudinal planning, ongoing support via web/app/phone and appointments within five business days.
Teladoc also offers mental health care seven days a week (7 a.m.-7 p.m. local time, no matter where you are) including the following types of providers:
Psychiatrist, psychologist or therapist care within 72 hours of initial need.
Ongoing care from the same provider, if desired.
These mental health services are also available to dependent adolescents age 13 or older.
Finally, Teladoc offers appointments from board-certified dermatologists, including:
Treatment for sudden or ongoing skin conditions including rashes, acne, psoriasis, infections and more.
Follow-up appointments within seven days at no additional charge.
Vision
Rice offers a vision plan option available to all employees even if they are not enrolled in the medical plan. The vision plan, administered by Aetna, features the Aetna Vision Preferred networks of providers. To locate a provider, call 1-855-679-3815 or visit aetnavision.com. See the links above for rates and other plan information.
Dental
Rice offers two dental plan options, both administered by Aetna: the PPO and the DHMO.
In the PPO plan, participants may use any dentist of their choosing and the plan pays a percentage of the services.
The DHMO requires participants to select a dentist from a list of providers and covers frequently performed procedures either in full or a specified copay.
As in previous years, employees earning less than $40,000 annualized salary per year may be eligible for a 50% premium subsidy. See the links above for rates and other plan information.
Flexible spending accounts (FSAs)
Flexible spending accounts, or FSAs, allow participants to set aside pretax dollars to pay for eligible out-of-pocket medical and dependent-care expenses. FSAs are "use it or lose it" accounts; any money left in the account at the end of the grace period is forfeited. FSA elections made for the 2022-23 plan year must be used by Sept. 15, 2023, and filed for reimbursement by Nov. 30, or the money will be forfeited. FSAs can stand alone or accompany the ACO, HMO and POS plan only. Under FSAs, you should keep your receipts when you use your health care FSA Visa card because you may be required to submit receipts to verify they are eligible charges.
You must reelect any FSA amounts each year even if you make no other changes. The amount will not roll over from 2022-23 to 2023-24. The limit for the health care flexible account will be $2,850 and dependent care will remain at $5,000 for families filing jointly.