HOUSTON – (April 21, 2023) – Health experts and leaders from government, the medical industry and the nonprofit sector will explore the role a brain research institute could play in boosting Texas' economy while improving health and wellness in the state at an April 28 webinar from Rice University's Baker Institute for Public Policy.
Disorders such as Alzheimer's disease, multiple sclerosis and depression have profound impacts on public health and wide-ranging consequences for individuals, families and communities. In Texas, the COVID-19 pandemic in particular spotlighted a growing brain health crisis, with many who had the disease developing problems with attention span, memory and behavior long after infection.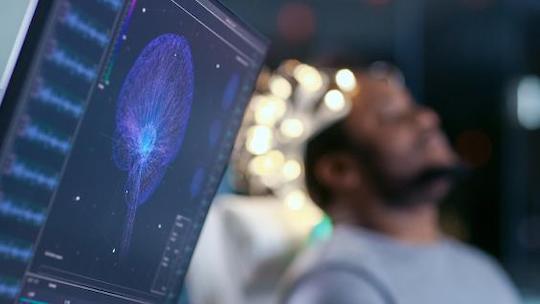 Ultimately, poor brain health has critical implications for the state's economy. 
In March, Texas House Speaker Dade Phelan listed House Bill 15, which would create a state brain and mental health research institute, as one of his priorities for the current legislative session. The bill, authored by Rep. Senfronia Thompson (D-Houston) — who is participating in the Baker Institute webinar — would dedicate state dollars toward brain health research and prevention and treatment measures related to traumatic brain injuries.
What: Baker Institute webinar: "Boosting Brain Health and Wellness in Texas."
Who: Rice President Reginald DesRoches; Baker Institute Director David Satterfield; Rola El-Serag, the L.E. and Virginia Simmons Senior Fellow in Health Policy and director of the Baker Institute's Center for Health and Biosciences; James Hackett, Rice trustee, Baylor College of Medicine board member and co-founder of the Meadows Mental Health Policy Institute; Texas Rep. Senfronia Thompson (D-Houston); Huda Zoghbi, Baker Institute board member, professor at Baylor College of Medicine and director of the Jan and Dan Duncan Neurological Research Institute at Texas Children's Hospital; Texas Rep. Tom Craddick (R-Midland); Harris Eyre, Baker Institute fellow in brain health and senior fellow for brain capital at the Meadows Mental Health Policy Institute; Debbie Hanna, president of the Darrell K Royal Research Fund and Texas Healthy Brain Initiative board member; Stephen Wong, the John S. Dunn Presidential Distinguished Chair in Biomedical Engineering and founding director of the Ting Tsung and Wei Fong Chao Center for Bioinformatics Research and Imaging for Neurosciences at Houston Methodist.
When: Friday, April 28, noon-1 p.m.
Where: Online; the webinar is free, but registration is required.
This event is sponsored by the Baker Institute's Center for Health and Biosciences.