Owl athletes flew high across campus over the weekend.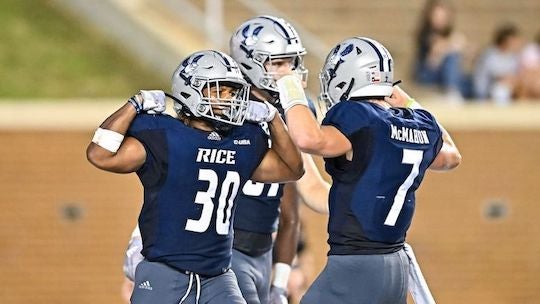 In addition to the football team's 33-21 victory over the University of Louisiana at Lafayette — which snapped the Ragin' Cajuns' nation-best 15-game winning streak — the Rice volleyball and soccer teams notched triumphs of their own. The Owls claimed a pair of five-set wins on the court at Tudor Fieldhouse, defeating Kansas State University and 17th-ranked Creighton University to improve to 10-1. At Holloway Field, Rice beat Florida International University 3-0 to move to 2-0 in the Conference USA soccer standings.
Not to be outdone, in College Station, Grace Forbes won the Texas A&M Invitational to lead the women's cross-country team to a third-place finish.
For more, visit RiceOwls.com.