By Patrick Kurp
Special to the Rice News
A team of researchers headed by Geoff Wehmeyer, assistant professor of mechanical engineering at Rice, has received a $1.5 million grant from the National Science Foundation's Partnerships for International Research and Education (PIRE) program to support work on large-scale materials made from oriented carbon nanotubes.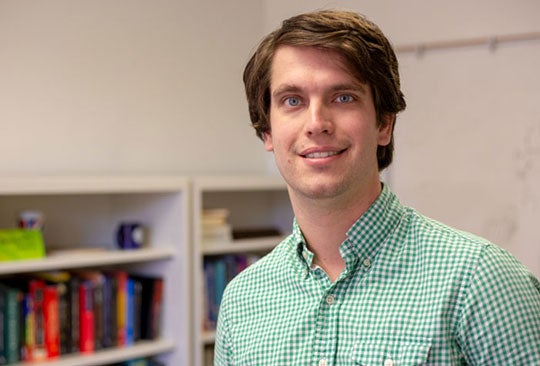 "Some of the new clean-energy technologies, including solid-state cooling devices and lightweight power transmission cables, will improve energy efficiency and reduce greenhouse gas emissions," Wehmeyer said. "Aligned carbon nanotube materials will enable these technologies, but international collaborative research is required to achieve their potential."
The project is called the Japan-U.S. Network for Clean Energy Technologies Involving Oriented Nanotubes, or JUNCTION. Its goal is to build partnerships between researchers in the U.S. and Japan who are investigating the materials.
"Our collaborations with Japanese researchers will permit U.S.-based students from universities in Texas, Utah and New York to leverage unique research facilities and build deep technical and cultural connections," Wehmeyer said.
The program will support international research and cultural opportunities for Houston-area community college students and high school science teachers, and teachers in Japan. Such a network of researchers, Wehmeyer said, "will serve as a launching pad for sustained global research and education in the field of clean energy transformation. The Japanese culture and language programs will also highlight the collaborations between Engineering and Humanities at Rice."
The U.S.-based collaborators on the project are Junichiro Kono, the Karl F. Hasselmann Chair in Engineering and professor of electrical and computer engineering at Rice; Naoko Ozaki, lecturer in Japanese at Rice; Matteo Pasquali, the A.J. Hartsook Professor of chemical and biomolecular engineering at Rice; Weilu Gao, assistant professor of electrical and computer engineering at the University of Utah; and Vasili Perebeinos, professor of electrical engineering at the University at Buffalo.
The properties of single carbon nanotubes are well established, but scaling them for larger applications will require answers to fundamental questions regarding electronic and thermal transport at the junctions between both individual nanotubes and bundles of nanotubes.
"Our multidisciplinary team will use a suite of experimental and theoretical methods to address these open questions regarding the mechanisms of photon,exciton, phonon and electron/hole transport among aligned carbon nanotubes," Wehmeyer said.
The plan is to leverage those mechanisms when designing energy-conversion, energy-transmission and thermal-management devices. The project's specific objectives include demonstrating chiral thermophotovoltaic and solid-state radiative cooling devices using thermal emission from oriented carbon nanotube films.
Also, Wehmeyer's group plans to demonstrate the efficacy of clean energy thermal management strategies using aligned carbon nanotubes with high thermal conductivity and high thermoelectric power factor, and of high-electrical-conductivity carbon nanotube fibers for lightweight, high-strength, high-ampacity power transmission.
"If we're successful, the new knowledge generated in this work will permit engineers and scientists to scale up these aligned nanotube technologies in support of the clean energy technology sector," Wehmeyer said.
The proposed work builds on results from seed funding and collaborations enabled by Rice's Carbon Hub, which focuses on developing advanced carbon materials for the energy transition.
– Patrick Kurp is a science writer in Rice's George R. Brown School of Engineering.