HOUSTON – (Sept. 26, 2022) – Sports teams across America scored a victory with voters in 2020 when their stadiums did double duty as polling places, according to a new study conducted by a Rice University political scientist and his fellow researchers.
Voters cast their ballots at a total of 48 professional sports venues — from baseball parks to basketball arenas to soccer stadiums — as officials sought novel ways to conduct elections during the COVID-19 pandemic. Now researchers who studied stadium voting say it was so popular it should be expanded for future elections.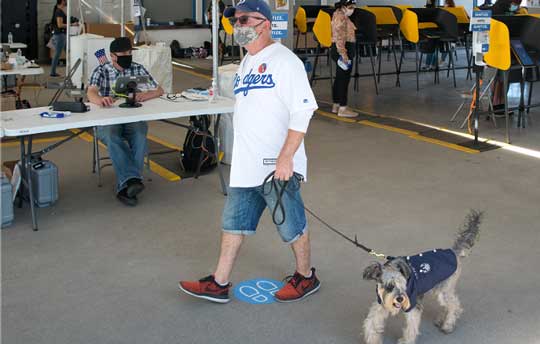 "Voting at sports stadiums in 2020 was an out-of-the-park home run," said Bob Stein, the Lena Gohlman Fox Professor of Political Science at Rice. "Voters really like casting their ballots where they watch their home teams play ball. Election administrators who aren't already opening polling places in stadiums need to seriously think about it for future elections."
The researchers' report, entitled "Voting in 2020: Professional Sports Stadiums & Arenas as Polling Places," was prepared by Stein and Frank Guridy, professor of history at Columbia University; Michael Hanmer, professor of government and politics and research director of the Center for Democracy and Civic Engagement, University of Maryland; David Nickerson, professor of political science, Temple University; and Tova Wang, senior practice fellow in American democracy at the Ash Center for Democratic Governance and Innovation, Harvard University's Kennedy School of Government. It was published by the Civic Responsibility Project with the Civic Alliance.
Election administrators in 20 states and the District of Columbia opened polling places in sports stadiums during the pandemic largely because they had plenty of space for social distancing, the study says. Most of those arenas happened to be unusually available because so many sporting events were cancelled due to COVID-19.
After interviewing election officials and surveying voters about their experiences casting ballots at stadiums, researchers have concluded it was a strikingly popular success. In Los Angeles, Chicago and Atlanta, sports stadiums attracted more voters than any other polling place in their counties.
"Virtually all interviewees, including election officials, conveyed overwhelming enthusiasm for the idea of stadium voting," the researchers wrote. "They felt that the effort to convert these facilities into voting sites was overwhelmingly successful, not just in facilitating voter turnout but also in generating enthusiasm."
The report notes the trend toward stadium voting happened in the same election year when Black athletes helped galvanize interest in voting as a response to the Black Lives Matter movement. But the researchers discovered neither political party consistently benefited from stadium voting, which was overwhelmingly popular among both Democrats and Republicans.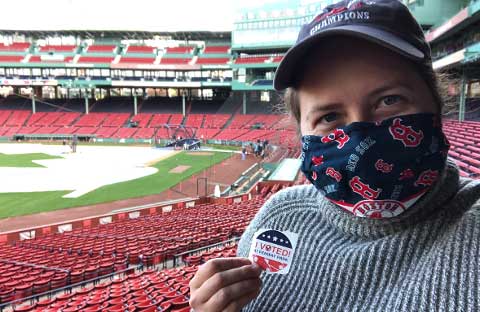 The researchers conducted special case studies of stadium voting in five cities — Atlanta, Charlotte, Indianapolis, Los Angeles and Washington — and discovered sports teams in some cities went out of their way to make the experience entertaining. Voters at Dodger Stadium in Los Angeles were serenaded by mariachi bands, and people casting ballots at Nationals Park in Washington were invited to take selfies in front of their team's 2019 World Series trophy.
Beyond the festive atmosphere at some arenas, voters were especially happy they didn't have to wait as long in line to vote in stadiums compared to other polling places, the study says, and they offered praise for the venues' well-trained staffs.
"One of the key benefits of stadium voting is teams know how to handle lines," the study says. "It is what they do all year round. Keeping wait times short is central to their business model. A number of teams brought that expertise as well as actual staff to the task."
The researchers also believe stadium polling places might attract voters who otherwise wouldn't bother casting ballots.
"We were struck by one administrator reporting that sports writers and sports radio were talking about it," the researchers wrote. "This advertising could have helped reach people who might not otherwise think much about voting."
The study also offers observations on the lessons and best practices learned by election officials who ran stadium polling sites. The most important lesson of all, the researchers conclude, is that sports venues make excellent polling places.
"We discovered that even on short notice and in trying circumstances, sports facilities can be part of our core civic infrastructure and there are ways teams can play a legitimate role in the preservation of democracy that are not controversial," the study concludes. "Although there is variation, we find that all stadiums were high-quality polling places. The attributes of stadium polling locations that made them safe locations for in-person voting in 2020 persist, even in the absence of a pandemic."