HOUSTON – (Nov. 2, 2022) – The largest crowd in the history of the Global Consortium of Entrepreneurship Centers (GCEC) Conference gathered last week in Las Vegas to celebrate creativity and innovation in university-based entrepreneurship education.
The GCEC is made up of more than 250 leading university entrepreneurship programs working together not only to share best practices and develop programs and initiatives, but also to collaborate and help each other advance, strengthen and celebrate the role universities fulfill in educating the entrepreneurs of tomorrow. The Rice Alliance for Technology and Entrepreneurship at Rice University's Jones Graduate School of Business in Houston is the global headquarters for the GCEC.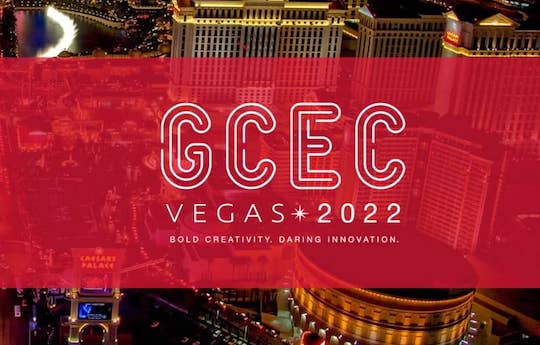 The Troesh Center for Entrepreneurship and Innovation at the University of Nevada, Las Vegas (UNLV) hosted more than 550 leaders from universities across the world Oct. 27-29 for nearly 100 breakout sessions and three keynote addresses. At the close of the conference, 14 universities were awarded top honors in nine categories. The 128 award nominations broke a record for the program.
"The UNLV team organized an engaging experience highlighting the most relevant topics in our field and concluded the event with an exciting awards celebration to recognize the very best in entrepreneurship education," said Holly DeArmond, who recently was named executive director of the GCEC. "I look forward to enhancing and growing what is already the best organization for higher education entrepreneurship."
The 2022 GCEC awardees:
Outstanding Emerging Entrepreneurship Center (schools with less than 5,000 students)
Lafayette College, Dyer Center for Innovation and Entrepreneurship
Outstanding Emerging Entrepreneurship Center (schools with more than 5,000 students)
James Madison University, Gilliam Center for Entrepreneurship
Nova Southeastern University, Alan B. Levan-NSU Broward Center of Innovation
Outstanding Contributions to Venture Creation
University of St. Thomas (Minnesota), Schulze School of Entrepreneurship
Texas A&M University System, TEES DeepTech Ventures
Exceptional Activities in Entrepreneurship Across Disciplines
Northeastern University, Center for Entrepreneurship Education
Excellence in Specialty Entrepreneurship Education
Houston Community College, Entrepreneurial Initiatives
Excellence in Entrepreneurship Teaching and Pedagogical Innovation
Stanford University, Stanford Technology Ventures Program
Outstanding Student Engagement & Leadership (schools with less than 5,000 students)
London Business School, Institute of Entrepreneurship and Private Capital
Outstanding Student Engagement & Leadership (schools with more than 5,000 students)
Marquette University, 707 Hub
Exceptional Contributions in Entrepreneurship Research
Florida Atlantic University, Adams Center for Entrepreneurship
GCEC Center of Entrepreneurial Leadership
UNLV, Troesh Center for Entrepreneurship and Innovation
The Nasdaq Center for Entrepreneurial Excellence Award, the highest honor presented during the conference, has traditionally recognized a single program each year but was expanded last year to recognize the best from a university with less than 5,000 students and the best from one with more than 5,000. This year's winners:
Babson College, The Arthur M. Blank Center for Entrepreneurship (less than 5,000 students)
Iowa State University, the Pappajohn Center for Entrepreneurship (more than 5,000 students)
Two legacy awards honored individuals for their pioneering work advancing entrepreneurship in universities and/or directing a university entrepreneurship center that created a legacy impact on the field. Only 15 recipients – including this year's – have received this award since its creation in 2012. The candidates for this award demonstrate a long-term commitment to entrepreneurship in an academic setting, achieve a standard of excellence and make a substantial impact upon students, faculty, staff, startups and/or their region. This year's winners:
Duncan Moore, the Rudolf and Hilda Kingslake Professor in Optical Engineering Science, professor of optics and biomedical engineering and professor of business administration at the University of Rochester's William E. Simon Graduate School of Business Administration
Carol Reeves, associate vice provost for entrepreneurship and the Cecil and Gwendolyn Cupp Applied Professorship in Entrepreneurship at the University of Arkansas' Sam M. Walton College of Business