HOUSTON – (Feb. 28, 2022) – Life science investors, leaders and innovators gathered at Rice University's Jones Graduate School of Business to discuss Houston's role in the future of health care, medical technology innovation and life science commercialization during the 10th annual Texas Life Science Forum.
The forum, co-hosted by BioHouston and the Rice Alliance for Technology and Entrepreneurship in partnership with the Texas Medical Center (TMC) and JLABS @ TMC, is one of the premier life science venture capital conferences in the U.S.
More than 40 companies — about half of them based in Houston — pitched their innovative solutions in therapeutics, drug development, medical devices, diagnostics and digital health. The presenting companies have already raised a combined total of more than $600 million in funding.
The day kicked off with a keynote from Dr. Stephen Hahn, CEO-partner of Flagship Pioneering and former Food and Drug Administration commissioner, along with remarks from leaders from the TMC, the University of Texas MD Anderson Cancer Center, TMC Innovation, Johnson & Johnson's JLABS and Rice University.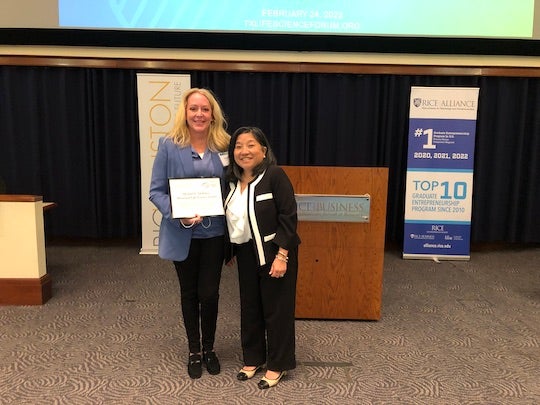 "With attendance by over 600 individuals, including representatives from life science companies from California to Massachusetts — as well as internationally — this year's event showcased the robust growth in our life science ecosystem since this event was first held a decade ago," said Ann Tanabe, chief executive officer at BioHouston.
Dynamic Light won the Michael E. DeBakey Memorial Life Science Award, established by BioHouston to honor the groundbreaking Houston cardiovascular surgeon. Its software integrates with microscopes or robotics and provides surgeons with full-color visualization of blood flow and tissue perfusion in real time without expensive dyes or radiation.
Ten other entries were chosen by investors as the Rice Alliance Most Promising Life Science Companies, presented by the Greater Houston Partnership. They are:  
• NeuraStasis (Houston) places neural tissue into stasis, giving ischemic stroke patients more time to receive treatment.
• Maxwell Biosciences' (Austin, Texas) CLAROMER biomimetic drug discovery platform precision-engineers small molecules that mimic and enhance peptides to create synthetic compounds with enhanced potency, safety and stability for fighting viral, bacterial, fungal and oncological threats.
• Lapovations (Arkansas) is a medical device company creating a platform of innovative products that improve laparoscopy.
• Drusolv Therapeutics (Pennsylvania) is a clinical-stage drug company developing a high-dose oral statin for early intervention in a blinding eye disease called age-related macular degeneration.
• Vena Medical (Ontario) provides physicians with the world's smallest camera capable of going inside veins and arteries to help treat strokes.
• Vivifi Medical (Houston) is developing a minimally invasive solution to treat benign prostatic hyperplasia and men's health problems through a quick and easy vascular procedure.
• Corveus Medical (Houston) is developing a minimally invasive, catheter-based treatment to lift the clinical and economic burden of heart failure.
• XN Health (Houston) is a medical device company combating diaphragmatic atrophy in mechanically ventilated patients to facilitate the weaning process through a novel phrenic nerve stimulation device.
• Ares Immunotherapy (Georgia) is a solid-tumor-focused, early-stage cell therapy company based on a T-cell platform technology with better potency and persistence than other T-cells used therapeutically.
• EMPIRI (Houston) is revolutionizing cancer care with a novel technology that accurately predicts each patient's treatment responses empirically, enabling doctors to make the optimal treatment selection for each cancer patient. 
This year's Texas Life Science Forum was made possible by more than 50 industry, academic and community partners including the TMC, Lonza, Perkins Coie, JLABS, Proxima Clinical Research and Shearman & Sterling.
To learn more about the Texas Life Science Forum visit txlifescienceforum.org.