HOUSTON – (July 6, 2022) – The Jones Graduate School of Business at Rice University has added ten faculty members with expertise ranging from management to marketing. It's a record number of new tenured and tenure-track professors for the school.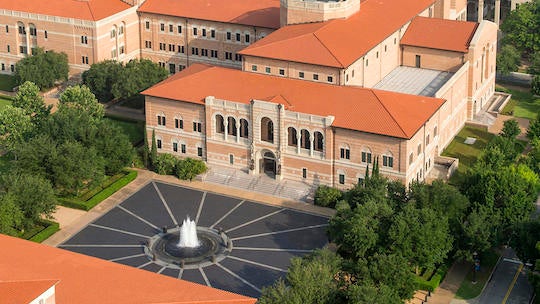 Rice Business's fundamental strategy is securing the best talent, says Peter Rodriguez, dean of the Jones School.
"Our programs have seen tremendous growth over the years -- including our newest business major for undergraduate students -- and we wanted to bring in strong scholars to support that growth," he said. "We want to hire the best professors from any region and background to teach our students and enhance relationships in Houston and beyond. This group of chaired full professors and first-appointment assistant professors brings a wealth of diverse knowledge, experience and insight to our campus and the city.
"These accomplish scholars and educators will enhance Rice Business' strong foundation in accounting, finance, marketing, organizational behavior and management as well as the focus areas of energy or entrepreneurship," Rodriguez added.
The new professors are:
· Nicola Secomandi, Houston Endowment Professor of Management, focuses on operations management and the energy industry, with the energy transition of specific interest. Prior to Rice, Secomandi was the head of the Ph.D. program at Carnegie Mellon University's Tepper School of Business. He earned an undergraduate degree from Ca' Foscari University of Venice and a master's in computer science and Ph.D. in operations research and statistics from the University of Houston.
· Daan van Knippenberg, Houston Endowment Professor of Management, is a highly published researcher focused on organizational behavior whose expertise also includes leadership, diversity and inclusion, team performance, and creativity and innovation. He has been a professor at Drexel University, Erasmus University Rotterdam, the University of Amsterdam and Leiden University in the Netherlands, where he also received his Ph.D.
· Amy Dittmar, the Howard R. Hughes Provost and professor of finance, is a distinguished scholar with an extensive background in economics, finance and university administration. She comes to Rice from the University of Michigan where she held a series of top-level administrative roles, including acting provost, senior vice provost, executive vice president for academic affairs, chief academic and budgetary officer. Dittmar earned her bachelor's degree in finance and business economics from Indiana University and Ph.D. in finance from the University of North Carolina.
· Robert Dittmar, professor of finance, joins the Jones School after serving at the University of Michigan's Ross School of Business and Indiana University's Kelley School of Business. His research focuses on theoretical and empirical issues in the pricing of fixed income securities and how different assets affect a firms' equity. He earned his Ph.D. in finance from University of North Carolina at Chapel Hill and a bachelor's in finance from the University of Illinois at Urbana-Champaign.
· Yiangos Papanastasiou, associate professor in management, focuses on operations management and has made significant contributions to the understanding of online platform and marketplace operations. He will teach MBA courses on business analytics, data analysis and statistics. In addition to operations management, his research interests include pricing and revenue management and business analytics. Papanastasiou completed his undergraduate degree at the University of Cambridge, where he also earned a master's degree in computer and information engineering. He completed his Ph.D. in management science and operations at the London Business School.
· Jung Youn Lee, assistant professor of marketing, focuses on how firm or governmental policy affects distribution or efficiency. Her research aims to understand how consumer data, fairness constraints and consumers' privacy preferences shape credit market outcomes. Lee received her Ph.D. in marketing from Northwestern University's Kellogg School of Management and completed her bachelor's in economics at Rice. 
· Tommy Pan Fang, assistant professor of strategic management, received a Ph.D. in business administration from Harvard Business School and bachelor's degrees in economics and computer science from the University of Pennsylvania. His research interests include the economics of digitization and entrepreneurship -- how digital platforms affect growth and performance.
· Sora Jun, assistant professor of management, focuses on organizational behavior and teaches the Diversity, Equity and Inclusion in Business course in Rice's MBA program. Her research employs psychological perspectives to study social hierarchies and inequality, workplace discrimination and intergroup relations. Jun's research also investigates when and why leadership fails to recognize racial discrimination and sexual harassment. She received a Ph.D. in organizational behavior from Stanford University's Graduate School of Business and a Bachelor of Commerce and Finance degree from the University of Toronto.
· Süleyman Kerimov, assistant professor of management, focuses his research on operations management as well as market design, matching theory and applied probability. He holds a Ph.D. in operations research from Stanford University and a bachelor's in mathematics from Bilkent University in Turkey.
· David Zhang, assistant professor of finance, focuses on real estate and household finance. He graduated with a Ph.D. in business economics from Harvard Business School and a bachelor's in economics and mathematics from Amherst College. Before starting graduate school, Zhang was a research assistant at the Federal Reserve Bank of Boston's Consumer Payments Research Center.