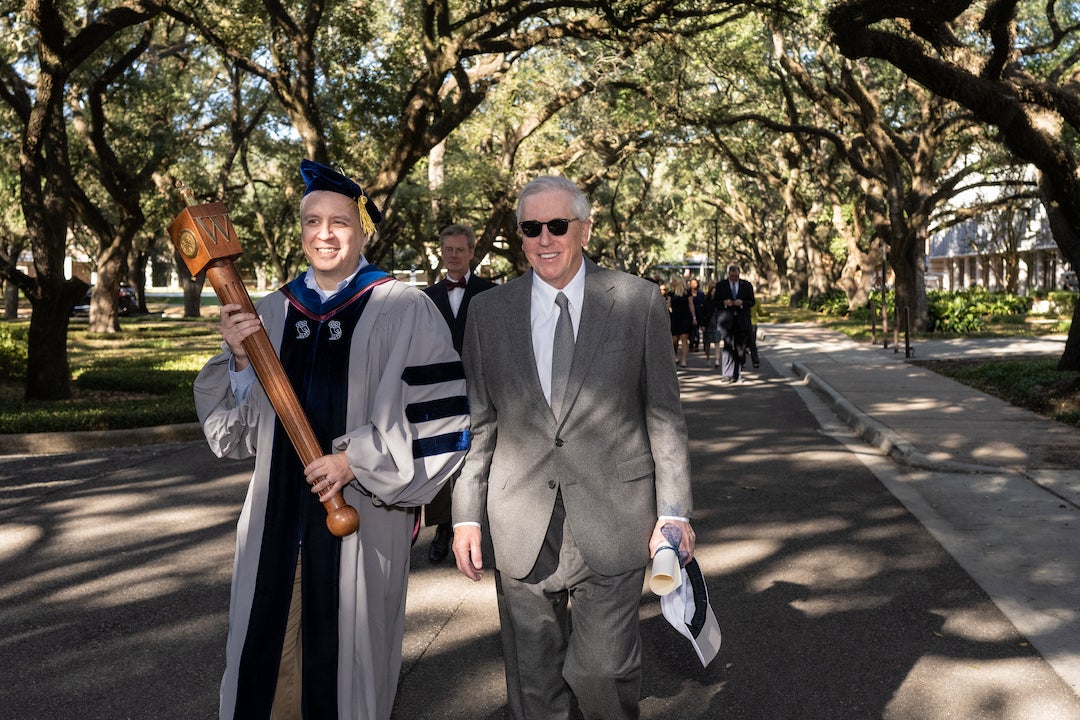 On the sunny fall morning of Oct. 21, Rice President Reginald DesRoches was formally summoned to his inauguration as the university's eighth president.
It was an occasion calling for more pomp and circumstance than could be packed into a simple email, phone call or text message.
Enter Chief Marshall Fred Oswald, professor of psychology and the Herbert S. Autrey Chair in Social Sciences, who along with Board of Trustees Chairman Robert Ladd '78 led a procession on a five-minute walk from the Peter and Nancy Huff House to the Wiess President's House on the outskirts of campus. They were followed by a flock of about 30 guests including trustees, university faculty, administrators, staff and alumni.
"It really takes a village, like the university itself, to put this event together," Oswald said. "It's exciting to be part of history as I walk down this road, but also a part of Rice's future."
Ladd concurred: "This is an exciting and historic day at Rice. I couldn't be more pleased for everyone."
Decked out in customary full academic regalia, Oswald carried the Rice ceremonial mace, the roughly 20-pound scepter that serves as the university's symbol of authority during commencement and other ceremonies. Ladd carried a large scroll, sealed with a Rice-blue ribbon, containing the text of the proclamation he would read to invite DesRoches to his inauguration.

The ceremonial flourishes were adapted from past Rice presidential summonses, the tradition of which traces back to academic rituals performed at many British universities.
John Boles, the William P. Hobby Professor Emeritus in the Department of History, likened the ceremonial summons to the grand convocations held in the medieval era on occasions such as opening a new cathedral.

"This is a turning point in the history of Rice," Boles said, "and something this important needs to be marked in a way that everybody will remember.
"I think modern life is bereft of ceremony, so I think it's really important in the life of a university for its students, its faculty, for its alums and for the larger community, to mark key events in a grand way," he continued.
After the procession finished its short stroll to the president's home, Oswald knocked on the door and was greeted by DesRoches alongside his wife, Paula.
Ladd unfurled his scroll and carried out his part of the proceedings, officially summoning DesRoches to be inaugurated "at half-past nine o'clock on Saturday, the 22nd of October, 2022, in the academic quadrangle."
After a brief pause, DesRoches turned to the crowd.
"Well," he said with a grin, "I'll be there."