Deep learning can be a tool to help those who suffer strokes discover their risk of having another. That premise and the data models used in the process won the top capstone prize in the Spring Data-to-Knowledge (D2K Lab) Showcase. 
The packed event at Duncan Hall on April 20 featured project-detailing posters by 28 teams, 14 of them capstone projects and 14 by students in the Introduction to Data Science course. The capstone teams also gave one-minute video presentations, accessible via the showcase website.
Judges chose Team Stroke Risk, which leveraged medical data provided by sponsors at the University of Texas Health Science Center, Houston (UTHealth), and graph machine learning to help the facility better allocate care to stroke patients. 
All of the winning team members -- Artun Bayer, Josue Casco-Rodriguez, Justin Cheung, Samantha Fuentes, Nick Glaze and Michael Sprintson – are seniors majoring in electrical and computer engineering. Their sponsors are Xiaoqian Jiang, a professor of biomedical informatics at UTHealth, and Sean Savitz, a professor of neurology at UTHealth's McGovern Medical School. Their faculty mentor is Arko Barman, an assistant teaching professor at the D2K Lab.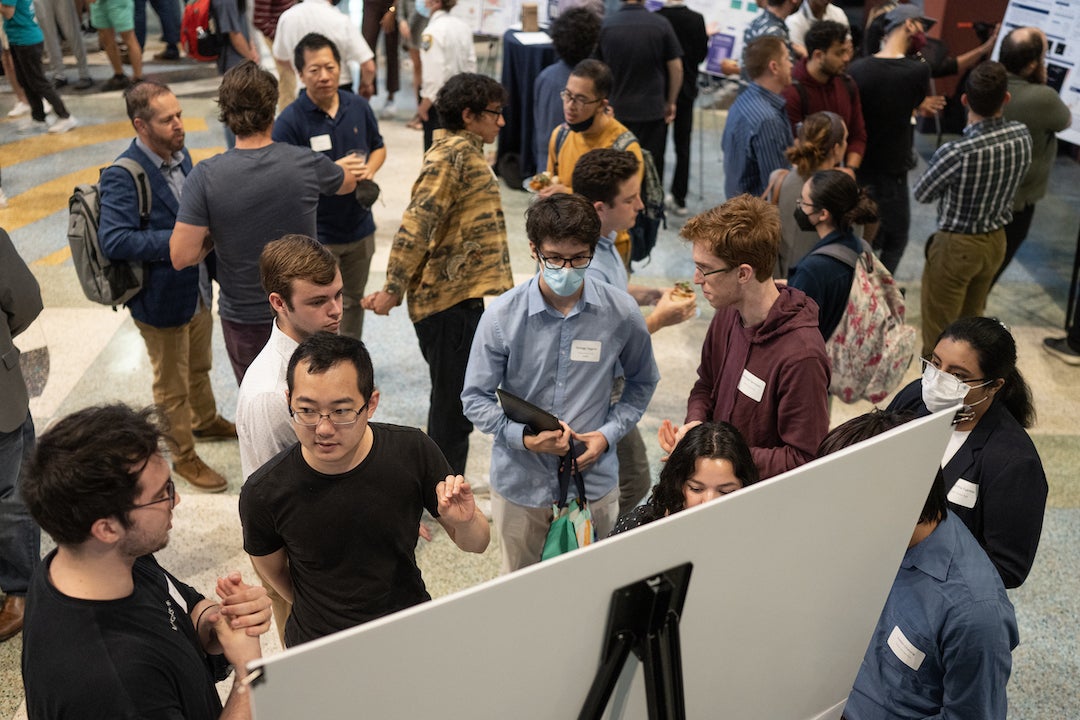 Team Superb Owl earned honorable mention for its project to assemble the first complete genome of the great horned owl, Rice University's mascot, based on blood samples provided by the Houston Zoo and data from Baylor College of Medicine. (Read about the project at bit.ly/3EyuqSR.) The team used cutting-edge genome assembly tools and developed analytical methods to evaluate the assembly quality.
Members of the team are Liangying Huang, a professional master's student in computer science; Anthony Minsuk Kang, a senior computational and applied mathematics major, data science minor and biochemistry and cell biology minor; and Hanna Yin, a graduate student in ecology and evolutionary biology. Sponsors are Todd Treangen, an assistant professor of computer science, and Huw Ogilvie, an assistant research professor computer science. Their faculty mentor is Genevera Allen, an associate professor  of electrical and computer engineering, statistics and computer science and founder and faculty director of the D2K Lab.
The capstone audience choice award went to Team COVID Jigsaw, which worked to understand how the next coronavirus variant will affect the population by studying the impact of vaccinations and government involvement on previous variant surges. 
Team members are Brian Hoepfl, Haijilao Lu and Min Hung Shih, all professional master's students in computer science; Cynthia Chen, a senior in computational and applied mathematics; Nathan Powell, a junior in computer science; and Tasfia Azim, a graduate student in chemical and biomolecular engineering. Their sponsor is Ray Simar, a professor in the practice in electrical and computer engineering. Barman served as faculty mentor. 
Team J.A.D.D.Y. won the audience choice award for introductory data science teams for its work to understand food insecurity in the United States. The team looked at county demographics to determine the correlation between education, income, ethnicity and food insecurity. 
Team members are Jamie Stewart-Aday, a freshman in political science and social policy analysis; Ashwini Bandi, a senior in biological sciences; Yuka Aoyama, a sophomore in computer science; DeBraylon Carroll, a junior in sport management; and Dean Connors, a freshman in psychology. Faculty mentor is Su Chen, an assistant teaching professor in the D2K Lab.