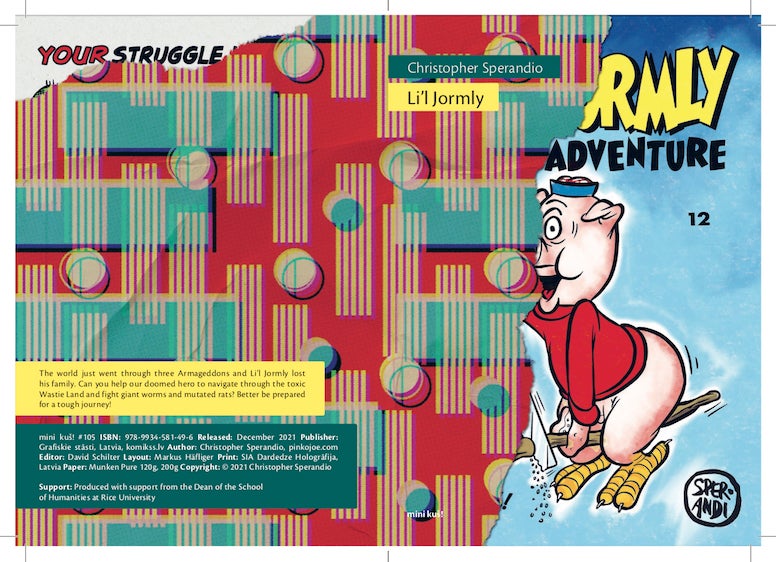 Imagine if Cormac McCarthy's novel "The Road" featured an orphaned, one-eyed pig as the protagonist and comical puzzles that you have to solve to keep reading to the end. Add some giant worms and mutant rats and you're close to the post-apocalyptic world of Christopher Sperandio's "Li'l Jormly."
The newest comic book from Sperandio, associate professor of visual and dramatic arts (VADA) at Rice, "Li'l Jormly" is also his first work published by Kuš (pronounced "kush"), the well-respected Latvian publisher whose books and international anthologies straddle the line between comics and art. It's an appropriate venue for "Li'l Jormly," which itself is somewhere between game and book.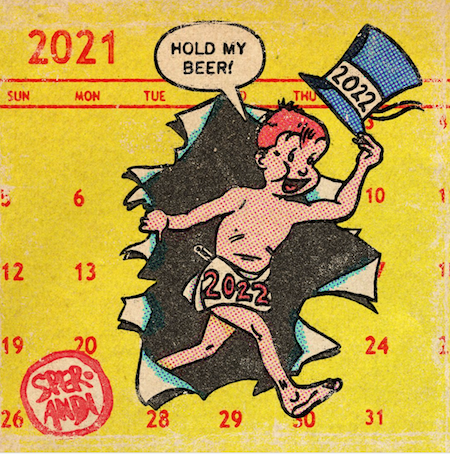 "I've been a nut for games my entire life," said Sperandio, who grew up surrounded by puzzle books and role-playing games like Dungeons & Dragons. With "Li'l Jormly," he's created a hybrid blending those influences into his own comic style.
"I can't think of another comic that incorporates games directly into the narrative in the way this does," Sperandio said. "That's actually what attracted Kuš."
Sperandio's growing following on Instagram also caught the publisher's attention: From around 500 followers in early 2020 to nearly 12,000 in 2022, his daily comic strips posted under the handle @pinko_joe have seen a 2,300% increase in viewers over two years.
He attributes it to consistency — he's posted comics at least once a day since the onset of the COVID-19 pandemic — and to finding an online audience with whom his topical and pointedly political comics resonate deeply. His most popular pieces lampoon the Supreme Court, the loss of voting rights across America and the failures of capitalism.
"Instagram has been kind of a lifeline for me," said Sperandio, who turned to the platform at the beginning of the pandemic as galleries and museums closed, travel shut down and artists found themselves at a loss for traditional ways to show and share their work.
Some of Sperandio's work was previously included in Kuš' comic anthologies, but last year the publisher expressed interest in Sperandio writing and illustrating an entire book — albeit one that was "less overtly political" than his @pinko_joe comics, he said.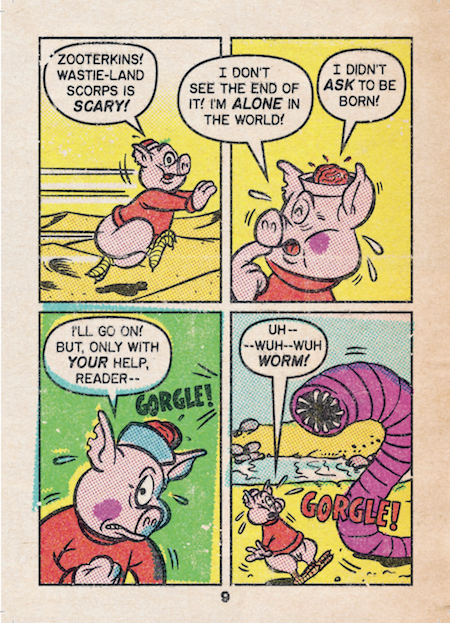 "The idea immediately struck me to do an activity book with puzzles and games, and since it's a pandemic and I wanted to make something grim and tragic," Sperandio said. "So here we have a mutant orphan who desperately wants to be reunited with their family and they have to travel through this blighted landscape to do so."
Despite Li'l Jormly's circumstances, the book is meant to be funny. There is something inherently absurdist, after all, about living through a pandemic or an apocalypse.
Sperandio hopes "Li'l Jormly" will also help continue showcasing his work in Europe. He and fellow VADA professor Brian Huberman represented Rice at the Angoulême International Comics Festival in 2020, just prior to the pandemic (the important annual event has since been postponed twice due to COVID-19), and he's eager to see the art form gain a foothold in European countries like Latvia that haven't traditionally enjoyed much of a comics scene.
"Li'l Jormly" ships straight from Riga, Latvia's capital city, and Kuš is already taking preorders for the book, released on Jan. 25. Although one of the games toward the middle of it jokingly instructs the reader to throw the book away if they lose, Sperandio envisions "Li'l Jormly" as a work they'll keep and return to as a pandemic-inspired pastime.
"Some of the puzzles are like one-offs or word puzzles," he said. "And some of them are games that you can play again and again."