HOUSTON – (May 26, 2022) – Elaine Howard Ecklund, an internationally acclaimed sociologist of religion, is the new director of the Boniuk Institute for Religious Tolerance at Rice University.
The Boniuk Institute is dedicated to advancing religious literacy, respect and mutual understanding among people of all and no faiths through research efforts, educational initiatives and community engagement.
Ecklund, as the Herbert S. Autrey Chair in Social Sciences, professor of sociology, graduate program director and director of Rice's Religion and Public Life Program, has dedicated her career to studying how religion intersects with science as well as social identities like race and gender, publishing seven books and over 100 research articles on those topics.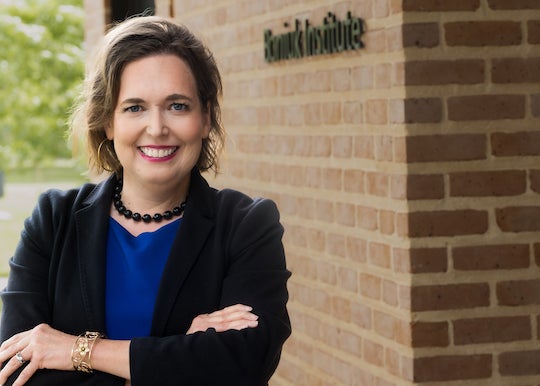 "I 'translate' research on religion to be better understood by those who would not think to use it — like our natural scientists and engineers," said Ecklund, who replaces Professor Paula Sanders as director. "It's important for fields like these to understand how people view science through their religion."
Ecklund is best known for her sociological work on the intersection of science and religion. She has also published research on religious discrimination, religion and immigration, religion and race, and religion in the workplace.
"I am honored to build on the strong foundation studying and engaging religious tolerance that Paula Sanders and her team have built through the Boniuk Institute," Ecklund said.
"We have been incredibly fortunate to have had Paula Sanders' leadership in building a strong foundation for the future of the Boniuk Institute as it has broadened and deepened its mission of studying and advancing religious tolerance. Elaine Howard Ecklund brings globally recognized expertise in the study of many dimensions of religion and society, and I cannot imagine anyone better to advance the institute's mission and impact over the next years," said Rice President David Leebron. "She brings remarkable research accomplishment, energy and insight to the task."
During her career at Rice, Ecklund has secured more than $12 million in grants for studies on religion. She is currently co-directing a $2.9 million grant to create a new subfield of sociological research examining how identities and beliefs around race and gender are related to attitudes about science and religion.
"We can't understand racism or nationalism without understanding religion in the U.S.," she said. "It's the same for gender relations and societal violence or peace. And these dynamics are even more apparent globally."
Ecklund believes the Boniuk Institute has the potential to be the world's premier academic institute for the study of religious tolerance. Ecklund wants to increase interdisciplinary efforts on Rice's campus to connect seemingly disconnected fields and advance campus research as a whole.
She plans to meet with campus stakeholders and create a comprehensive plan to put their work into the hands of people who can benefit most from it — by enhancing the institute's collaboration with the city of Houston, public schools and corporations, for example.
"We can leverage the best tools of the social sciences, like our surveys, interview methods and large-scale data science, to understand the force of religion in contemporary society," Ecklund said. "We need all of the disciplines. Deep historical and archival work, for example, helps us understand how we as a society have gotten to where we are today."
Houston is one of the most religiously diverse cities in the world — home to some of the largest megachurches, but also to synagogues, mosques and ashrams.
"Our work needs to be global and local," Ecklund said. "Houston is an amazing laboratory to study religion."
Her vision for reaching beyond the campus hedges aligns with Provost Reginald DesRoches' vision of Rice as a premier research university that can help confront the world's most pressing issues.
"The work of the Boniuk Institute is integral for a diverse and multicultural city like Houston," said DesRoches, who takes over as Rice president July 1. "Rice's campus is home to a wide array of in-depth and world-class research that can benefit our community neighbors and develop solutions to tackle many of the issues we read about daily."
Ecklund received a Ph.D. in 2004 from Cornell University, where she was the recipient of the Class of 2004 Graduate Student Baccalaureate Award for Academic Excellence and Community Service. She has been a Gifford Lecturer and was this year's recipient of the Rice School of Social Sciences Dean's Distinguished Senior Researcher Award, and she is a former president of the Society for the Scientific Study of Religion and the incoming president of the Religious Research Association.
The Boniuk Institute's story began in 2004 with the establishment of the Boniuk Center, which aimed to promote religious tolerance in Houston, thanks to a gift from Milton and Laurie Boniuk. In 2013, the Boniuks funded an expansion of the center and its efforts, facilitating innovative research to make policy recommendations as well as design educational and outreach programs.
To learn more about the Boniuk Institute and its mission, visit boniuk.rice.edu.