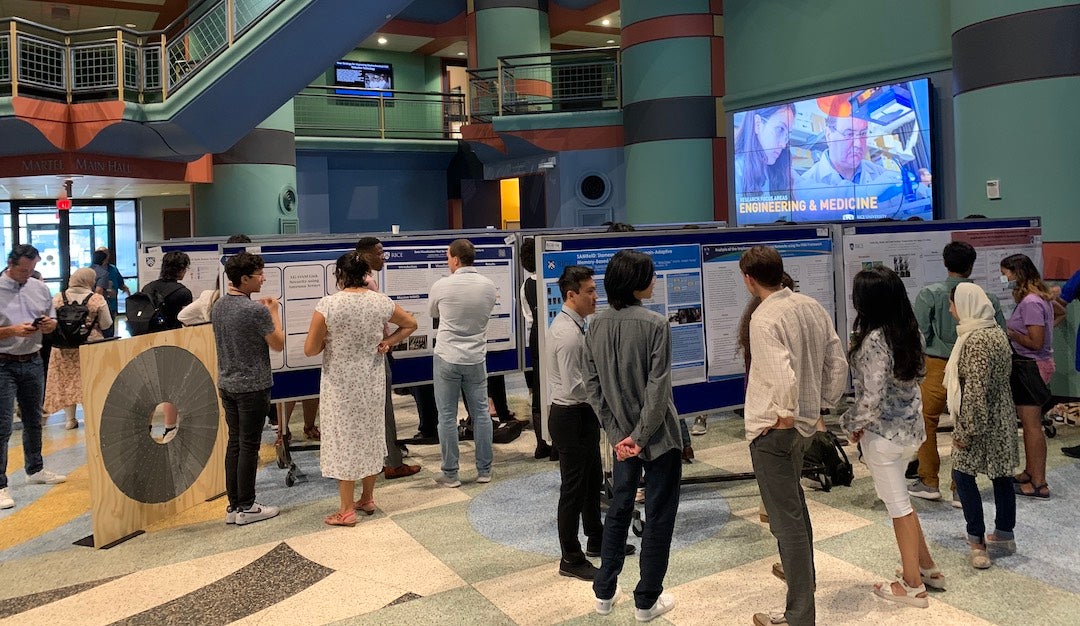 The Smalley-Curl Institute (SCI) held its annual Summer Research Colloquium for 200 participants and more than 110 oral and poster presenters Aug. 5 at Duncan Hall. 
Graduate students and postdocs presented their work in talks and posters. Rice undergraduates from the SCI-STAR (Student Training for Advising Research) program, as well as students participating in the Nanosystems Engineering Research Center for Nanotechnology Enabled Water Treatment (NEWT) Center Research Experience for Undergraduates (REU), NANO REU and many other REUs in science and engineering, presented posters. All of them competed for 13 awards. 
Andrey Baydin and Roman Zhuravel, both SCI postdoctoral researchers, chaired the event, which was dedicated to the memory of Rice Nobel laureate Robert Curl.
Here are the winners:
Graduate student oral presentations
Platinum award ($500) — Diego Fallas Padilla (Physics and Astronomy), "Exploring classical chiral magnetism using a quantum Rabi ring."
Gold award ($250) — Mary Bajomo (Chemistry), "Computational chromatography: A machine learning strategy for demixing individual chemical components in complex mixtures."
Silver award ($200) — Elijah Kritzell (Applied Physics), "Antiferromagnetic resonance in NiO in magnetic fields up to 25T."
Bronze award ($100) — Minghe Lou (Chemistry), "Sustainable hydrogen production through plasmonic photocatalysis of direct H2S decomposition."
Graduate/postdoctoral poster session awards 
Platinum award ($300) — Andres Sanchez Alvarado (Chemistry). "Ultrasensitive detection of oxy-PAHs via surface-enhanced vibrational spectroscopy."
Gold award ($250) — Manukumara Manjappa (Electrical and Computer Engineering), "Photoluminescence and photon correlation measurements of aligned carbon nanotube quantum emitters."
Silver award ($200) — Jagriti Chatterjee (Chemistry), "Trajectory classification via machine learning."
Bronze award ($100) — Phelecia Scotland (Mechanical Engineering), "Heteroatom doped flash graphene by flash joule heating."
Undergraduate poster session awards
Electrical and Computer Engineering/Research Experience for Undergraduates award ($250) — Jessica Opsahl-Ong (Electrical and Computer Engineering), "Determining mental model of agent playing the prisoners dilemma."
Best Undergraduate award ($250) — Damian Gonzalez (Mechanical Engineering), "Everlasting multiplexed inertial coalescence filters to address environmental challenge."
Nanotechnology-Enabled Water Treatment /Research Experience for Undergraduates award ($250) — Carlos Gomez (NEWT) "Electrothermal membrane distillation (EMD) for treating hypersaline feedwater."
Nano/Research Experience for Undergraduates award ($250) — Yves-Langston Mays (Nano), "Selectively targeting pathogenic RNA for trans-splicing of toxic genes."
People's choice award ($100) — Carlos Gomez (NEWT), "Electrothermal membrane distillation (EMD) for treating hypersaline feedwater."