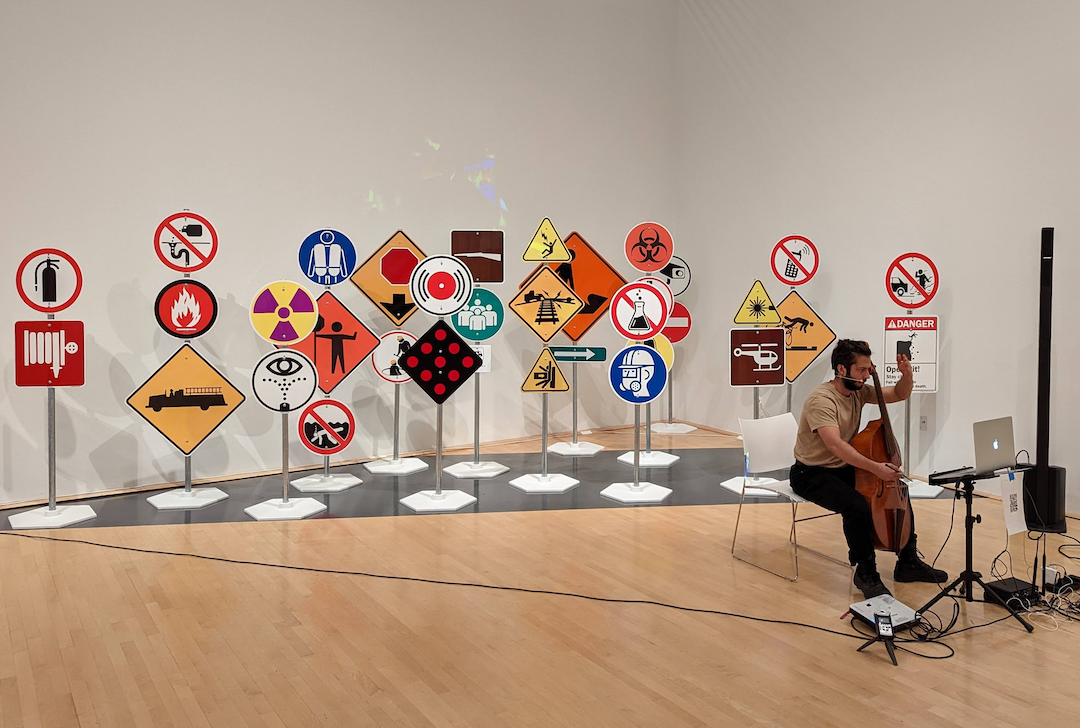 Art and music aficionados alike flocked to the Moody Center for the Arts Nov. 19 for an afternoon of live performances and original compositions by Shepherd School of Music students, each piece created in response to the Moody's current fall exhibition.
The latest iteration of the "New Art / New Music" event series presented five new scores from current Rice Owls, staged throughout the exhibition galleries housing "Urban Impressions: Experiencing the Global Contemporary Metropolis."
In "Titled," composer and performer Paul Mortilla's thrumming bass viola was accompanied by a dazzling array of projected visualizations and electronic accompaniment generated in real time by his body movement, while Daniel Cho's "Sonata For Solo Violin" provided a bright, lively reflection on the idea of urban sunsets inspired by Lucia Koch's "Air," a hanging installation on silk and rayon.
Attendees were then regaled by Tian Qin's avant garde "Display 2," in which Qin played harmonica while Mortilla reimagined an Amazon-package-esque cardboard box into a musical instrument with a breathtaking series of kicks and slaps before he tore the box asunder, ripped apart its packing-paper insides and then reassembled it. He ended the performance by handing the repaired box-turned-instrument off to a member of the audience.
The event continued with Hannah Tassler's flute performance of "Aurora," written by Alex Moreno followed by composer Sam Wu's ode to the magic of contemporary intercontinental travel "aerial silk roads" as performed by cellist Nathan Hsu. Concluding the show was Jaylin Vinson's "Vertical Sprawl," a propulsive composition for a single marimba played by Dillon Akerman and Sam Rachleff. The work was written to evoke Vinson's memories of building, tearing down and rebuilding Lego brick cityscapes as a child.
The exhibition — on view through Dec. 17 — addresses the question of what informs and shapes our experiences of cities in the 21st century through a wide range of works representing a variety of mediums. Featured works include a new commission from Tiffany Chung, a tongue-in-cheek assembly of traffic and construction signs that provide a Houston-centric set of abstracted warnings; Katsumi Hayakawa's glittering "Fata Morgana," a delicately suspended three-dimensional paper work evoking an imagined urban skyscape that appears to be floating; and Rana Begum's multi-site installations "No. 1187 Mesh" and "No. 1193 Mesh," both vibrantly colored powder-coated mesh panel constructions on display outside of the Moody and Rice Architecture's Anderson Hall, respectively.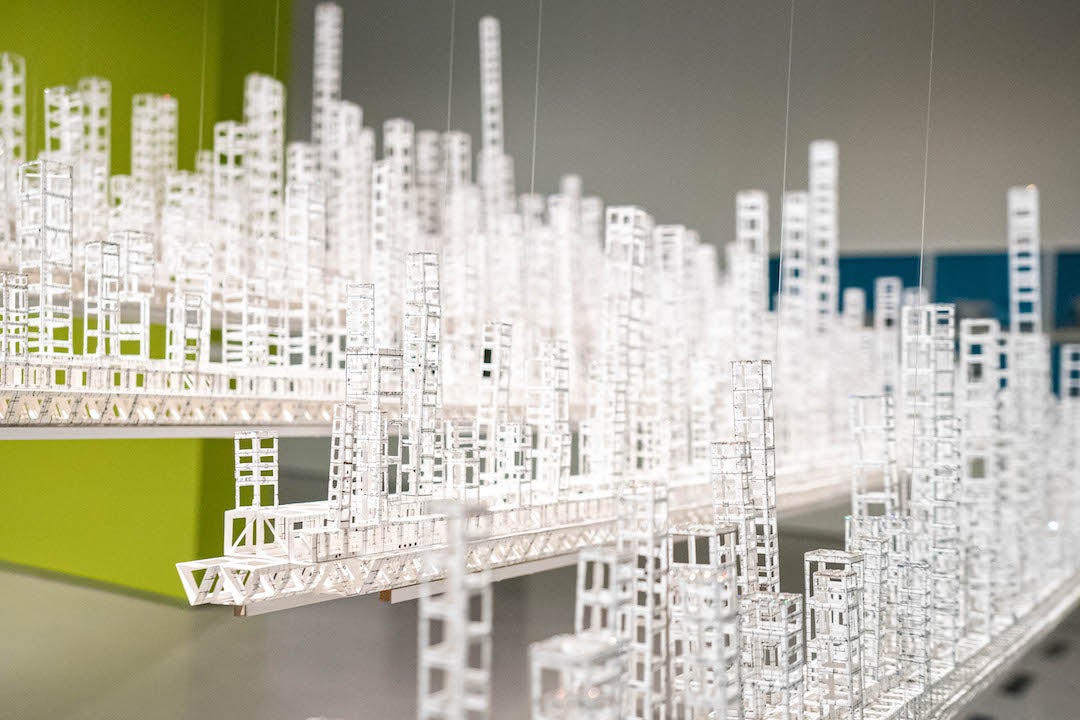 In a first for the Moody, "Urban Impressions" also includes a commissioned "art beer," Japa, a collaboration between Nigerian artist Emeka Ogboh and Houston's Astral Brewing. Available at the Moody, Japa is a light-bodied stout whose flavor profile was derived from surveys Ogboh conducted with people of Nigerian descent across Houston. With the assistance of recent Rice graduate Magdah Omer '22, Ogboh asked interviewees to describe "the flavor of Houston." The responses inspired a beer that is at once sweet and smoky with a distinct spicy twang derived from habanero, Scotch bonnet and ancho chile peppers.
"Urban Impressions: Experiencing the Global Contemporary Metropolis" is on view through Dec. 17, with temporary Thanksgiving closures Nov. 24-25. Organized by curator Frauke Josenhans, the exhibition was made possible by the Moody Center for the Arts Founders Circle, the Elizabeth Lee Moody Excellence Fund for the Arts and the Texas Commission on the Arts.